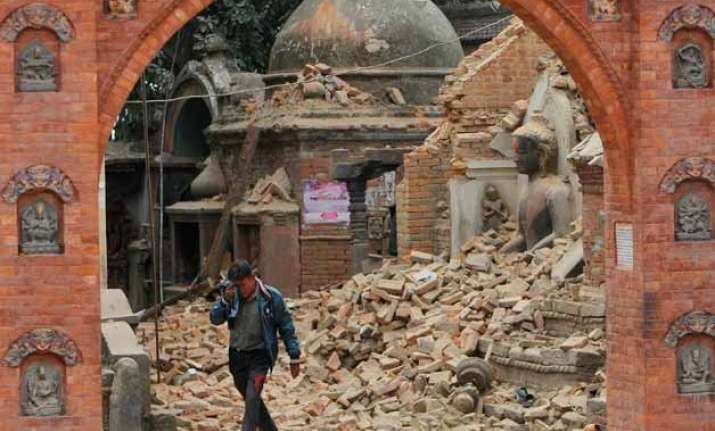 Kathmandu: Massive rescue and relief efforts were mounted by India and other neighbours in Nepal, as two powerful aftershocks today rattled the country, adding to the misery of yesterday's devastation in which the casualties soared to 2,200 people dead and over 5,600 others injured.
The 7.9-magnitude temblor yesterday left a trail of devastation and suffering, with people spending the cold night in the open because of a series of aftershocks that scared several of the survivors from returning to their homes.
According to the latest figures available with the Home Ministry, over 2,200 people have been killed and 5,654 are injured.
1,053 people are reported killed in the Kathmandu Valley alone. Officials fear the death toll could rise as desperate search for survivors continued.
Read Also: Heavy rains likely in quake-hit Nepal, warns IMD
A strong 6.7-magnitude aftershock followed by another measuring 6.5 on the Richter Scale today sent people running for open spaces.
International teams, including from India, have touched down here as Nepal declared a state of emergency in the wake of the disaster, the worst in over 80 years of the country's recorded history.
Rescuers have been hunting for survivors under heaps of debris with bare hands as well as heavy equipment though the efforts have been hampered due to fresh tremors, thunderstorms and snowfall in the mountain ranges.
Read Also: 22 climbers dead in quake-triggered avalanche on Mt Everest
Locals and tourists sifted through mounds of debris for survivors. Cheers rose when people were found alive, though mostly bodies were pulled out.
Climbers said the aftershocks caused more avalanches at the Mount Everest, where at least 22 people have been killed.  MI-17 helicopters of the Indian Air Force (IAF) have carried out five casualty evacuation sorties and the injured have been moved to military hospitals.