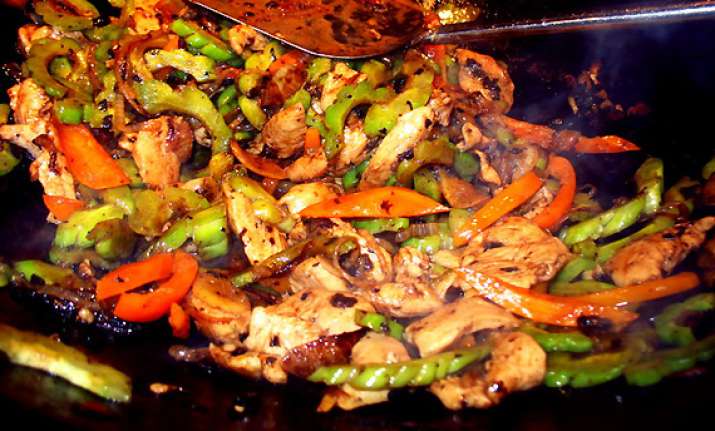 London, Jan 21: Chinese stir-fry has replaced Indian chicken tikka masala as Britain's favourite dish, a new survey indicated today.

The simplistic Cantonese dish, typically full of fresh vegetables and noodles, is now the most frequently cooked meal in the UK, the survey said.

One in five Brits now have it at least once a week, with over two-thirds saying a large part of its appeal is that it is far easier to prepare than traditional British cuisine, with the average stir-fry only taking a few minutes to throw together and cook in a wok.

Asian food has become increasingly popular in the UK and is now part of the nation's staple diet as families opt for international cuisine over British dishes three out of seven nights of the week.

Nine out of ten Brits' favourite international meals are Asian.

The study, carried out by Food Network UK, said that sushi and noodles were now eaten as regularly as spaghetti and potatoes.

Having become accustomed to exotic spices, half of people also say traditional dishes such as cottage pie and sausages and mash are too dull.

More than a quarter of Britons now eat more Chinese, Thai and Japanese cuisine than they did 10 years ago.  Nick Thorogood, the managing director of Food Network, said: "Our research shows British palates have changed and we now have a penchant for exotic tastes.

"It would have been unheard of for a typical family to tuck in to regular evening meals originating from Thailand or Japan a decade or so ago.

"But now it is considered normal to be swapping a cottage pie for a Thai green curry. It shows that what were once considered exotic dishes are now considered everyday cuisine and we are becoming masters of the wok". 

He said it is encouraging to hear children are experimenting with food from different cultures from an early age and are not afraid to try different flavours.