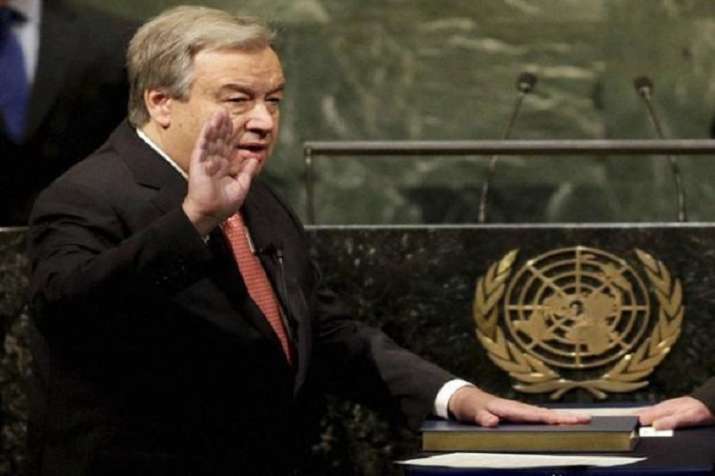 United Nations Secretary General Antonia Guterres has voiced support for the UN human rights chief's call for an independent international investigation into the human rights situation in Kashmir, saying his action "represents the voice of the UN" on the issue.
"As you can imagine, all the action of the Human Rights High Commissioner is an action that represents the voice of the UN in relation to that issue," Guterres told reporters at a press conference on Thursday.
He was responding to questions on whether he supports an independent international probe into the human rights situation in Kashmir, as recommended by High Commissioner for Human Rights Zeid Ra'ad Al Hussein in his report on Kashmir last month.
On the situation in Kashmir and whether he has made any attempt to bring about dialogue between India and Pakistan, Guterres said "it is clear to me that only political solutions can address political problems."
He said whenever he meets the leaders of both India and Pakistan, he always offers his good offices. He expressed hope that in future "mechanisms of dialogue" will be created that will allow for "this problem to also find an adequate political solution that the people can benefit from."
When asked about his thoughts on India rejecting the report saying that Al Hussein was acting without any mandate as Kashmir is a bilateral issue that needs to be resolved between India and Pakistan, Guterres said that the definition of mechanism for a political solution for a situation in the country is separate from the general mandate of human rights instruments in relation to human rights everywhere.
"What the human rights high commissioner did was use his own competence and capacities as he does in all other parts of the world to report on what he considers to be relevant human rights violations. It does not mean that there is, in that, a preference for any kind of methodology for a political solution. They are two completely different things," he said.
India had also expressed disappointment that Guterres' report on children and armed conflict, which makes a reference to Kashmir, Chhattisgarh, and Jharkhand, includes situations that do not meet the definition of armed conflict or of threat to international peace and security.
When asked to comment on this, he said the same applies in relation to this report.
"That report is a report about situations in which the rights of children have been put into question," he said.
India had rejected the human rights report on Kashmir by the UN rights chief, who had called for a commission of inquiry by the UN Human Rights Council to conduct an independent, international investigation into alleged human rights abuses in Kashmir.
"That the High Commissioner for Human Rights represents the UN Secretariat on the issue of human rights is a factual issue. But that his report was not followed up by anyone is also a reality that no one sees it as something they are ready to support. So, referring to the report is like flogging a dead horse," India's Permanent Representative to the UN, Syed Akbaruddin said.
India's Deputy Permanent Representative to the UN Tanmaya Lal had said that the so-called report about Jammu and Kashmir reflects the "clear bias of an official who was acting without any mandate whatsoever and relied on unverified sources of information.
Lal said the report was not even found fit to be considered by the membership of the forum where it was submitted.