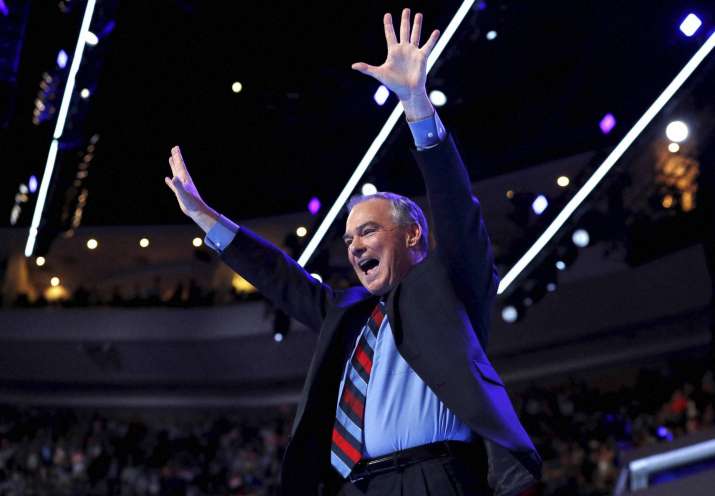 Philadelphia: Virginia Senator Tim Kaine, who formally accepted his party's nomination as vice president on Wednesday night at the 2016 Democratic National Convention, tore into Republican presidential nominee Donald Trump calling him "a slick talking, empty-promising, self-promoting, one-man wrecking crew"
In a series of tough attacks on Trump, Kaine said no one running for US President just says 'believe me' without describing their plans and policies.
"Here's the thing. Most people, when they run for president, they don't just say "believe me." They respect you enough to tell you how they will get things done," Kaine said.
Known for his unassuming and low-key persona, Kaine appeared determined to prove Wednesday that he is capable of playing the role of attack dog.
In his speech, Kaine mimicked and demolished Republican Presidential nominee Donald and threw in Spanish colloquialisms, all in a down-home, quasi-goofy delivery style that had Twitterati in splits and that inspired dozens of 'dad jokes'.
"The dad joke is a delicate thing. Part knowing humour, part lack of humour, it's only requirement is that it ellicits not a laugh from its audience but the annoyed response: "Daaaaaaaaad", according to a description in British newspaper The Telegraph.
Kaine repeatedly mocked Trump's use of the phrase "believe me."
"You know who I don't trust? Donald Trump. The guy promises a lot. But you might have noticed, he has a habit of saying the same two words right after he makes the biggest promises. You guys know the words I mean? 'Believe me,' " Kaine said.
Then he mimicked Trump using 'believe me' for his various plans.
"It's gonna be great - believe me! We're gonna build a wall and make Mexico pay for it - believe me! We're gonna destroy ISIS so fast - believe me! There's nothing suspicious in my tax returns - believe me!"
Kaine also threw his weight behind Hillary Clinton as he described a list of her accomplishments as first lady, senator from New York and secretary of state.
Clinton, he said, is ready, consistent and delivers.
"I want to tell you why I trust Hillary Clinton," Kaine said. "On a personal level, as he's serving our nation abroad, I trust Hillary Clinton with our son's life."
Needless to say, Caine's subtle slaying of Trump triggered a Twitter frenzy with many social media users pointing at his dad qualities
Tim Kaine gives out raisins at Halloween but tells the kids he knows they suck. And they like him anyway.

— Stephanie Lucianovic ⛈️ (@grubreport) July 28, 2016
Tim Kaine seems like the kinda guy who brings orange slices to his kids' soccer game. Win or lose 😊

— jake (@jakebeckman) July 28, 2016
Tim Kaine is your friend's dad who catches you smoking weed at a sleepover and doesn't rat you out but talks to you about brain development

— PJ Vogt (@PJVogt) July 28, 2016
Tim Kaine is the dad who made you sit and ~really listen~ to his jazz albums

— Hayes Brown (@HayesBrown) July 28, 2016
I knew I recognized him... pic.twitter.com/J5mq0Jqm4F

— (((Harry Enten))) (@ForecasterEnten) July 28, 2016
Tim Kaine surprised you by telling you that of course you're coming with his family on their trip to Disney World, you're family too

— Hayes Brown (@HayesBrown) July 28, 2016
The ex-governor, also a former mayor of Richmond and city council member, hasn't lost an election in Virginia since his first campaign in the mid-1990s. But he remains largely unknown on the national political stage.