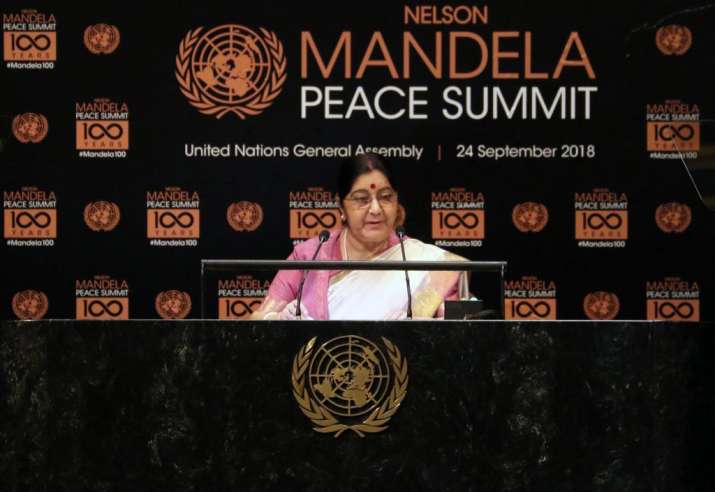 External Affairs Minister Sushma Swaraj on Monday called upon international leaders to unite against terrorism and hate to 'make a better world for our children'. 
"Our world is still beset with conflicts, terror and hateful ideologies that are transcending borders and impacting our lives. No one should be allowed to support terror or its perpetration," Swaraj said while addressing the Nelson Mandela Peace Summit at United Nations General Assembly (UNGA) at UN headquarters in New York. 
Our collective survival as a global family requires that the wisdom of pioneering leaders such as Mandela should remain as our moral compass. Let us share this planet as one. Let us make a better world for our children, she added. 
Claiming Madiba to be 'one of our own', the external affairs ministers insisted that India was proud to call him a Bharat Ratna. "India cherishes its special relationship with Africa and its people. Our close bonds are reflected in philosophy of Mandela and Mahatma Gandhi," Swaraj said. 
Nelson Mandela's life is an inspiration for all. He showed fearlessness and courage in the face of discrimination and adversity: EAM @SushmaSwaraj while delivering her statement at the National Mandela Peace Summit. Full statement at https://t.co/tGpSpAzZjb pic.twitter.com/Kw0Kmk0KgT

— Anurag Srivastava (@MEAIndia) September 24, 2018
Bilateral meetings on the sidelines of UNGA
External Affairs Minister Sushma Swaraj held a series of bilateral meetings with several of her foreign counterparts discussing a host of issues, including trade, investment and capacity building.
Swaraj met Colombian Foreign Minister Carlos Holmes Trujillo, Spanish Foreign Minister Josep Borrell, Nepal's Foreign Minister Pradeep Kumar Gyawali, Morocco's Nasser Bourita, High Representative of the EU for Foreign Affairs Federica Mogherini and Liechtenstein Foreign Minister Aurelia Frick on the sidelines of the high-level session of the 73rd UN General Assembly that kicked off here Monday.
"Relations characterised by warmth and cordiality! EAM @SushmaSwaraj and Foreign Minister of Colombia, @CarlosHolmesTru met on the sidelines of #UNGA2018. Discussed cooperation on trade & investment, pharma, mining, petroleum and capacity building," Ministry of External Affairs Spokesperson Raveesh Kumar tweeted.
In another tweet, he said Swaraj and Borrell "explored ways to intensify ties in investment, renewable energy, water treatment, tourism and their contribution to our flagship initiatives."
On the meeting with Nepal, he said, "Close neighbour and a friend! EAM @SushmaSwaraj and Foreign Minister of Nepal, Pradeep Kumar Gyawali met on the sidelines of the #UNGA2018 and took stock of our bilateral relationship."
Marking 25 years of India's diplomatic relations with Liechtenstein, Kumar said the two ministers "exchanged views on enhancing bilateral relations in trade & investment, particularly through participation at Indian trade fairs, & tourism."
"Strategic partnership based on common values of democracy, freedom and rule of law," he said in another tweet on Swaraj's bilateral meeting with Mogherini. 
The two discussed issues related to trade and investment and exchanged views on the regional and global issues.
"A historical relationship since Ibn Batuta days! EAM @SushmaSwaraj & Morocco Foreign Minister, Nasser Bourita discussed strengthening cooperation in areas of commerce, pharma, cyber security, defence and culture," he said.
(With inputs from agencies)