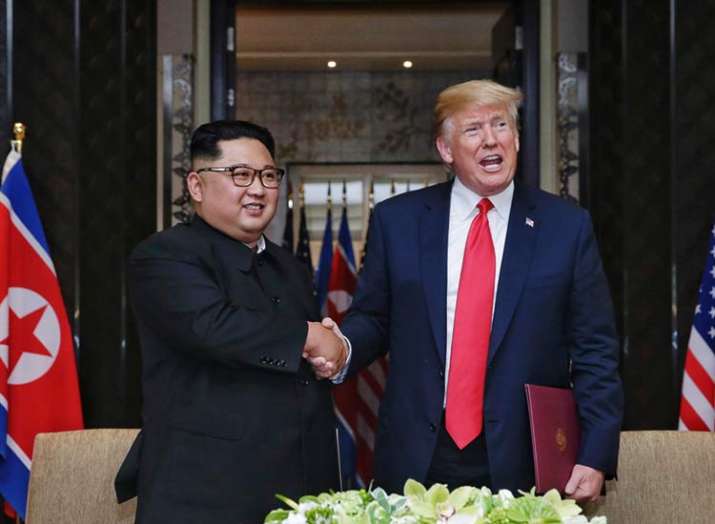 The unprecedented meeting between United States President Donald Trump and North Korean leader in Singapore on Tuesday was perhaps one of the most reported events of the year. Over 3,000 media representatives from across the globe hustled to capture the glimpse of world history in motion. Thousands of cameras recorded every move of the two leaders. 
Some of these cameras were lucky enough to catch a few funny moments in the tense environment of the crucial meet. 
A video recently tweeted by a US-based news platform 'Now This' shows Trump remarking about his looks on camera. Shot during the photo-op between the nuclear meeting between two delegations and the working lunch, the video shows Trump and Kim standing on the opposite ends of the table. Trump says "Are you taking good pictures so we look nice and handsome and thin?," while Kim stares at him with no reaction. 
Trump to photographers: Are you taking good pictures so we look 'nice and handsome and thin?'

Kim Jong-un: ... pic.twitter.com/9SupjgBxie

— NowThis (@nowthisnews) June 12, 2018
If you were wondering what was served on the lunch, we have you covered. The power lunch at the historic summit included beef short ribs, sweet and sour crispy pork and braised codfish. Details released by the White House show that lunch began with a prawn cocktail and avocado salad, and green mango kerabu with honey lime dressing and octopus. Side dishes included potato dauphinois, steamed broccolini, fried rice and Asian vegetables. Dessert included dark chocolate tartlet and Haagen-Dazs vanilla ice cream. 
The video, which is sure to feed to global meme generators, came only two days after the 'G7 Image', which created a buzz across the globe. The picture shared on the instagram account of German Chancellor Angela Merkel showed the world leaders staring at Donald Trump during a discussion in the summit, held in Canada's Quebec. 
Different angles of that pictures were shared by most of the leaders present at the G7 summit later. 
Talking to media on Tuesday, Trump claimed that the image was misreported as he and all G7 leaders had a great summit and they were waiting for some documents when the picture was taken. "I had a good meeting with G7 but we have been taken advantage of by all the countries of G7. The picture with Angela Merkel, where I am sitting on the chair, we were just talking & waiting for documents," Trump told world media during presser in Singapore on Tuesday. 
This year's G7 had ended in Trump pulling out of the joint statement and accusing the host Canada's Prime Minister Justin Trudeau of 'dishonest and weak' behaviour.