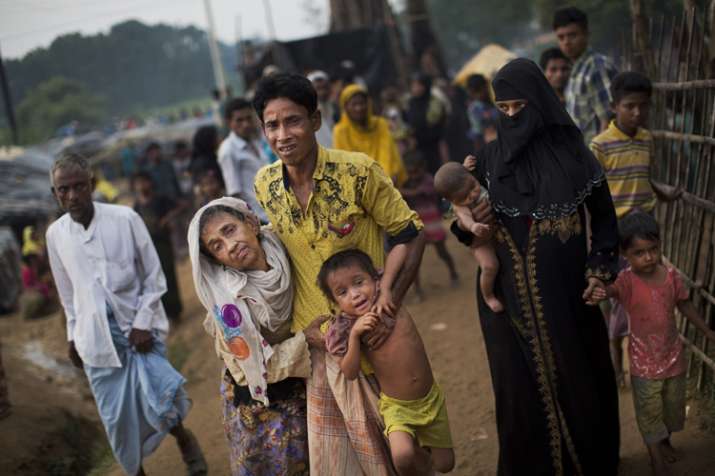 Bangladesh today sought intensified international pressure on Myanmar to prevent violence against Rohingya Muslims as the UN refugee agency put the number of refugees that have fled to the country to escape violence in the neighbouring Buddhist-majority country at 123,000. 
"World leaders must mount pressure on Nay pyi daw," Prime Minister Sheikh Hasina's press secretary Ihsanul Karim quoted her as telling Indonesian Ambassador Rina Prihtyasmiarsi Soemarno. 
Soemarno had called on Hasina as Bangladesh launched a diplomatic campaign to get rid of the influx of refugees in the wake of violence in Myanmar?s western Rakhine state. 
"Hosting a huge number of Myanmar nationals is a big burden for Bangladesh and we have given shelter to them only on humanitarian grounds," Hasina said. 
Her comments came as UN officials said 35,000 Rohingya Muslims crossed into Bangladesh since yesterday to evade persecution while thousands more amassed on the borders. 
"Our estimates suggest nearly 125,000 Rohingya refugees entered Bangladesh...35,000 entered in the past 24 hours," UNHCR spokesman Vivian Tun told reporters in Cox?s Bazar. 
The latest spate of violence erupted in Rakhine state on August 25 after alleged Rohingya insurgents attacked several police posts, triggering a counter-offensive by the military that resulted in the death of at least 400 people. 
Rakhine, the poorest region in Myanmar, is home to more than a million Rohingya. They have faced decades of persecution in the Buddhist-majority country, where they are not considered citizens. 
Soldiers and armed residents have been accused of carrying out a killing spree against Rohingya Muslim men, women, and children. 
Bangladesh had urged Myanmar to take steps to protect innocent civilians to prevent the mass exodus and then proposed a joint security clampdown. 
"Our stance is very clear. Our land will not be used for planning terror on other countries," Hasina told Soemarno. 
Indonesia's Foreign Minister Retno Marsudi has arrived in Dhaka to discuss the Rohingya issue. 
Officials said Turkish Finance Minister Mevlut ?avusoglu was also expected to arrive here tomorrow in view of the crisis. 
Myanmar leader Aung San Suu Kyi came under pressure from countries with large Muslim populations to halt violence against Rohingya Muslims. 
Meanwhile, local authorities in Cox's Bazar have sought the government's approval to set up a new makeshift camp to accommodate Rohingya refugees. 
"We have sought the approval as the three existing camps exhausted their capacity to accommodate any more refugees," Cox?s Bazar additional district magistrate Khaled Mahmud said.