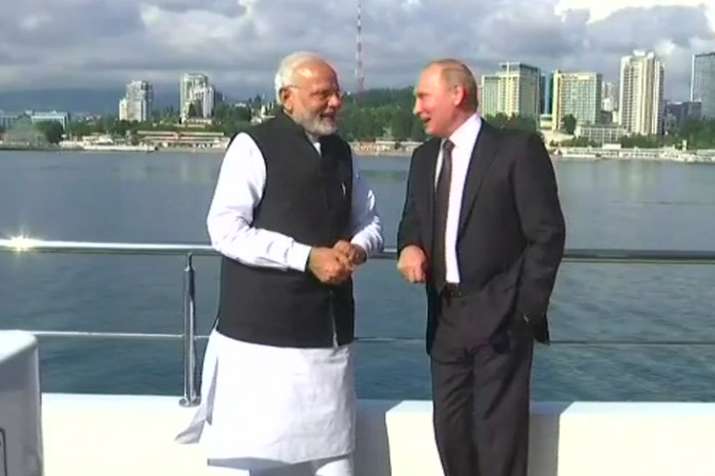 Prime Minister Narendra Modi on Monday said the strategic partnership between India and Russia has now been elevated into a "special privileged strategic partnership" as he met Russian President Vladimir Putin in this Black Sea coastal city for their first informal summit. 
In his opening remarks, Prime Minister Modi said India and Russia have been friends for a long time and thanked President Putin for inviting him for the first-ever informal meeting at Sochi. 
Modi recalled his first visit to Russia with then Prime Minister Atal Bihari Vajpayee in 2001 and said Putin was the first world leader whom he met after becoming the chief minister of Gujarat. 
He said the seeds of the 'strategic partnership' sown by then Prime Minister Vajpayee and President Putin has now grown into a "special privileged strategic partnership" between the two countries. 
Modi thanked Russia for playing a major role in helping India get a permanent membership in the Shanghai Cooperation Organisation - an eight nation bloc which aims at military and economic cooperation between the member states. India and Pakistan were admitted last year into the organisation. 
"We are working together on International North-South Transport Corridor (INSTC) and BRICS," Modi said. 
Welcoming Prime Minister Modi to Sochi, Putin said his visit would give a fresh impetus to bilateral ties. 
He said Russia and India have been cooperating on several fronts in the multilateral and the international fora. He also mentioned military-to-military cooperation between the two countries.
Watch Video: PM Modi meets Russia President Putin
Prime Minister Narendra Modi met Russian President Vladimir Putin in Sochi. The two leaders also held a meeting. #Russia pic.twitter.com/5X5ckcRIL2

— ANI (@ANI) May 21, 2018
In a series of tweets — in Russian and then in English — on the eve of his visit to Russia, PM Modi said he looked forward to his meeting with Putin.
"Greetings to the friendly people of Russia. I look forward to my visit to Sochi tomorrow and my meeting with President Putin. It is always a pleasure to meet him," Modi tweeted.
During their informal summit in the Russian city of Sochi today, the two leaders will primarily focus on global and regional issues, including the impact of the US decision to withdraw from a nuclear deal with Iran.
Official sources said the two leaders would meet for 4-6 hours for the "agendaless" talks where deliberations on bilateral issues were likely to be limited.
They said the issues on the table might include the economic impact on India and Russia in the wake of the US withdrawal from the nuclear deal, the situation in Afghanistan and Syria, the threat of terrorism and matters relating to the upcoming SCO (Shanghai Cooperation Organisation) and BRICS summits.
PM Modi arrived in Sochi at 12:10 pm. His first round of talks with President Putin will start at 03:35 pm after which they move on to lunch along with a Tete-e-Tete. At 06:15 pm, PM Modi will visit Moya Russia - Ethno Centre. He will also pay a visit to Sirius Educational Centre in the evening before boarding a flight back to Delhi at 08:40 pm. (All times are IST). 
Also read | PM Modi-President Putin to hold informal summit in Russia today; Iran nuclear deal, terrorism may be discussed
(With inputs from PTI)