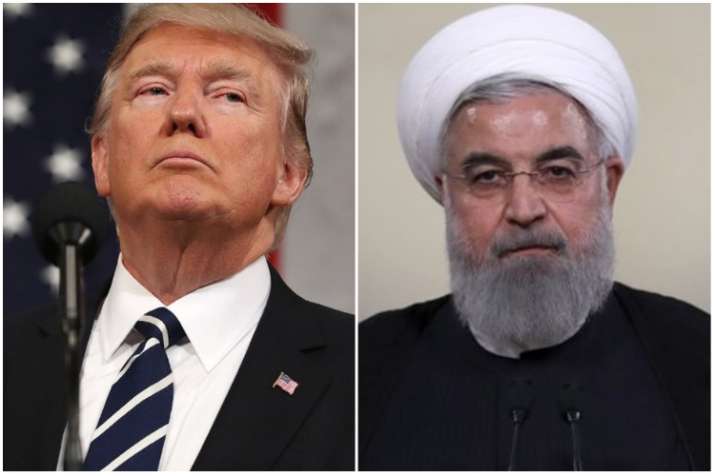 United States President Donald Trump's decision to pull out of 'horrible one-sided' Iran nuclear deal has left the world polarised as major European powers expressed regret and concern while Gulf Arab nations were jubilant. The deal, which was keeping Iran from building a nuclear arsenal in exchange for economic freedom, is likely to threaten peace in the Middle East and re-expose Iranian economy to doom. 
Top US allies had advocated against the decision, but an unfazed Trump yesterday pulled out of the 2015 landmark nuclear deal and reimposed the economic sanctions. 
"It is clear to me that we cannot prevent Iran nuclear bomb. The Iran deal is defective at its core. Therefore, I am announcing today that the United States would withdraw from the Iran nuclear deal," Trump said. 
Moments later he signed fresh set of sanctions against Iran and warned countries against any cooperation with Tehran on its controversial nuclear weapons programme. 
The "disastrous" deal gave Iran millions in cash and did not prevent it from acquiring nuclear weapons, he said. 
In reversing the signature foreign policy accomplishment of his predecessor Barack Obama, Trump by taking this decision ignored advice against such a move from his key European allies and top US Democratic leaders.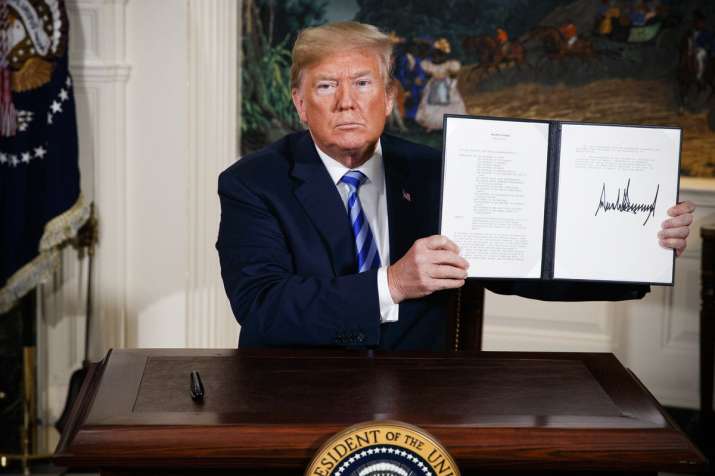 Describing this as a bad deal, Trump said that the nuclear deal is unlikely to prevent Iran from acquiring nuclear weapons. "The Iranian promise of abandoning its nuclear weapons is a lie," Trump alleged. 
Allowing the deal to stay would result in an arms race in the region, he said, adding that the deal does nothing to constrain Iran's "destabilising behaviour". 
Referring to his consultation with key American allies, Trump said it is that they cannot prevent an Iranian nuclear bomb under the "decaying and rotten" structure of the current agreement. 
"If we do nothing, we know exactly what will happen. In just a short period of time, the world's leading state sponsor of terror will be on the cusp of acquiring the world's most dangerous weapons," he said.
Also read | Donald Trump pulls US out of Iran nuclear deal, terms it 'horrible one-sided deal'; to reinstate economic sanctions
"We will be instituting the highest level of economic sanction. Any nation that helps Iran in its quest for nuclear weapons could also be strongly sanctioned by the United States. America will not be held hostage to nuclear blackmail. We will not allow American cities to be threatened with destruction, and we will not allow a regime that chants 'Death to America' to gain access to the most deadly weapons on earth," Trump said. 
Announcing to terminate the JCPOA, Trump said the deal allowed Iran to continue enriching uranium and over time reach the brink of a nuclear breakout. 
"The deal lifted crippling economic sanctions on Iran. It exchanged for very weak limits on the regime's nuclear activity and no limits at all on its other maligned behaviour," he alleged. 
Watch the full video of US President Donald Trump's statement on Iran Nuclear Deal: 
Statement on the Iran Nuclear Deal: https://t.co/O3SpryCKkc

— Donald J. Trump (@realDonaldTrump) May 8, 2018
"In theory, the so-called Iran deal was supposed to protect the United States and our allies from the lunacy of an Iranian nuclear bomb, a weapon that will only endanger the survival of the Iranian regime," he said. 
Alleging that the heart of the Iran deal was a "giant fiction", that a murderous regime desired only a peaceful nuclear energy programme, Trump said the US has definitive proof that this Iranian promise was a lie. 
"Last week, Israel published intelligence documents, long concealed by Iran, conclusively showing the Iranian regime and its history of pursuing nuclear weapons," he said. 
"The fact is, this was a horrible one-sided deal that should have never, ever been made. It didn't bring calm, it didn't bring peace, and it never will," he said. 
"In the years since the deal was reached, Iran's military budget has grown by almost 40 per cent while its economy is doing very badly. After the sanctions were lifted, the dictatorship used its new funds to build nuclear-capable missiles, support terrorism and cause havoc throughout the Middle East and beyond," he said. 
"The agreement was so poorly negotiated that even if Iran fully complies, the regime can still be on the verge of a nuclear breakout in just a short period of time," he noted. "The deal's sunset provisions are totally unacceptable. If I allowed this deal to stand, there would soon be a nuclear arms race in the Middle East. Everyone would want their weapons ready by the time Iran had theirs," Trump said. 
Making matters worse, the deal's inspection provisions lack adequate mechanisms to prevent, detect and punish cheating. And don't even have the unqualified right to inspect many important locations, including military facilities, he said. 
"Not only does the deal fail to halt Iran's nuclear ambitions, but it also fails to address the regime's development of ballistic missiles that could deliver nuclear warheads," he said. 
"Finally, the deal does nothing to constrain Iran's destabilising activities, including its support for terrorism. Since the agreement, Iran's bloody ambitions have grown only more brazen," Trump said. 
Ever since his election campaign, Trump has frequently criticised the Obama-era Iran nuclear deal, also known as the Joint Comprehensive Plan of Action or JCPOA. 
He had described the agreement, which was negotiated by then US secretary of state John Kerry, as a bad deal. 
The Iran nuclear deal was reached in Vienna in July 2015 between Iran and the P5 (the five permanent members of the UN Security Council) plus Germany and the European Union. 
Trump's decision would have global ramifications, straining Iranian economy and heightening tensions in the Middle East. 
Iran may resume Uranium enrichment if deal fails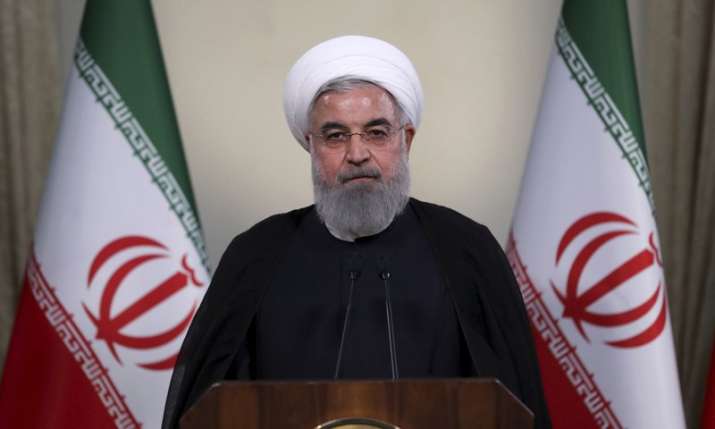 Iranian President Hassan Rouhani said he'd send his foreign minister to negotiate with countries remaining in the nuclear deal after Donald Trump's decision to pull America from the deal, warning he otherwise would restart enriching uranium "in the next weeks." 
Rouhani's speech, carried live by state television yesterday, marked a doubling-down for the cleric who has seen his signature foreign policy achievement threatened by Trump for years. 
However, he stressed that the deal could survive without the US. "If at the end of this short period, we've conclude that we are able to achieve our demands in the deal, the deal will survive," Rouhani said. 
Iran likely hopes the European Union will pass laws to protect European firms from any potential US sanctions.
AFP map and factfile on the 2015 Iran nuclear deal@AFPgraphics pic.twitter.com/stEN9eq9NM

— AFP news agency (@AFP) May 9, 2018
Russia 'deeply disappointed' at Trump Iran decision
One of the key signatories on the JCPoA, Russia said that it was deeply disappointed by Trump's decision to abandon the deal, a move it called a blatant violation of international law. 
In a statement issued yesterday, the foreign ministry said Moscow was "deeply disappointed by the decision of US President Donald Trump to unilaterally refuse to carry out commitments under the Joint Comprehensive Plan of Action."
Washington's actions were "flagrantly trampling on the norms of international law", the ministry said, saying it is "highly concerned that the US is once more acting contrary to the opinion of the majority of countries." Moscow condemned Trump's decision as "fresh proof of Washington's inability to negotiate" alleging that US criticism of Iran's "absolutely legal nuclear activity" was "just a smokescreen for settling political scores with it." A joint commission of world powers that reached the deal "must swiftly and very scrupulously examine and assess the current situation," the ministry said.
The decision has left US allies and co-signatories in the treaty worried. 
Read more: Iran rejects Donald Trump's demand for changing 2015 nuclear deal
Regret and concern: UK, France, Germany
"It is with regret and concern that we, the leaders of France, Germany and the United Kingdom take note of President Trump's decision to withdraw the United States of America from the Joint Comprehensive Plan of Action," British Prime Minister Theresa May, French President Emmanuel Macron and German Chancellor Angela Merkel said yesterday.
In a joint statement issued soon after Trump announced his decision to withdraw from the Iranian nuclear deal yesterday, the leaders emphasized their continuing commitment to the JCPoA.
"This agreement remains important for our shared security. This resolution remains the binding international legal framework for the resolution of the dispute about the Iranian nuclear programme. We urge all sides to remain committed to its full implementation and to act in a spirit of responsibility," the three leaders said. 
Trump's National Security Adviser John Bolton said the US was having consultations with its top allies.
"It has been already in consultations with European and other allies before today's announcement because we were trying to be fully transparent with them," Bolton told reporters at the White House.
The President already made some calls yesterday and will make more. "I'm going to be discussing this tomorrow morning with my British, French, and German counterparts, so we're already underway," he said.
Leaders of the three countries encouraged Iran to show restraint in response to the decision by the US. Iran must continue to meet its own obligations under the deal, cooperating fully and in a timely manner with IAEA inspection requirements, they reiterated.
"There must be no doubt: Iran's nuclear programme must always remain peaceful and civilian. While taking the JCPoA as a base, we also agree that other major issues of concern need to be addressed," the statement said.
"A long-term framework for Iran's nuclear programme after some of the provisions of the JCPoA expire in 2025 will have to be defined. We must also address shared concerns about Iran's ballistic missile programme and its destabilising regional activities, especially in Syria, Iraq and Yemen. We have already started constructive and mutually beneficial discussions on these issues, and the E3 is committed to continuing them," they said. 
JCPoA was essential to prevent Iran from developing nuclear weapons: Canada
Canadian Foreign Minister Chrystia Freeland supported an effective rules-based international order, saying that the JCPOA was essential to prevent Iran from developing a nuclear weapons capability and to ensure greater regional and global security. 
"Iran must not be allowed to develop nuclear weapons. The JCPoA has subjected Iran's nuclear programme to a rigorous and unprecedented international verification regime by the International Atomic Energy Agency (IAEA)," she said. 
The JCPoA was not perfect but it helped curb a real threat to international peace and security, Freeland said. 
"Canada regrets that the United States has decided to withdraw from the JCPoA, particularly given that, according to the IAEA, Iran continues to implement its JCPoA commitments. Canada condemns Iran's ongoing development of its ballistic missile programme and its ballistic missile launches, which are destabilising for the region. Canada maintains sanctions that target Iran's ballistic missile programmes," she added.
Syria brands Trump withdrawal from Iran deal as 'aggression'
Syria strongly condemned President Donald Trump's decision to withdraw from the Iran nuclear deal and said its ally would overcome what it called US "aggression", state media reported. 
Damascus "strongly condemns the US president's decision to withdraw from the nuclear deal with Iran, which shows once again that the United States is not honouring its commitments and international agreements," a Syrian foreign ministry source was quoted as saying by SANA news agency yesterday. 
It affirmed its "total support for the Islamic Republic of Iran... and confidence in its ability to overcome the impact of the aggressive position of the US administration that affects the security and stability of the region and the world". 
Iran has been a key ally of Syrian President Bashar al-Assad, providing military advisers and organising "volunteer" fighters.
AFP map of Iran and the Middle East region with military and economic data@AFPgraphics pic.twitter.com/BspD6EbjM5

— AFP news agency (@AFP) May 9, 2018
Barack Obama: Withdrawal from Iran nuclear deal a mistake 
In a rare public statement, former US president Barack Obama criticised Trump's decision to walk away from the Iran nuclear deal, terming it a mistake. 
"I believe that the decision to put the JCPOA at risk without any Iranian violation of the deal is a serious mistake," Obama said yesterday after Trump announced to withdraw from the Iranian nuclear deal and signed an executive order imposing new sanctions on Iran.
Noting that all are aware of the dangers of Iran obtaining a nuclear weapon, he said it could embolden an already dangerous regime, threaten friends with destruction, pose unacceptable dangers to America's own security and trigger an arms race in the world's most dangerous region.
"If the constraints on Iran's nuclear programme under the JCPoA are lost, we could be hastening the day when we are faced with the choice between living with that threat, or going to war to prevent it," he said.
In a democracy, there will always be changes in policies and priorities from one administration to the next, he acknowledged.
"But the consistent flouting of agreements that our country is a party to risks eroding America's credibility, and puts us at odds with the world's major powers," Obama said.
Decision will isolate America: Biden
The decision of US President Donald Trump to withdraw from the Iranian nuclear deal would isolate America, former vice president Joe Biden has said.
"Today's announcement that the United States will withdraw from the Iran nuclear deal is a profound mistake. It will isolate the United States from nearly every major world power. It will weaken our credibility and global leadership. It will allow Iran to garner international sympathy while doing nothing to reduce its harmful activities across the Middle East," Biden said in a statement yesterday. 
Upset at the decision, he said it would likely put Iran back on the path to a nuclear weapon with no clear diplomatic way out.
"This wholly unnecessary crisis could ultimately put the safety of our country and our fellow citizens, including thousands of men and women in uniform serving across the Middle East, at risk by setting us back on a path to war with Iran," Biden said.
However, Donald Trump is not entirely isolated in the matter. 
Israel comes out in support
Among the major global powers, Israeli Prime Minister Benjamin Netanyahu was first to express an early support for US President Trump's decision to pull out of Iran nuclear deal. Netanyahu expressed strong support for Trump's "bold" decision to withdraw from the deal.
Israel's army meanwhile asked authorities in the occupied Golan Heights to open and prepare missile shelters due to "irregular activity by Iranian forces" over the demarcation line in Syria.
"Israel fully supports President Trump's bold decision today to reject the disastrous nuclear deal with the terrorist regime in Tehran," Netanyahu said in a televised address, referring to the multinational accord with his country's main enemy.
Netanyahu, speaking shortly after Trump's announcement yesterday, said leaving the current deal in place was "a recipe for disaster, a disaster for our region, a disaster for the peace of the world". 
Jubilation in Gulf Arab
Saudi Arabia and its Gulf Arab allies welcomed President Donald Trump's decision to withdraw the United States from the Iran deal after years of warning that it gave their arch-rival cover to expand its regional influence.
The quick embrace of Trump's announcement on Tuesday reflects a sense of vindication by Saudi Arabia and the United Arab Emirates, which have pushed Washington to take seriously Tehran's ballistic missile programme and support for militant groups - security threats they regard as existential.
Ordinary Saudis rejoiced at the announcement, tweeting photos of Trump and Crown Prince Mohammed bin Salman with comments like "We prevailed", "Game over" and "Action, not words".
"No deal could ever be struck with the devil, and Saudi Arabia fully supports President Trump's decision ... Together we prevail," one tweet read.
Sunni Muslim Saudi Arabia has been at loggerheads with Shi'ite Iran for decades, fighting a long-running proxy war in the Middle East and beyond, including armed conflicts and political crises in Iraq, Syria, Lebanon and Yemen.
Impact on Oil and Market 
United States President Donald Trump's decision to re-impose economic sanctions in wake of Iran nuclear deal pullout has made the crude oil market jittery. 
Iran, the third-biggest producer among the Organization of the Petroleum Exporting Countries, produces about 3.8 million barrels per day (bpd), or about 4.0 per cent of the world's oil supplies. 
The United States'decision to not allow trade with Iran will hit the global supplies. Reacting to the development, crude oil prices jumped back to near 3.5-year highs. 
Asian shares ticked down as renewed US sanctions on Tehran were seen as disruptive for many companies that have deals with Iran. Trump's move is also seen as risking worsening already-tense relations between Iran and US allies in the region. 
(With inputs from agencies)