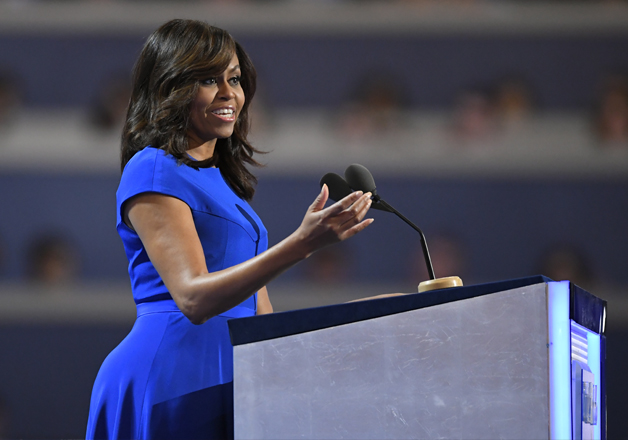 US First Lady Michelle Obama today endorsed presumptive presidential nominee Hillary Clinton, telling delegates at the Democratic National Convention that the later has 'the guts and grace to keep coming back'.
"Hillary Clinton has never quit on anything in her life," she said at the Wells Fargo Centre in Philadelphia, Pennsylvania state's largest city.
"I want someone with proven strength ... someone who understands that the issues a president faces are not black and white and cannot be boiled down to 140 characters," she added.
The First Lady said that she "trusts and believes" the former Secretary of State was truly qualified to shape "America's children for the next four or eight years".
November's election is not Republican versus Democrat, Michelle said, adding that it is about who will have the power to shape our children for the next four or eight years of their lives.
"I am with you tonight because in this election, there is only one person who I trust with that responsibility, only one person who I believe is truly qualified to be president of the US, and that is our friend, Hillary Clinton," she said.
She went on to praise Clinton's resiliency after the bitter primary in 2008, one that had similar levels of heat as this year's battle between the former First Lady and Democratic rival Bernie Sanders.
"When she did not win the nomination eight years ago, she did not get angry or disillusioned. Hillary did not pack up and go home because as a true public servant, Hillary knows that this is so much bigger than her own disappointment," Michelle said.
Michelle, who took to the stage to Clinton's campaign music - "Brave" by Sara Bareilles - cast Hillary as a lifelong fighter who has spent decades trying to improve the lives of others while implicitly rebuking her rival, Republican presidential nominee Donald Trump.
She touted Clinton's experience fighting for children with disabilities as a young lawyer, pushing for health care when she was first lady herself and child care as a New York senator.
Without restating the message the Clinton campaign has been pushing against Trump, the first lady also suggested the real estate mogul lacked the temperament to be commander in chief, ridiculing his Twitter tendencies and "thin skin" without ever mentioning his name.
Michelle described the next president she wants to see in the White House as a uniter who would not pit divisions of people against each other because "we are always stronger together".
Before she concluded her speech, Michelle delivered a message unmistakably delivered at the billionaire businessman.
"Don't let anyone ever tell you that this country is not great, that somehow we need to make it great again. Because this right now is the greatest country on Earth," the First Lady said.
The DNC which opened on Monday night will last until Thursday evening.
Delegates from 50 states on Tuesday will officially select Clinton as the first female presidential nominee of one of the country's two biggest parties.
Clinton will formally accept the nomination on Thursday evening with a speech closing out the convention after being introduced to the assembled delegates by her daughter Chelsea.
With IANS Inputs