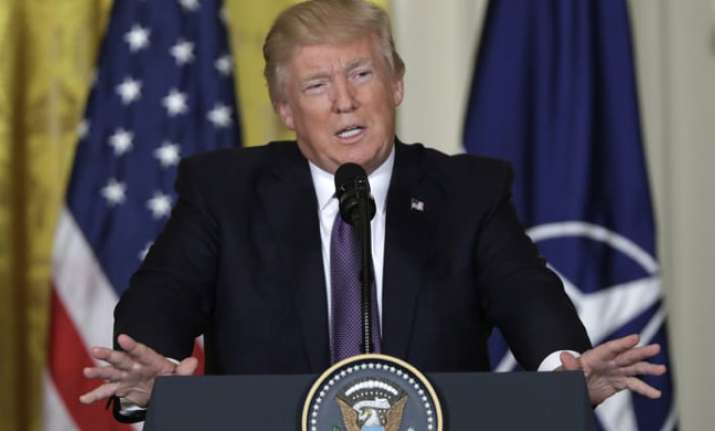 The US President Donald Trump on Friday described the dropping of the GBU-43 bomb on eastern Afghanistan as "another successful job" and said he is very proud of the U.S. military.
Earlier, the Pentagon on Thursday confirmed the use of the MOAB, and was assessing damage. General John Nicholson, commander of US forces in Afghanistan, signed off on its use, CNN reported. Authority was also sought from General Joseph Votel, commander of US Central Command (CENTCOM).
An Afghan National Army (ANA) official, who did not want to be named, was quoted by TOLONews as saying that they were not aware of the size of the bomb but that the US had been using different types of weapons against the IS and other militants for the past few months. 
Meanwhile, NATO's Resolute Support Mission in Afghanistan confirmed the strike, and said US Forces-Afghanistan conducted the strike on a IS tunnel complex in Achin district as part of ongoing efforts to defeat the group in Afghanistan.
"The strike was designed to minimize the risk to Afghan and U.S forces conducting clearing operations in the area while maximizing the destruction of IS fighters and facilities," read the statement.
The Air Force developed the MOAB in 2003, but it had never been used in combat until on Thursday.
Trump and the White House dodged questions from reporters on Thursday about whether Trump himself authorized the decision to drop the bomb.
"Everybody knows exactly what happens, so, and what I do is I authorize my military," Trump said. 
"We have the greatest military in the world, and they've done a job as usual, so we have given them total authorization. And that's what they're doing. And frankly, that's why they've been so successful lately."
Trump also compared his military successes to those of his predecessor, former President Barack Obama.
"If you look at what's happened over the last eight weeks and compare that, really, to what's happened over the last eight years, you'll see there's a tremendous difference. Tremendous difference," he said. 
"So we have incredible leaders in the military and we have incredible military and we are very proud of them. And this was another very, very successful mission."
(With inputs from agencies)