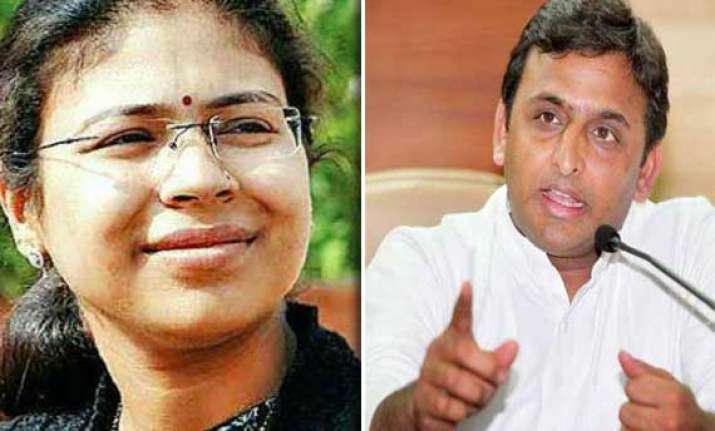 Lucknow, Aug 6: It was the SDM of Jevar and not the SDM Sadar (Durga Shakti NagpalUttar Pradesh chief minister Akhilesh Yadav had openly challenged the media to go through the LIU (local intelligence unit) report about the razing of a boundary wall of a mosque in Kadalpur village, in which he said, the SDM Durga Shakti Nagpal was reportedly involved leading to heightening of "communal tension".
But, India TV has got the LIU report, which clearly states that the wall was demolished on orders of CO/SDM Jevar and not SDM Sadar (Durga Shakti Nagpal) on July 27th.
Following is the full text of LIU report:
"To:  Home/DGP Control/ADG
Sender: In-charge, Control Room, Intelligence HQ, UP, Lucknow
Gautam Buddha Nagar... It is learnt that local Muslims were constructing a new mosque in village Kadalpur, PS Raghupuri, and a boundary wall from three sides, height 10 feet was being erected.
On getting information, the CO/SDM Jevar and Station Officer Raghupura on 27.2.13 at 1300 hrs reched the spot and got the under-construction wall demolished.
The administration says, a mosque was already present there. Local Muslims say, since the village was a bit far away, eldery people from one end found it difficult to reach the old mosque.
It is also learnt that the announced SP candidate Shri Narendra Bhati had given Rs 51 thousand cash 3 months ago and inaugurated it.
The village's population is nearly 4,000, of which 70 per cent are Muslims and 30 per cent are Hindus. The local Muslims are holding a panchayat to decide on future action.
Adequate police arrangement appears to be necessary."