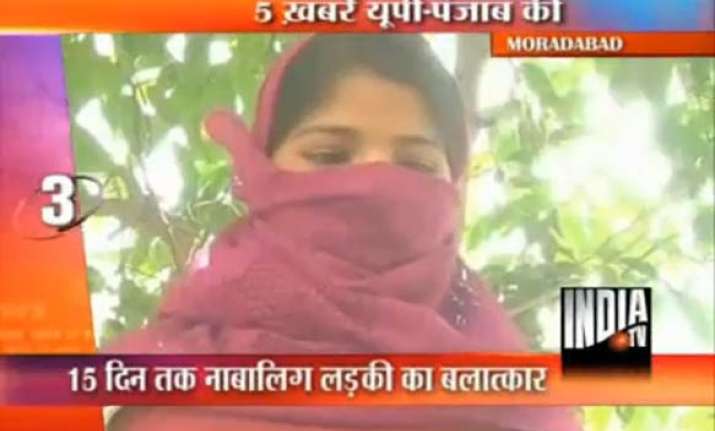 Moradabad, Jul 7: There was violence in Moradabad on Wednesday after local residents set fire to a police official's jeep protesting the gangrape of a 15-year-old girl. 

Police said, the girl was missing from her home since last 15 days. Local residents said, she was misled by a local doctor, who "sold" her to two others. The latter two confined her in a secret place and raped her for 12 days. As the girl escaped, she fell into the clutches of two more youths who raped her.

Police have arrested one person in this connection.

In Jhansi, two girls alongwith their boyfriends were taken by police from a railway station late at night and allegedly gangraped by five policemen, but police says, the two girls were levelling false charge of rape.

Police probing allegations of gang rape by the two minor girls against the men in uniform, said the two cooked up the story to explain their getting back home late.
Though the probe found the allegations false, still a medical examination of the girls has been ordered, they said.

SP (Rural) PK Tewari said one of the girls, both of whom belong to the family of a police constable, admitted to the false charges relating to the July 4 incident in Mau Ranipur area.

The SP said the girls, who were waiting for a train at night, were brought to the police station to save them from eve-teasing. Since they got delayed, the girls cooked up the story to evade embarrassment, indicting five policemen of raping them, the SP said.