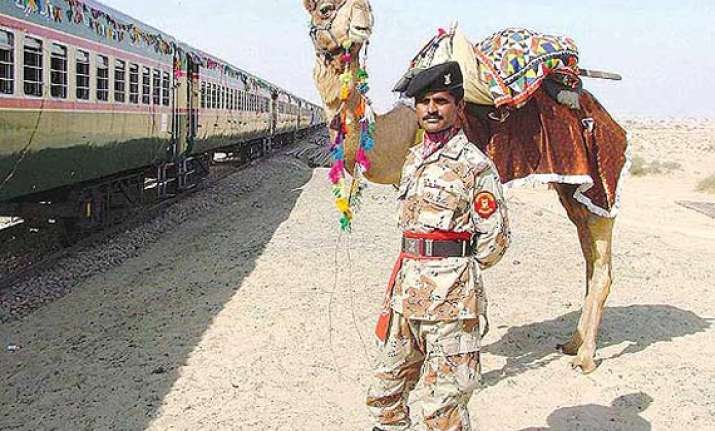 Jodhpur, Jun 10: Two additional coaches have been attached to the Thar Express that runs between India and Pakistan to meet the summer-holiday rush of passengers, a railway official said yesterday.
This was done in view of the demand made by Pakistan considering the increase in the number of people from that country arriving here.
"The number of coaches in Thar Express has been raised from 7 to 9 for two trips on June 7 and 14," spokesperson of Jodhpur Division of the NWR, Gopal Sharma said.
The train with two extra coaches left with 503 passengers for Pakistan from Jodhpur's Bhagat Ki Kothi station on Friday.
Out of the 503 passengers, 368 were Muslims, 117 Hindus, two US nationals and remaining were children.
Against this, a whopping 678 Muslims and 102 Hindus reached Jodhpur from Pakistan this morning.
This is the highest number of the passengers coming from Pakistan this year. 410 passengers had come from Pakistan on June 9 last year and 700 on the next trip on June 16, highest in 2012, Sharma said.
"But despite this, Pakistani officials had not sent any requisition for additional coach," said Sharma, adding that these two weeks are crucial as the highest number of passengers board the train from Pakistan during this season.
A CID official said the increasing number of passengers was mainly due to summer vacations in both India and Pakistan.
"To make the advantage of this period, maximum Pakistani come to India with their family including children," he said.
Even though the train passes through the most arid and hot regions of the country, all the coaches of the train are general.
"We have a very taxing time while travelling in this train during sweltering summer with mercury hovering around 47-48 degrees.
If there were air-conditioned coaches, those who can afford could have a comfortable journey," a passenger Mohammad Shakir said.
Asked about any proposal to add air-conditioned coaches, Sharma said there had been no move regarding this from either side. "Even this demand of 2 coaches was for general coaches," he said.
"The spurt in number during this period also delays the train from reaching Jodhpur from Munabao (Barmer) considering the custom clearance and security check," said a custom official, adding that the delay normally spans from 7-8 hours.
"Even on Sunday the arrival of the train at Jodhpur was 12 hours behind the schedule because of this," said a railway official.