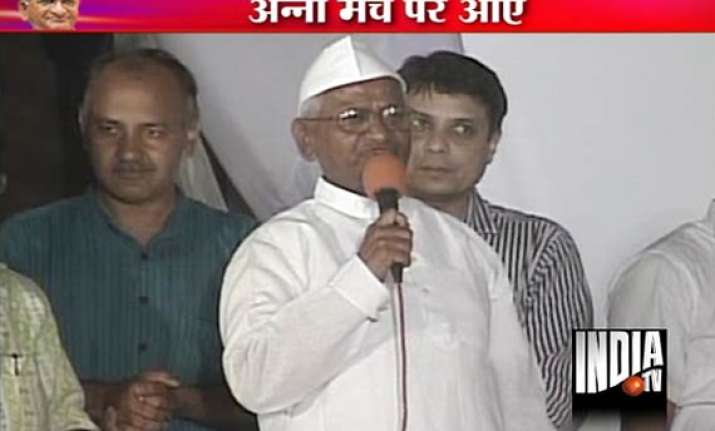 New Delhi, Aug 27: An elated Anna Hazare on Saturday evening told his supporters that the Parliament's resolve to incorporate major provisions of Jan Lokpal Bill was "half a victory", and the full victory would be attained when the Lokpal Bill incorporating all major provisions of Jan Lokpal draft will be passed.

"This is not my victory, it is the victory of the people", said the 74-year-old activist.  Hazare said he would break his 12-day-long fast on the 13th day, i.e. on Sunday at 10 AM.

"The full victory is yet to be attained", said Hazare, after Union Minister Vilasrao Deshmukh and Congress MP Sandip Dikshit went to Ramlila Maidan to hand over a letter from the Prime Minister detailing Parliament's resolve to accept several of the demands of Team Anna.

Hazare thanked all members of Parliament for supporting the major provisions of Jan Lokpal draft.

Soon after Hazare made his announcement about breaking his indefinite fast, there were scenes of jubilation in all major Metros including Delhi, Mumbai, Ahmedabad, Jaipur, Chandigarh, Hyderabad and Anna's hometown Ralegan Siddhi.