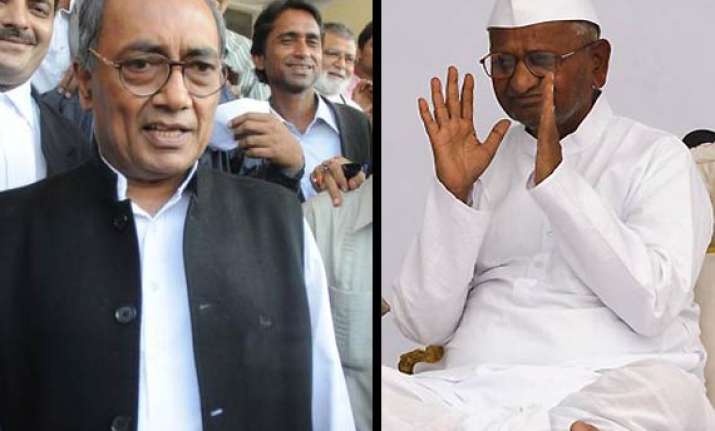 Pune, June 10: Gandhian activist Anna Hazare on Friday said Congress general secretary Digvijay SIngh should be admitted to a mental asylum.

'There is a mental hospital in Yerawada, Pune; he should be admitted there,' Hazare told reporters here when asked to react to Digvijay Singh's remarks about him.

Digvijay Singh had alleged that both Anna Hazare's and Swami Ramdev's  campaigns had links with the  Rashtriya Swayamsevak Sangh.

Singh had also asked Hazare to 'distance himself from Ramdev as the latter was being supported by the Sangh Parivar in his stir against the government.'

Meanwhile, in Bhopal, Digvijay Singh said on Thursday that  some of the  trusts run by  Swami Ramdev were involved in money-laundering. Singh  said Ramdev should declare the names of those who donated money to his trusts.

"Ramdev, who has raised certain questions against the central government, should take the initiative to declare the names of those who donated money to his trusts," Singh told reporters in Bhopal.

He alleged that trusts run by the yoga guru, who is carrying out an agitation against corruption in the country, were involved in money-laundering by helping those making donations save income tax.

Asked why Rahul Gandhi, who is also the party's General Secretary, and other party leaders were keeping mum on the Ramdev issue, Singh said that he was "alone capable of dealing with him (Ramdev)".

About Madhya Pradesh Chief Minister Shivraj Singh Chouhan's offer to Ramdev to sit on fast against corruption in Bhopal, Singh said the yoga guru was free to go anywhere but he should spare Cogress-ruled states.