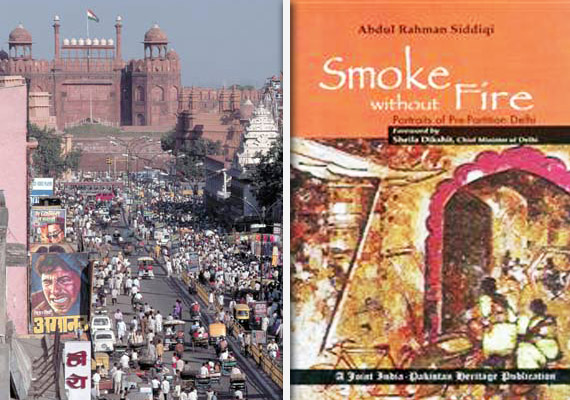 New Delhi, Mar 28: I will sing the songs of Delhi till death.
This is how 88-year-old Karachi-based Abdul Rahman Siddiqui, who moved to Pakistan during partition when he was 23 and wrote an emotional account of Old Delhi, describes his love affair with the capital city.
Siddiqui's book Smoke Without Fire: Portraits of Pre-partition Delhi, which is set in 1930s pre-partition Delhi and covers an intriguing canvas of life as seen by the author, was released by HRD Minister Kapil Sibal at an event in Chandni Chowk last night.
"I am an authentic Dilliwala. I love this city so much and I will sing the songs of Delhi till death. Delhi is the soul of our sub-continent of harmony," said Siddiqui, who retired as the Chief of Pakistan's Inter-Services Public Relations in the rank of Brigadier in 1973.
Delhi offers a unique and best example of peace and harmony as "one can see people from different regions, religions and nationalities living here in harmony and places like Chandni Chowk offer a universal message to the world as it houses a mosque, temple, church and a gurduwara all in one lane, thereby standing tall as an epitome of secularism," he said.
Speaking on the occasion, Sibal said partition was essentially partition of hearts of the people and efforts must be made to re-join those hearts.
"The partition was essentially the partition of hearts and we have to re-join those hearts by breaking the 'borders' between them," he said, adding "though people crossed to the other side, but they left their hearts behind."
Delhi, Sibal said, is the soul of India and its culture and civilisation are an epitome of peace, harmony, brotherhood and democracy.
"Though some events have taken place in the past which people cannot forget, but Delhi is an example of harmony and democracy for the whole world to see. And we should always remember the Delhi of pre-partition era," Sibal said.
The book, the Union minister said, is of great historical importance as it documents the life and times of a bygone era so effectively and it would serve as a vital link between the two neighbouring countries.
On Rajya Sabha MP Mani Shankar Aiyar, who organised the event on behalf of 'Policy and Planning Group', Sibal said his party colleague has been relentlessly working towards promoting peace between the two nations and sometimes even goes against his own party's government to stress the need for peace and harmony.
Aiyar said that it was a day to remember the pre- partition Delhi, known for its secularism and harmony and the release of the book is a historical event that underscores what is common and beautiful between the two nations. He stressed the need to strengthen such links to preserve the common sub-continental history.
The audience were mesmerised by traditional qawwalis which were followed by Dastangoi -- Storytelling by Mahmood Farooqui, a story-teller and co-director of a hit Bollywood film Peepli Live. The Dastangoi took a dig at partition, politics and corruption.