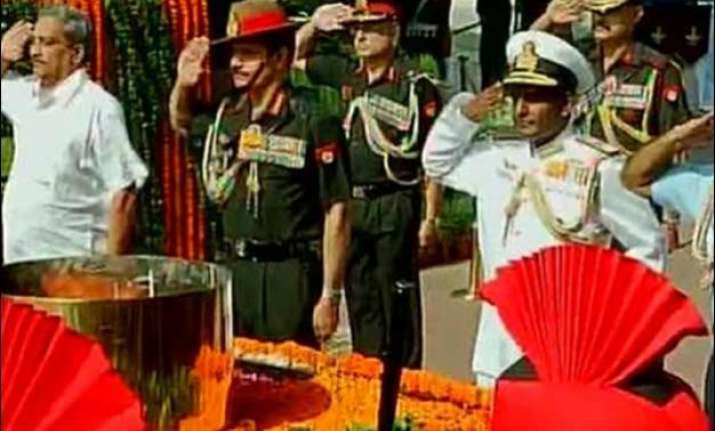 New Delhi: "Kargil Diwas-Kargil...Lest We Forget", an exhibition at Select Citywalk here commemorates the 16th anniversary of the conflict between India and Pakistan, which claimed lives of about 500 Indian soldiers.
Seven discarded vehicles provided by the Indian Army were used by Delhi Street Art to create graffiti art showcased at the Plaza at the mall, which also displayed a 2000 kg ceremonial gun.
Besides art, army weapons and last letters of the martyrs written to their families have been displayed.
"We got to create art on the famous Shaktiman Truck of the Army, besides gypsies and jeeps. We came to know that one of the vehicles was actually used in the war itself. One entire truck we have dedicated to the Air Force and the other trucks depict the soldiers capturing various points in the sector," says Yogesh Saini, founder of Delhi Street Art, which began in 2013 with the goal to add more colour to Delhi's open spaces, and give local artists a creative outlet.
"One vehicle depicts the various war cries of different regiments in the army, says Saini.
Canvases painted by about 50 artists from the organisation thematically depicting a soldier's life in a more creative manner on the backdrop of the war have also been displayed.
"I am happy that a corporate has come forward and done such an event. And I am even more ecstatic that it is being held at a Mall. This gives an opportunity to spread the glory of the war as well as help people to remember the martyrs," Vishal Batra, twin brother of martyred Captain Vikram Batra.
Martyred Vikram Batra has been posthumously awarded with the Param Vir Chakra nicknamed Sher Shah ('Lion King') in Hindi for his courage which also doubled as his call sign.
The brave solider during his endeavours coined a slogan- "Yeh Dil Maange More!" as his signal to communicate mission success. Such slogans and quotes by not only martyred Batra but also by others have being showcased.
"It was nice to come across newspaper cuttings of about the martyrs and last letters to their families. The slogans and the clarion call for particular regiments like the Gorkha, the Jat regiments were fascinating. I hope by looking at these people remember the sacrifice of our soldiers," says Batra.
The three day event, which began July 24  also showcased a musical performance by the Indian Air Force band, a musical tribute to a soldier's life. 
A display wall of photographs of the war, honouring the families of the martyrs and special video messages from civilians recorded at the mall for soldiers and their family are also be showcased.
"Soldiers fight on our borders, I whole heartedly thank them and their families who support them and their loved once so that we can peacefully live our lives here," says a shopper in the recorded message.
A special stall at the event displayed products such as handbags, batik and block printed products created by war widows.
"We take this opportunity to send our grateful thanks to all those who are guarding our borders in extreme adverse conditions, spending sleepless nights so that we can all sleep safely in our homes in peace," says Arjun Sharma Director, Select Citywalk.