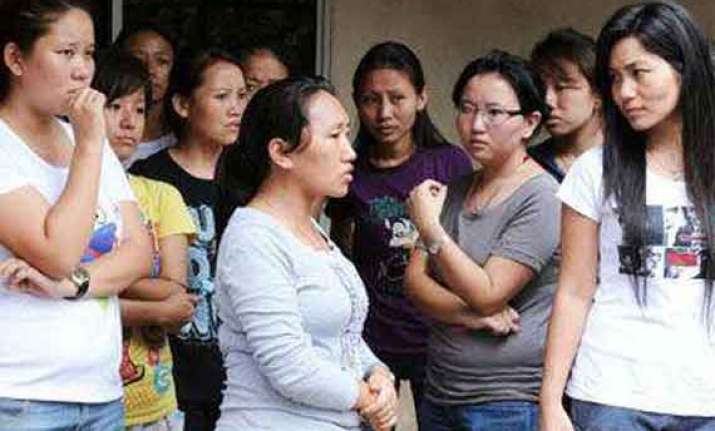 New Delhi: From being overcharged to racial abuse, people from the northeastern states have to fight it out in their daily life in the capital and with the killing of a Manipuri youth Monday, their grievances and anxieties have again come to the fore.
"Delhi is becoming unsafe for everyone, especially for people from the northeastern region. We are cheated everywhere, with local shopkeepers quoting increased prices just looking at us. Even autowallahs fleece us by overcharging and refusing to go by the meter rates," Taba Doni, who hails from Arunachal Pradesh, told IANS.
Doni, a student, added that he and his friends end up paying high rents "as compared to other people" living in the same building.
Agreed 27-year-old Swapan Bebbarma who attributed such "racial" attacks to their "different looks".
"We are attacked maybe because we look different. Cases of people from the northeast being attacked - either verbally or physically - are nothing new now,"
Bebbarma, who is from Tripura, told IANS.
More than 10,000 people from the northeast come to Delhi every year for education and jobs because of poor opportunities in the region.
A 29-year-old Manipuri BPO employee was beaten to death in south Delhi's Kotla Mubarakpur area early Monday by five youths. The shocking incident comes six months after a 19-year-old Arunachal Pradesh student, Nido Tania, died after being beaten with iron rods and sticks by some men after an altercation with a shopkeeper in a south Delhi market, not far from Kotla Mubarakpur.
Though these incidents were highlighted because of adequate media attention, there are many that go unreported, the members of the community feel.
Bebbarma added that the lack of proper education and employment opportunities in the northeastern region brings the young to the national capital.
"I have many such incidents to narrate where we have been targeted. Though such cases occur in other states as well, surprisingly it is higher in Delhi, which is
the national capital," Gary Thouthang, general secretary of student organisation of the Kuki tribe, told IANS.