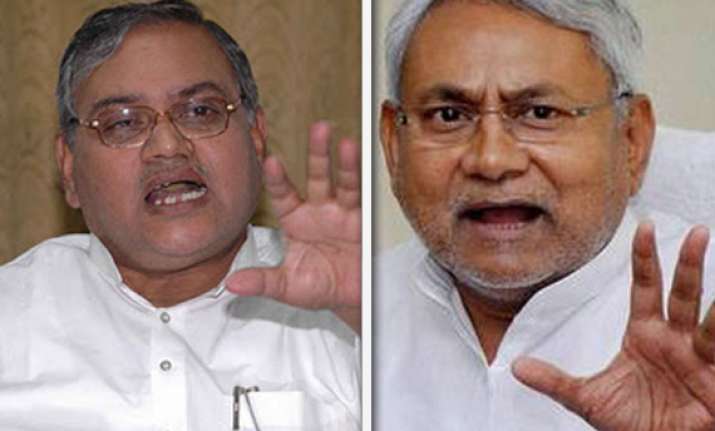 Patna, Aug 8: In an unsavoury turn to the state honour provided to the five martyred army jawans, a Bihar JD(U) minister Bhim Singh, who looks after rural affairs, made an objectionable remark today saying "people opt for army and police to become martyrs".
He also lambasted the reporter for asking why the ministers did not go to the airport to receive the coffins last night. The minister counter-questioned: "Did your father and mother go there?"
As the electronic media went to town with this remark, a furious chief minister Nitish Kumar gave a dressing down to the minister, and ask him to publicly apologise for his remarks.
Bhim Singh later said, "I express my regret, if I have hurt somebody's feelings, but let me add, my remarks were torn out of context."
The following was the question-answer session in which the electronic media reporter had to bear the brunt of the minister's anger: Reporter:
Sir, four jawans from Bihar have been martyred.
Minister:
The government has given them state honour. Jawans are meant to become martyrs, otherwise why do people work in the army and police? Will you like to become a martyr? They (jawans) go there to become martyrs. That is the feeling with which they join the army and the police.
Reporter:
Shouldn't we honour their feelings?
Minister:
Yes we are honouring their feelings. The entire Parliament is with them. The state government is with them.
Reporter:
But Sir nobody went to the airport when their bodies arrived?
Minister:
Are you not with their feelings?  
Reporter:
No Sir, I am fully with their feelings. I was present there at the airport
Minister:
Were you there at the airport as a citizen or as part of your duty? You were there on duty. Did you father go there? Is not your father a citizen? Did he go there? Did your mother go there? You were working for your salary.
Reporter:
Doesn't the government, Sir, need to work for its salary?
Minister:
Yes, it's working fully.  (and the minister walked off).
After this conversation was telecast on news channels, a sombre looking Bihar chief minister Nitish Kumar told reporters today that he called the minister and asked him to tender apology.
"The minister told me he made a mistake. I asked him to tender apology. I am very much hurt over such remarks. When the entire nation is in grief and stands united, we should honour our martyrs.
"These martyrs made the supreme sacrifice for the nation", Nitish Kumar said.
"Whatever happened over the minister's remarks is really unfortunate. Our ministers were present today at the funerals of the martyrs. Our cabinet secretary and other officials were present at the airport last night as per protocol.
"I would request political parties not to indulge in brownie points over such a sensitive issue", said the chief minister.
"We are proud of our martyrs. We will never forget their sacrifices", said Kumar.