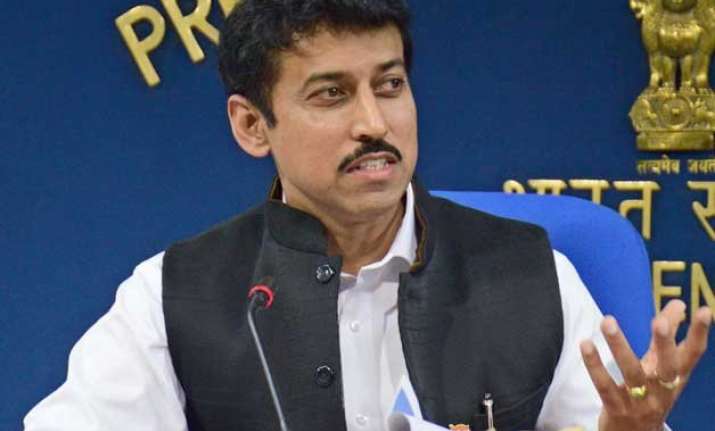 New Delhi: In what could be a warning to Central Board of Film Certification (CBFC) chief Pahlaj Nihalani, Minister of State, Information & Broadcasting Rajyavardhan Singh Rathore said in the meeting that the job of Central Board of Film Certification (CBFC) is to certify and not censor.
 
Top producers from Bollywood today met minister to discuss undue interference by Censor Board. Reportedly, Rathore clarified in the meeting that the job of Central Board of Film Certification (CBFC) is to certify and not censor.
Aamir Khan, Mahesh Bhatt, Karan Johar, Anurag Kashyap, Anushka Sharma, Kiran Rao, Rajkumar Hirani were among the film personalities who were present in the meeting.
Talking to the reporters after the meeting, actor Aamir Khan said, "I&B Min told us that it is not a censor board but, it's a certification board".
"No one individual can affect the certification of film, so is the process," Rathore told reporters.
"Discussion was on issues and suggestions, on ideas, the film industry people came up with wonderful ideas," he added.
It was earlier reported that Censor Board members are unhappy with their chief Pahlaj Nihalani and Rathore flew down to Mumbai to meet them. He will meet the board members tomorrow.
Nihalani, a producer by profession himself, was appointed the chief of Censor Board on January 19 this year following the resignation of Leela Samson. Just last month, he made a list of 23 cuss word that he planned to ban from use in the films. After much hue and cry he dropped the plan to implement it. However, unofficially, the board has not let any film use cuss words. Recently released films 'Dum Laga Ke Haisha' and 'NH10' went through a lot of cuts before getting certified.
Filmmaker and Board member Ashoke Pandit alleged that Nihalani acts like a monarch. He said, "He also doesn't appreciate the intelligence of the filmmaker and the audience.He functions like an archaic monarch treating Censor Board like his own fiefdom."
Pandit alleges, "Nihalani personally views every film, overriding every rule in the book and calling filmmakers to his cabin who are expected to bow to his diktats."
Last week, a strongly-worded letter to Mr Nihalani written by Board member Dr Chandraprakash Dwivedi was made public. In the letter, Dr Dwivedi objected to the edits ordered in NH10 because, as he wrote, it had been decided in a previous meeting that the list of banned words would not be implemented without discussion.