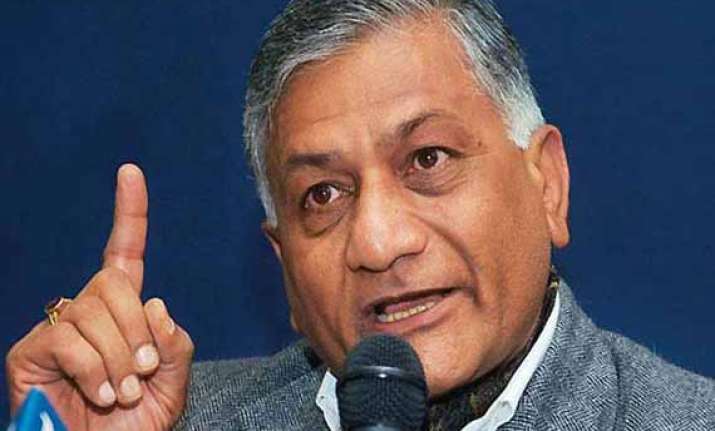 New Delhi: India today said it remains committed to building peaceful and friendly ties with Pakistan and expects it to abide by the commitment to prevent its territory and territory under its control from being used for terrorism against India.
In a written reply to Rajya Sabha on the government's policies and programmes for enhancing bilateral relationship with SAARC countries, Minister of State for External Affairs Gen V K Singh said India will continue to engage pro-actively with all members of the grouping.
On Pakistan, he said the government remains committed to building peaceful, friendly and cooperative ties with Pakistan in an environment free from terror and violence.  "It is India's desire to intensify and accelerate the process of trade normalisation and implement the steps agreed in September 2012 at the Commerce Secretary level," he said. 
The Minister said the government hopes that bilateral relations with Pakistan will progress in economic, cultural and political fields in the same manner that India's relations with her other SAARC neighbours have progressed in the recent years, built on partnerships for development and mutual prosperity.
"It is India's expectation that Pakistan abides by its commitment to prevent its territory and territory under its control from being used for terrorism against India," Singh said.
Meanwhile, underlining that India has a close strategic partnership with Afghanistan covering a broad spectrum of areas including an active role in providing development and reconstruction assistance to Afghanistan, he said New Delhi is working with Kabul for its regional integration with the SAARC economy.
Regarding Bangladesh, Singh said that bilateral relations have received a major boost in recent years and both sides have agreed on a Framework Agreement on Cooperation for Development that lays down the road map for future cooperation.
On Nepal, the Minister said key focus areas for further intensification of bilateral ties in the years ahead include hydro-power development, enhanced development cooperation, trade and connectivity as well as close security cooperation, among others.
Referring to ties with Sri Lanka, he said India greatly values its relations with the island nation.  In the recent past, bilateral cooperation has seen significant acceleration and expansion in all areas of mutual interest, including trade and investment, he said. 
"India has taken up the issue of expediting the process of national reconciliation in a manner that meets the aspirations of the Tamil community. Other important issues taken up include early and full implementation of the 13th Amendment and beyond, fishermen's issue," he said.