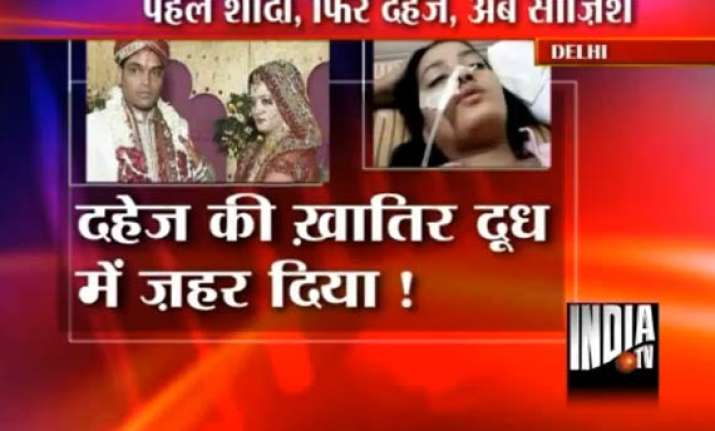 New Delhi, Apr 27: Poonam Chaudhary, a newly-wed woman had to be hospitalized 45 days after her wedding, after her in-laws allegedly forced her to drink a glass of milk laced with poison. Poonam is presently fighting a battle against death in a hospital.
 
Barkha Singh, chairperson of Delhi Commission for Women, met Poonam in hospital today and ordered the Investigating Officer to register a case against the in-laws.
 
Police were initially unwilling to register a dowry case against the in-laws, Poonam's father alleged.
 
Poonam was married to Jasbir on March 11 this year. She was then working at the Delhi airport with a foreign airlines. The in-laws forced her to quit her job and then pressurized her to bring a costly car, refrigerator and other luxury items as dowry, her father said. 
 
On Monday April 25, Poonam had gone to her college for a test and after she returned she was asked by her in-laws to drink a glass of milk containing poison.
 
As she was struggling with death, she SMSed her father  saying : "Papa mujhe bacha lo plz yeh log mujhe maar daalenge-Poonam" and then fell unconscious.
 
Her father Ramesh Choudhary rushed to her in-laws house in Begum Vihar in Outer Delhi and rushed her to a hospital.
 
Poonam revealed on camera how she was confined to a room by her in-laws and was not allowed to talk to her parents over cellphone. She alleged she was regular beaten up by her in-laws.
 
Poonam's in-laws are hiding from the police. Her husband Jasbir told India TV over phone that they had no hand in giving her poison, but could not explain why his family did not rushed her to the hospital immediately.