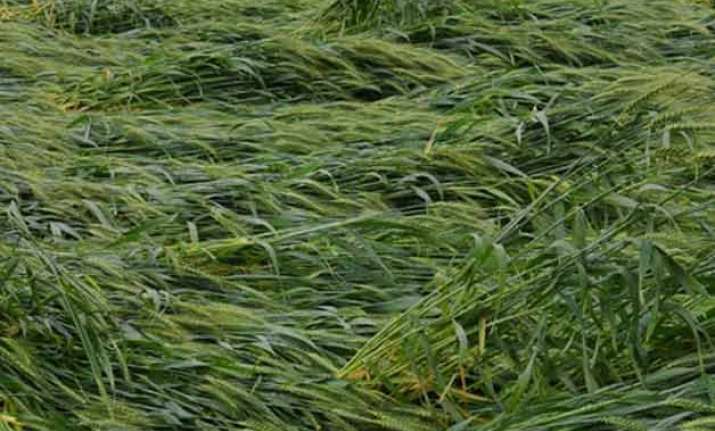 New Delhi: Heavy March rain with strong wind in many parts of the North India has severely affected the crops, flattening the standing fields of wheat and mustard seed. Mango plantations were also damaged in the rain that will cause a delay in the mango season and less fruits this year.
Since it started to rain on Saturday night, the farmers from Punjab, Haryana, Uttar Pradeshas, Maharashtra and other parts of North India have started to worry about its adverse effects on the rabi crops and vegetable fields. The matter was even raised in Lok Sabha where members demanded special packages for farmers as they are to face heavy loss.
The Met department has said that this was the wettest day of March in 100 years. According to the reports coming out from different parts of the country, wheat crops have suffered heavy damage in Sirsa, Ambala, Karnal (Haryana), Bathinda, Muktsar, Amritsar (Punjab) and east UP. These parts have also suffered damage to vegetable fields.
Reports from east UP districts like Varanasi and Gorakhpur said the standing wheat crop suffered over 50% loss while other crops including arhar, mustard, pea and gram were also hit.
Potatoes and tomatoes are heavily damaged because of the rain in the parts especially east and central-west UP. In Mainpuri district, potato digging was affected and rainwater had harmed the yield, with cultivators fearing that the crop could rot or get discoloured.
Mango growers in Malihabad (Lucknow) are complaining that the rain has damaged 10%-15% of the crop. Besides, they fear an outbreak of a fungus infection due to the untimely rains and the sudden drop in temperature.
UP Chief Minister Akhilesh Yadav has sought a survey of the damages for fixing compensation to farmers. Kanpur recorded the state's highest 42mm rain, followed by Hamirpur (36mm) and Banda (35.6mm).
The downpour could hit the production of famous sharbati variety of wheat in Madhya Pradesh. The farmers fear that the crop may lose its S factor — shape, size and shine.
Chhattisgarh government has also started assessing the situation in the state. About 4 lakh hectares of chick peas crop in the state are under threat from the heavy rain.
In Maharashtra's Nashik district, which saw a massive downpour of 594.4mm on Saturday and 448.5mm on Sunday, preliminary estimates show 4,295 hectares of farmland of 4,910 farmers were affected. Across the region, grapes, pomegranates and other cash crops along with wheat, onion being suffered damage.