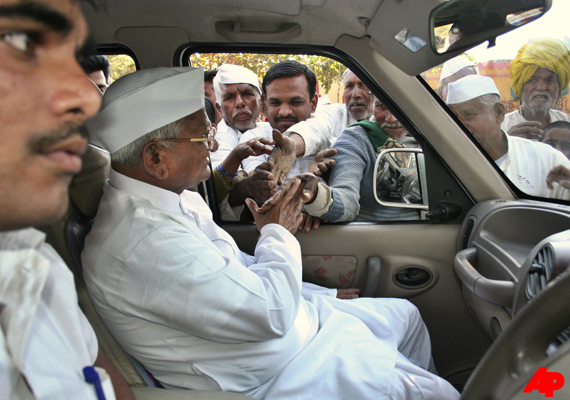 Mumbai, Dec 29: Anti-corruption crusader Anna Hazare, who called off his two-day fast here for a strong Lokpal Bill due to failing health and poor public response, on Thursday left for his native Ralegan Siddhi village.

Mr. Hazare called off the fast on Wednesday and spent the night at the Maharashtra government's guest house in suburban Bandra and left Mumbai this morning, his associate Datta Awari said.

The 74-year-old social activist has been advised rest by the doctors, he said. The Gandhian would be accorded a warm welcome by villagers when he reaches his native, later in the day, Mr. Awari added.

Mr. Hazare's three-day fast here came to a surprise end on Wednesday, a day ahead of schedule, amid concerns over his failing health and poor public response even as he renewed the threat to campaign against Congress in five poll-bound states, protesting the "weak" Lokpal.

"...Whatever we are seeing today in Parliament is tragic.

So I have decided to call off the fast. There is only one way now. We will make a programme in the five states and go and awaken people there.

I will tell them don't vote for traitors," he had told a sparsely attended protest meeting yesterday.

"Now two years are left for the general elections. In between, I will go to various parts of the country and keep awakening the people till next general elections," he had said.

Team Anna member Arvind Kejriwal had said, "Everything (all agitations) has been called off."

The activist had earlier announced that he will come to Delhi on December 30 and sit on a dharna outside Sonia and Rahul Gandhi's residence to protest against the "weak" Lokpal followed by jail bharo agitation across the country.