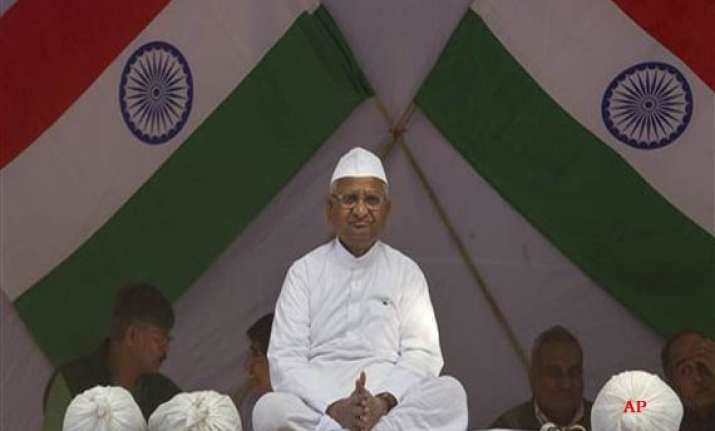 New Delhi, Dec 11: Anna Hazare today appealed to opposition parties to join his agitation for a strong Lokpal if they do not have the numbers to correct the government in Parliament as he sat on a one-day fast protesting against the Parliamentary Standing Committee report on the proposed law.

His remarks came as leaders of various opposition parties shared stage with him at Jantar Mantar and supported many of his demands like inclusion of Prime Minister, lower bureaucracy and CBI's anti-corruption wing under Lokpal.

"If government hesitates in passing a strong Lokpal Bill or rejects your suggestions and if you (opposition) fall short of numbers, we can do one thing. The people are here with us.

"You can join us with all your parties and partymen and come to the streets for a larger campaign. Let us see how the government does not do it. We will ensure that no jail in the country remains empty, such will be our campaign," Hazare said after political leaders put their views on the issue.

He said the government will have to bring a strong Lokpal Bill and for that, the parties should fight inside Parliament and if the government does not agree, they should join the campaign against corruption.

Raising the pitch on the issue he began his fast at 10:15 am, in the third such act, protesting against the "watered-down" proposals of Standing Committee on the anti-graft law.  Before starting his fast, he visited Rajghat.

Clad in his trade-mark white kurta and Gandhi cap, Hazare was received at the protest venue with a thunderous applause and sloganeering by his supporters who had gathered at the venue ignoring the morning winter chill.

Accepting invitation from Team Anna, some political parties shared platform at Jantar Mantar and backed his demands for inclusion of Prime Minister and lower bureaucracy under the ambit of Lokpal but some counselled Team Anna not to be flexible and not expect every point raised by them be accepted.

Leaders of BJP, CPI-M, CPI, JD-U, Akali Dal, TDP and BJD participated in the public debate on Lokpal Bill at Jantar Mantar where Hazare was sitting on dharna protesting against Parliamentary panel's report, but Congress did not send anyone.

Most of them concurred with Hazare's demands for inclusion of Prime Minister, lower bureaucracy and CBI's anti-corruption wing under Lokpal but they did not favour bringing higher judiciary under the ombudsman and argued for for a separate mechanism to check corruption in it.

Bardhan, however, said, "Team Anna should not expect that each and every point it makes is accepted. They should show some flexibility. They should not think that the entire wisdom of the world is with 9-10 people. There is no dearth of scholars in a country of 120 crore. Team Anna should also listen to others and have patience to listen to others."

Accusing the Parliamentary Standing Committee of not honouring Parliament's resolution on Lokpal, senior BJP leader Arun Jaitley said there was no two opinions about having a strong Lokpal bill.

"We demand everybody who is in the government should come under the purview of Lokpal. We oppose the prime minister's non-inclusion in the Lokpal bill," he said.

Bardhan said it was unfair to keep the Prime Minister out of the Lokpal ambit.

Alleging that CBI is being misused by the government he alleged if the Centre wants to wean away a Chief Minister, they use CBI.

"This cannot keep on happening and anti-corruption wing of the CBI should be made answerable to Lokpal," he said.

CPI(M) politburo member Brinda Karat charged big corporate houses with looting the country and demanded that they should be brought under Lokpal.

"They (private companies) will have to brought under Lokpal. They are looting the country like anything," she said.

Strongly backing Hazare, JD-U chief Sharad Yadav said his party will ensure that not a comma or full stop is changed in the 'Sense of the House' summed up by Finance Minister Pranab Mukherjee in August after the debate on Lokpal in Parliament.

Terming political use of CBI as "very dangerous", he pitched for an autonomous and independent CBI.

He pressed for extending the Winter Session of Parliament or calling a special session to pass the Lokpal Bill.

Along with Hazare, prominent members of Team Anna like Arvind Kejriwal, Manish Sisodia, Sanjay Singh and Kumar Vishwas also observed the fast.

This is Hazare's third protest on the issue and second at Jantar Mantar. The first one, which was a five-day fast from April 5 at Jantar Mantar, had drawn huge crowds. The government had then set up a joint committee comprising official representatives and activists to draft the Lokpal Bill.

The 74-year-old activist, who had gone on his second fast that lasted 13 days at Ramlila Maidan in August on the same issue, has been demanding bringing lower bureaucracy within the ambit of the Lokpal besides provisions for Citizen's Charter and setting up of Lokayuktas under a central law. The government as well as the Standing Committee have rejected it.

Hazare has also threatened to go on an indefinite fast from December 27 at Ramlila Maidan if a strong Lokpal bill is not passed in the ongoing session of Parliament.