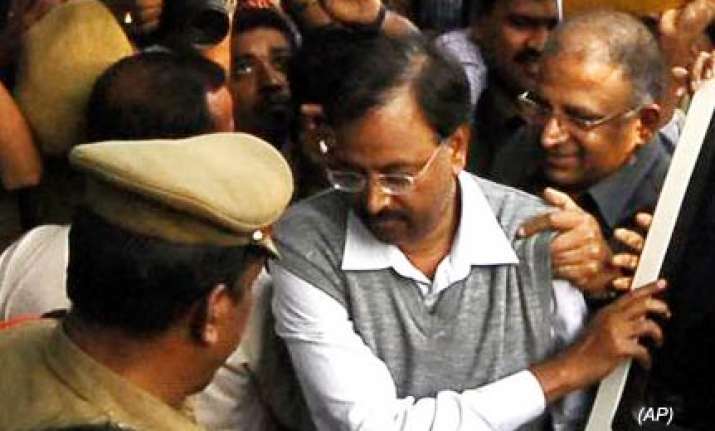 Hyderabad :  B Ramalinga Raju, the tainted founder of Satyam Computer, was on Wednesday granted bail by the Andhra Pradesh High Court in a case that has become India's largest corporate fraud running into about Rs 14,000 crore.
Raju, who was arrested on January 9 last year and is currently undergoing treatment for liver infection in the state-run Nizam Institute of Medical Sciences here, was ordered by the court to appear before the trial court once he's discharged.
Justice Raja Elango, who ordered that Raju stay in Hyderabad and provide two sureties for Rs 20 lakhs each, made it clear that health ground was not the consideration for bail.
Doctors treating Raju, who will turn 56 next month, told a press conference called immediately after the court order that he has to undergo treatment for at least another 16-17 weeks.
This means he would not be discharged for the next four months if he chooses to get treated in the same hospital.
Raju, the last of the 10 accused in the case to get bail, has been under treatment for Hepatitis-C since September last.
The CBI, which is probing the alleged fudging of accounts in the what was once the fourth largest IT company, said that it will file an appeal in the Supreme Court.
CBI DIG VV Lakshmi Narayana told PTI: "We will go for an appeal once we receive the High Court copy. We will also pursue our pending petition requesting the court to form a special team of doctors to look into the health condition of Raju who is avoiding the court proceedings citing health grounds."
Counsel for CBI and Additional Solicitor General Harin P Raval submitted to the court that the agency was still awaiting replies for Letters of Rogatory sent to six nations.
The investigating agency contended that if let out, Raju could influence witnesses numbering 250 and who are all former employees of Satyam. The company itself has since been acquired by Mahindra group and rechristened Mahindra Satyam.
On January 7 last year, Raju in a letter to Satyam's Board, admitted to fudging the accounts of the company over the past several years and creating fictitious assets where none existed. He was arrested two days later.
 Raju's counsel Bharat Kumar said his client has been cooperating in the investigations and will continue to do so without any let or exception. "He will scrupulously follow any conditions laid down by the court."
Raju's counsel Kumar said the decision on shifting Raju to another hospital depends on his family members.
One of the doctors told reporters that if the treatment fails, then there is a possibility he might contract liver cirrhosis and once cirrhosis develops into a full blown condition it will never return to normal.
"So, I think it is high time that we treat this... he will not require (liver) transplant.. but if the whole execrcise fails after 48 injections which can be because he has got very bad type of infection - Genotype I - where the response rate is 50-60 per cent. The total treatment will require another 16-17 weeks...he has crossed the 30 injections mark," a doctor at NIMS said.
Earlier on July 20, The High Court had granted bail to five accused including Raju's bother B Rama Raju and former CFO of Satyam Computers Vadlamani Srinivas. Three other accused had obtained bail from lower courts, while another brother of Raju, B Surayanarayana Raju, had obtained anticipatory bail last year. PTI