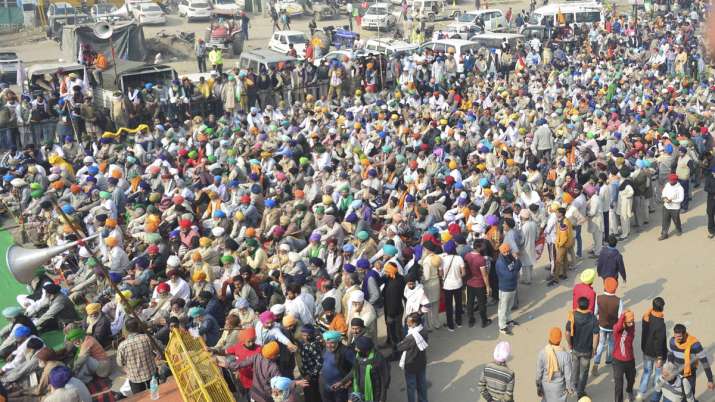 As tussle between government and farmers over controversial farm laws continues, Darshan Pal, President of Krantikari Kisan Union on Wednesday said that the Central government should call a special Parliament session to repeal the farm laws. Making this demand, Darshan Pal mentioned they also held talks with Tikait Ji (of Bharatiya Kisan Union), who told them that he is with them. They are together in this struggle. Meanwhile, thousands of farmers are continuing their agitation at at Delhi borders connecting it with UP and Haryana.
A heavy police force is also deployed on the national capital's border points as the standoff between the Centre and farmers continues, with commuters facing a harrowing time after the protestors blocked key entrances to the city for the seventh day on the trot. While the police have kept the Haryana-Delhi border at Singhu and Tikri closed for traffic, the protest at Ghazipur, the city's border with Uttar Pradesh, has also intensified.
In the afternoon, the Noida administration shifted protesting farmers to Dr Ambedkar Memorial Park from Mahamaya flyover road, where they had gathered from different areas of UP. "Since protesters were sitting on road causing traffic jam, we've to shift them here," said Noida DCP Rajesh Kumar Singh.
"We were not sitting on road. Administration had blocked our way using barricades & Jawans, so we stopped. We consider this place as temporary jail & our confinement here as arrest. We'll go to Delhi, moment we're released, said Swaraj Singh, President,Bhartiya Kisan Union (Lok Shakti). 
At Ghazipur border, scores of farmers are staging sit-in protest against the new farm laws. On Wednesday morning, the agitating farmers at the Delhi-Ghazipur border were seen protesting with cattle, India TV journalist Abhay Parashar reported.
Farmers from Punjab and Haryana are currently camping on Delhi border to press for their demand to including MSP in the new laws. Farmers fear that the new farm laws will dismantle the minimum support price system and corporatise the agriculture sector. Today is the seventh day of their protest.
READ MORE: Farmers, govt fail to break deadlock after 3-hour-long meeting
Farm laws not made in haste, but govt open for discussion, Agriculture Minister says
"Whenever govt makes a law, it is not right to say that they were made in haste. Agriculture sector is has been PM Modi's priority.  In six years, agri sector has progressed. As far as law is concerned, it is not brought in haste. A long exercise took place before these laws were brought in. Farmers are under a delusion that these laws will cause harm to them. We are ready to openly discuss and deliberate contentious issues raised by farmers," Tomar told India TV. 
Tomar also hinted that the government may give in to some of the demands raised by the farmers.
READ MORE: Agriculture Minister's BIG remark: 'May give in to some demands raised by farmers'
Ready for long haul, say farmers in Jewar
Farmers in Jewar of in Gautam Buddha Nagar district said that they have ration for 10-12 days and that they are ready to spend six to eight months on roads, India TV journalist Manish Prasad reported.
Earlier on Tuesday, the talks between the Centre and farmer unions failed to end the standoff and the two sides will now meet again on December 3. The farmer unions rejected the government's offer to set up a committee to look into issues raised by them and said they will intensify their stir until their demands are met. The 35 farmer leaders held a three-hour meeting at Vigyan Bhavan with the ministerial delegation that included Agriculture Minister Narendra Singh Tomar, Commerce Minister Piyush Goyal and Minister of State for Commerce Som Parkash, after the Centre last night announced that it was advancing the talks earlier scheduled for Thursday.
The All India Kisan Sangharsh Coordination Committee (AIKSCC), an umbrella outfit of the farmer unions which are pressing for the repeal of the laws, said the talks remained inconclusive. It said they rejected the government proposal to form a five-member committee to look into the objections and study the concerns, while asserting that such committees have led to no results in the past. It further said protests will now intensify across the country until their demands are met.
According to Tomar, the farmer unions have been asked "to come with specific issues in the laws and we are ready to discuss and address their concerns" and they will meet again on December 3. Asked when the deadlock will end, he said, "The time will decide."
READ MORE: Delhi-Noida border closed for traffic movement - check alternate entry
The government has assured that it is always committed to protect the interest of farmers and is always open for discussions for farmers' welfare. "Various issues related to farm reform acts were discussed at length and talks were held in a cordial atmosphere," an Agriculture Ministry statement said.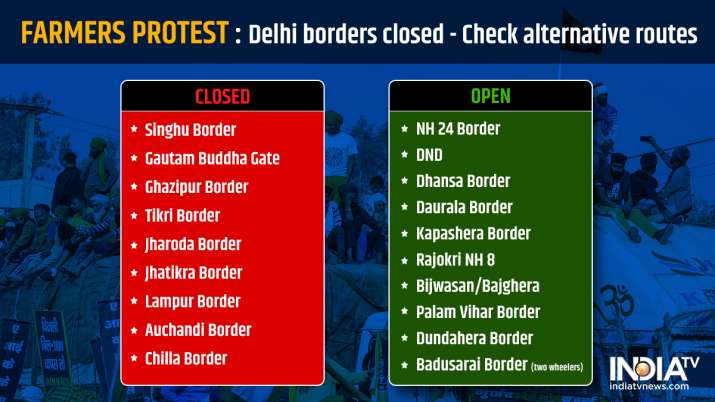 After the dialogue between farmer union leaders and the government remained inconclusive, the farmers declared that they will continue their protest and the agitation will be strengthened day by day until the government agrees to their demand. Farmer leaders, however, said the meeting was peaceful but the government was not ready to repeal its three farm laws, and proposed to form a committee to study and clarify law-related misconceptions to resolve the ongoing deadlock