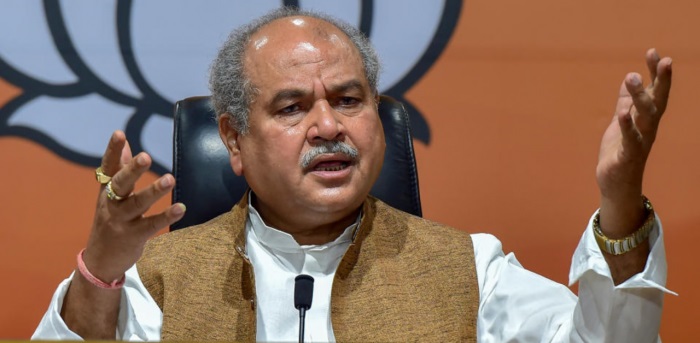 Union Agriculture Minister Narendra Singh Tomar has allayed fears of the farmers against the new agriculture reforms, a day before another round of talks between the government and farmers. In an exclusive interview with India TV, Tomar spoke about farmers' concerns, the Minimum Support Price (MSP), politicisation of related issues, and more. In a major development, Tomar has hinted that the government may give in to some of the demands raised by the farmers.
Thousands of farmers are camping at Delhi's Singhu border against the Centre's agriculture reform laws. They say they are prepared for a long haul and will not leave until their demands are met. According to farmer unions, the three new laws will lead to the dismantling of the minimum support price (MSP) system, leaving farmers at the mercy of corporate houses. However, the government has said that the MSP system will continue and the new laws will give farmers more options to sell their crop.
READ MORE: 'Repeal farm laws, or else...govt will fall': Farmer leaders set December 3 ultimatum as protest intensifies
Meanwhile, the next round of talks between farmer leaders and top union ministers is scheduled for Thursday. Earlier on Tuesday, the two sides failed to break the deadlock.
NARENDRA SINGH TOMAR'S EXCLUSIVE INTERVIEW: TOP POINTS
MSP was never a part of the law. It has been government's priority to ensure each farmer is benefitted by MSP.
As far as law is concerned, it is not brought in haste. A long exercise took place before these laws were brought in.
Farmers are under a delusion that these laws will cause harm to them.
We are ready to openly discuss and deliberate contentious issues raised by farmers.
We will try to convince farmers. If their say is right, then will will deliberate on it.
Only view the movement as a "farmers movement".
MSP will continue. There shouldn't be any doubt about that. Prime Minister Narendra Modi himself has made this clear. 
READ MORE: The MSP conundrum for Punjab, Haryana farmers - What govt data shows