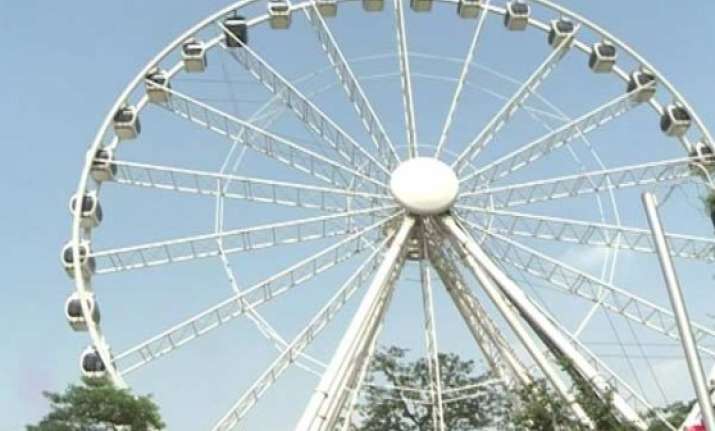 New Delhi: The giant wheel 'Delhi Eye', installed in Kalindi Kunj park has been opened for public. It is India's tallest Ferris Wheel and fifth tallest in the world.
It provides a bird's eye view of Delhi, Noida, Faridabad and adjoining areas. From here, one can see monuments like Qutub Minar, Red Fort, Akshardham temple, Lotus Temple, Connaught Place and Humayun's Tomb.
The wheel is around 250 feet tall. It is equivalent to an 18-storey building. In total, there are 36 cabins. Seven to eight persons can sit in each cabin and all together, 280 people can enjoy the ride at a time.
The 30 minute ride comprises three rounds.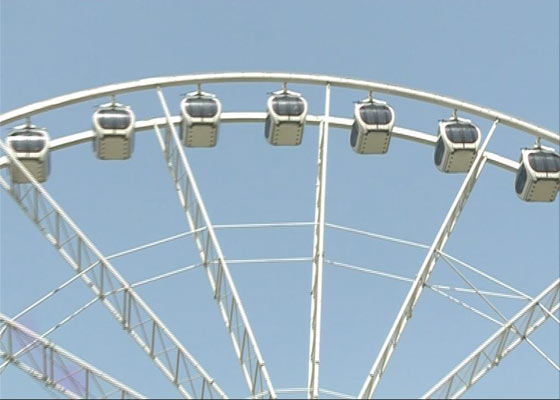 For one ride, one has to pay Rs 250 (discount rate) during the first 15 days from its launch and later tickets will be priced at Rs 300 for each passenger.
Each cabin is air-conditioned and is enclosed in a dark tinted glass.
There are also few VIP cabins. Glasses of these cabins are soundproof and are unbreakable.
The ferris-wheel, which was opened to public on Thursday (October 2), is designed by a Dutch firm, Dutch Wheels & Venkoma Rides. The firm had has also worked in constructing London and Singapore giant wheels.
Henk Roodenburg, president of Dutch Wheels & Venkoma Rides, said that the structure at the amusement park in Kalindi Kunj came up a couple of years ago.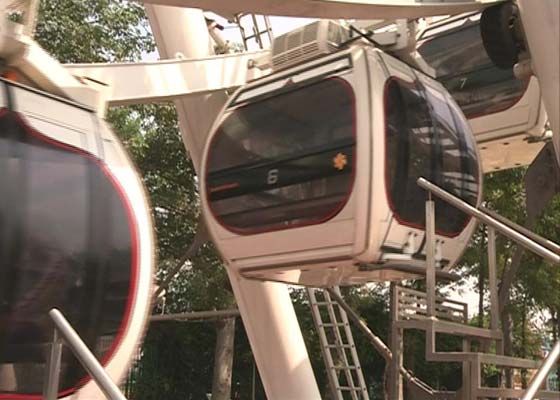 According to Henk, who was also present on the occasion, said that it was earlier scheduled to open about three years ago in 2010 but issues were raised about its proximity to the Yamuna river.
The firm has constructed the structure at a cost of approximately Rs 70 crore, Henk informed.
All the capsules are very safe and visitors can enjoy music inside the cabin during the ride, Henk added.
A special control room has been set up to watch the movements of all cabins and tourists.
Here is a list of world's four other tallest Ferris Wheels:
High Roller, Las Vegas: The High Roller is a 550 feet tall. The wheel began construction in 2011 and opened to customers in March 2014. This is world's tallest observation wheel.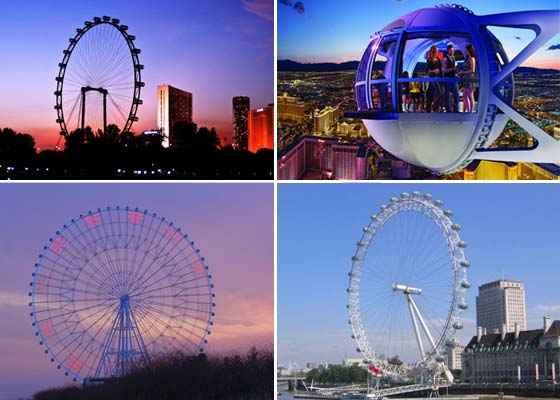 Singapore Flyer, Singapore: The Singapore Flyer is a giant Ferris wheel in Singapore. It was opened in 2008. It has 28 air-conditioned capsules. It is a 541 feet tall.
Star of Nanchang, China: The Star of Nanchang is a 525 feet tall giant ferris-wheel. It is located in the city of Nanchang, the capital of Jiangxi Province. It was opened in May 2006. It has 60 air-conditioned gondolas, each carrying up to 8 passengers, for a maximum capacity of 480 passengers.
London Eye, London: The London Eye is a giant ferris-wheel on the South Bank of the River Thames in London. It is also known as the Millennium Wheel. The entire structure is 443 feet tall. It is currently Europe's tallest ferris-wheel. It is described by its operators as the world's tallest cantilevered observation wheel. It is the most popular paid tourist attraction in the United Kingdom with over 3.5 million visitors annually.