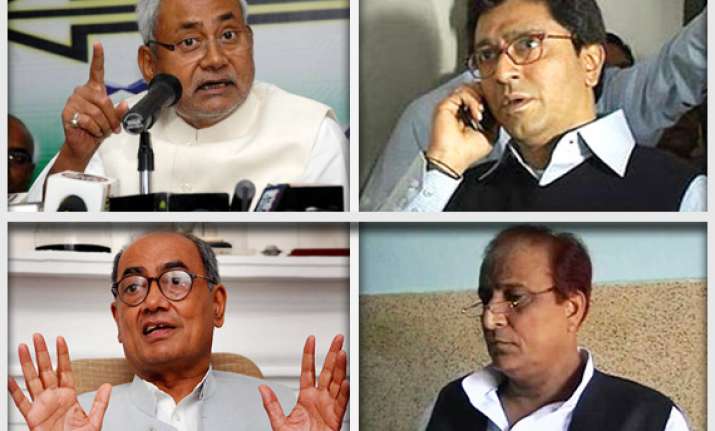 Mumbai/Rampur/Patna, Jan 24: Congress general secretary Digvijay Singh, Samajwadi Party leader Azam Khan and Bihar chief minister Nitish Kumar today lashed out at Maharashtra Navnirman Sena chief Raj Thackeray for describing Uttar Pradesh and Bihar as "centres of terrorism".

Chief Minister Nitish Kumar said, terrorists have no religion or caste, and it would be wrong to tar an entire state because of a terrorist or two. The two Naqi Ahmed and Nadeem Akhtar arrested for 13/7 Mumbai blasts hailed from Darbhanga, Bihar.

Congress leader Digvijay Singh said in Shahjahanpur today that Raj Thackeray himself promoted terrorism by provoking attacks on North Indians in Mumbai.

In Rampur, Samajwadi party leader Azam Khan said, Raj Thackeray was actually opposing Muslims in the guise of criticising North India.

In Mumbai, with BMC polls fast approaching, MNS chief Raj Thackeray  launched a fresh attack on north Indians,  and said that the arrest of two persons from Darbhanga, Bihar , for the 13/7 blasts,  showed that Uttar Pradesh and Bihar have become "centres of terrorism".

Raj Thackeray said terrorists first receive training in states like UP and Bihar and then attack Mumbai

"I have been saying that due to influx of north Indians, terror activities are on the rise. The arrest of terrorists hailing from Bihar yesterday, in the 13/7 serial blasts case, has confirmed my claim," Raj told reporters here.

"The Bihar connection in 13/7 case has been exposed. Will someone pay attention towards it or not? I don't know why a fuss is made over my statements," he added.

On the warning, issued by the State Election Commissioner Neela Satyanarayan about cancelling the registration of his party, Raj said, "Can we not ask questions to the Election Commission?"

"If deputy chief minister Ajit Pawar can get away by tendering an apology, I hope the commission will also give the same opportunity to others," he said, adding that he has not insulted the State Election Commission. "I only want it to be impartial," he said.

Backing Gujarat chief minister Narendra Modi, who last year invited him to tour the state, as the Prime Ministerial candidate, Raj said, "If people from my party get elected as MPs, I will support Modi for the Prime Minister's post."