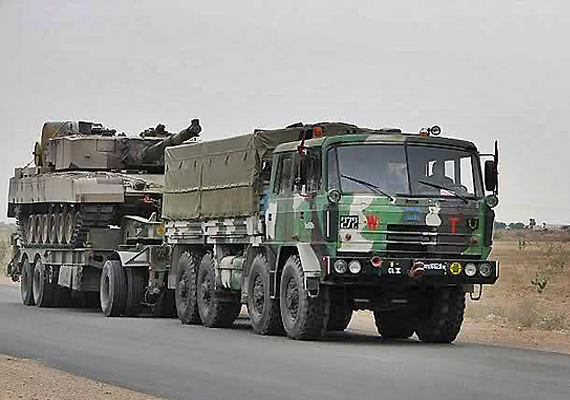 New Delhi, Mar 30: In an off-shoot of the raging controversy over bribes in military deals, the CBI today registered a case in connection with the supply of all-terrain Tatra trucks through state-owned BEML to the Army and conducted searches here and Bangalore.
The agency also called for questioning Vectra group Chairman and British national of Indian origin Ravinder Rishi who is a majority stake holder in Tatra after filing the case.

The CBI has booked Rishi and unnamed officials of Defence Ministry, BEML and Army for alleged criminal conspiracy, cheating and relevant sections of Prevention of Corruption Act.

The CBI action today follows Defence Minister A K Antony giving sanction for probe on March 21 into the BEML case much before a Delhi daily carried Army chief's interview claiming that he was offered bribe of Rs 14 crore for clearing the purchase of "sub-standard" trucks.

Antony had come under attack in the Parliament today over a complaint forwarded to him by his ministerial colleague about allegations of scam in purchase of Tatra trucks from a UK agent and not from original manufacturer in violation of defence procurement guidelines.

An official release said Antony on receiving complaint in 2009 had asked Secretary Defence Production to look into the various issues raised in the complaint.

The vigilance wings of Defence Ministry and BEML were examining the matter while there was also correspondence between the CBI and Chief Vigilance Officer of BEML on these allegations.

The CBI alleged officials of BEML entered into criminal conspiracy with Rishi.

"The agreement signed earlier with a Foreign Trade Corporation of Czechoslovakia for Military vehicles was fraudulently assigned to the said UK based company by showing it as the original OEM/ fully owned subsidiary of Czech company," CBI spokesperson Dharini Mishra said.

She said this was against the provisions of Defence Procurement Procedure for supplying the vehicles to Indian Army on the basis of the orders placed by Ministry of Defence, New Delhi.

"It is further alleged that in this manner, vehicles worth thousands of crores have been supplied to Indian Army," she said.

The CBI alleged that in continuation of the conspiracy to cause undue benefit to the said UK-based Vectra, the unknown officials of the Defence PSU allowed change of currency from US Dollor to Euro and further by not levying the Liquidated damages, thereby causing further loss of approximately Rs. 13.27 crores.

CBI Director A P Singh had examined a report forwarded by one of the joint directors of the agency who had opined that a case could be made out and a thorough investigation was required, the sources said.