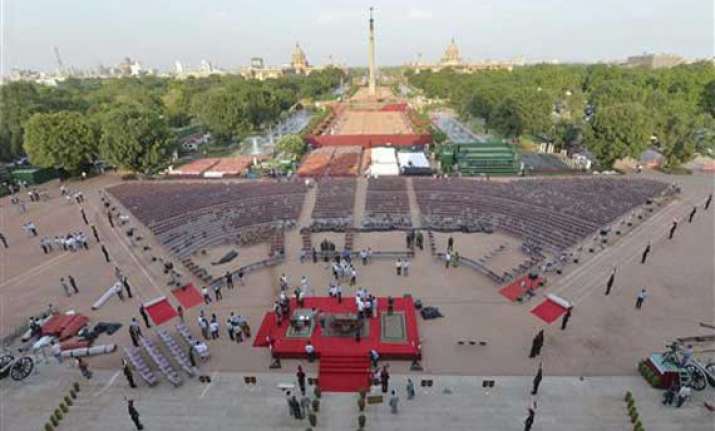 New Delhi: The occasion was ceremonial but it was a carnival  atmosphere as Narendra Modi was sworn in as Prime Minister before the largest-ever gathering at Rashtrapati Bhawan, which became a confluence of people as varied as Presidents, Prime Ministers, film stars, corporate and religious leaders.
Never before have well over 4000 people gathered in the forecourt of the majestic Presidential house as they did today to watch the change of guard from Manmohan Singh to the man from Gujarat for whom the oath-taking ceremony was the culmination of a breathtaking political journey.
The heat did not deter the Modi admirers who had come hours ahead.  There were a few fans to cool them but they mostly depended on their invitation cards to generate some breeze till the sun set and made it bearable.
'Modi, Modi' up went the chants when the PM-designate arrived shortly before 6 PM as if this was yet another of his election gatherings that the nation had witnessed over the past many months.
Before Modi arrived, his special guests from abroad—Prime Minister Nawaz Sharif of Pakistan, Nepal PM Sushil Koirala, Sri Lankan President Mahinda Rajapakse and other SAARC leaders—had taken their front-row seats. 
As each name was announced there were cheers, the loudest being reserved for the Pakistani leader.