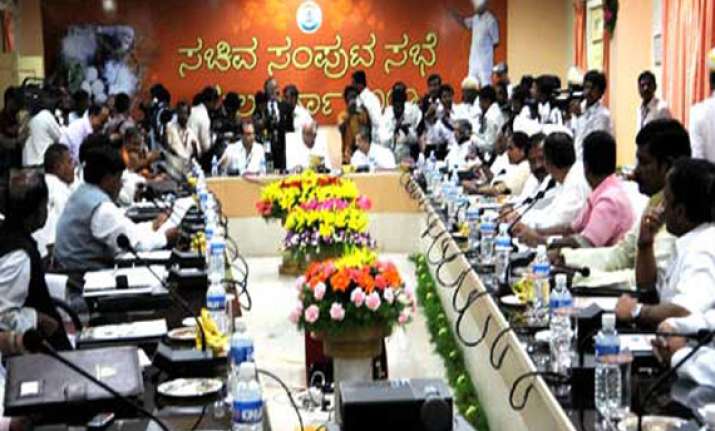 Bangalore : Karnataka Cabinet today sanctioned prosecution against several bureaucrats and public
representatives involved in the alleged illegalities and irregularities in the state-owned Mysore Minerals Limited.
'The cabinet has sanctioned prosecution against bureaucrats and public representatives involved in the allegedillegalities and irregularities in the MML,' Law and Parliamentary Minister T B Jayachandra told reporters here.
The government took the decision after the Lokayukta Police, who were entrusted with the case, sought sanction to prosecute the guilty bureaucrats and public representatives involved in the matter, Jayachandra said.
The officers against whom prosecution has been sanctioned were both retired and serving bureaucrats including V Umesh, I R Perumal, K S Manjunath, D S Ashwath, Jija Hari Singh and Mahendra Jain, Jayachandra said.
Earlier, government had announced that the investigation would be handed over either to a special investigation team or the Criminal Investigation Department of the state police.
However, later it changed the stand saby Lokayukta police has better knowledge of the subject and it has designated courts for speedy trial of cases.
There was a separate chapter in Lokayukta report by Santosh Hegde and the Comptroller and Auditor General Reports that have also indicted senior officials, politicians and corporate giants involved in illegalities and irregularities of MML.