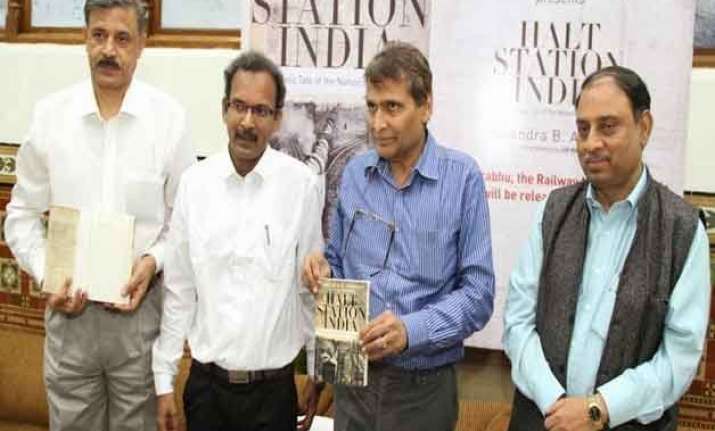 Mumbai: A book on Mumbai railway, the ground zero of Indian Railways, is taking readers down the memory lane as it reveals interesting facets of railway stations like the famous Chhatrapati Shivaji Terminus (CST).
The book 'Halt Station India', published by Rupa Publications and authored by senior journalist Rajendra Aklekar, has foreword by former BBC journalist Sir Mark Tully.
It was released by Railway Minister Suresh Prabhu here last month.
It is the story of how the rail track in Mumbai came to become India's first railway line and expanded to ferry seven million passengers today.
"The book tells the story of each station and the relics of that glorious era that are still lying around at those stations. It's the story of Bombay railway...the lifeline of now Mumbai city," Aklekar told PTI.
"'Halt Station India' chronicles the dramatic rise of India's original rail network, the arrival of the first train, and the subsequent emergence of a pioneering electric line all in the port city of Bombay. Trains that once provoked awe and fear - they were viewed as fire chariots, smoke-spewing demons - have today become a nation's lifeblood," he said.
Taking a walk along India's first rail lines, the author stumbled upon fragments of the past - a clock at Victoria Terminus (now known as CST) that offers a rare view of a city, a cannon near Masjid Bunder station that is worshipped as God, and a watch tower overlooking Sion station believed to have housed a witch.
Each pit-stop comes with stories of desire and war, ambition and death. By Dockyard Road station, for instance, author Laurence Sterne's beloved Eliza Draper followed a sailor into the sea; or close to Parel station, the wife of India's then Governor General Lord Canning found a garden rich in tropical vegetation.
Drawing from journals, biographies, newspapers and railway archives and with the nostalgic first-time accounts of those who travelled by India's earliest trains, the book captures the economic and social revolutions spurred by the country's first train line.
'Halt Station India' is not just about the railways, but becomes the story of the growth of India's business capital.
On how bullock carts protested the arrival of trains, Aklekar writes: The first month of the first-ever railway was a runaway success. Regular runs of the train had begun from April 18, 1853, and by April 30, 1853, the trains had ferried 21,922 passengers, earning Rs 9,109, three annas and eight paise! The next month, in May 1853, the figure rose to Rs 40,071, and by December 1853 to Rs 61,413.73.  
"Yet, even as the rail network took root, there was resistance from an unlikely quarter. Bullock-cart owners took up a fight with the railways. They were irate, not only because of the dwindling number of passengers, but also because of falling cargo supply. The railways were ferrying everyone and everything!
"To take control of the situation, bullock-cart owners began charging a fixed rate from the hinterlands to Bombay; it now made little economic sense for passenger traffic and cargo to disembark midway at railway stations. The bullock-cart owners' plan was a success and proved to be a headache for the railway managers."
Highlighting a strange historical link with a spot at CST from where 26/11 terrorist Ajmal Kasab sprayed bullets, Aklekar says the spot where Kasab was standing, was once a public gallows where criminals were executed. In a bizarre twist, this was exactly the fate the terrorist would meet, he added.
Two hundred years ago, at the same spot, "murderers were subjected to the raillery of the populace and had to submit to being pelted with rotten eggs, old shoes, mud and brickbats before being hanged.
Victoria Terminus was a site of gore and bloodletting, with a tank tellingly called 'Phansi Talao'," Aklekar writes in the book.