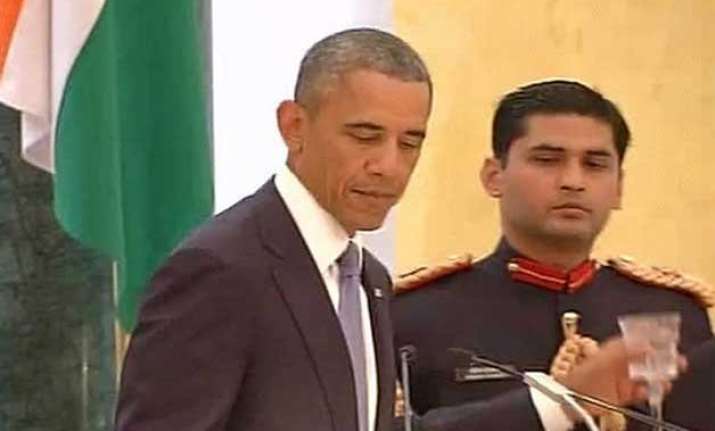 New Delhi: US President Barack Obama accompanied by his wife Michelle arrived here Sunday morning on a three-day state visit during which he will attend the Republic Day parade as the chief guest.
Here we are giving you live udates on Obama's India visit:
09:42pm: President Obama raises a toast to the great partnership of the 2nations & to the friendship of the peolpe of the 2 nations
09:37pm: Tonight I was thinking of wearing a 'Modi kurta' myself : Obama
09:36: I want to extend my thanks for the extraordinary hospitality that you have shown us today: Barack Obama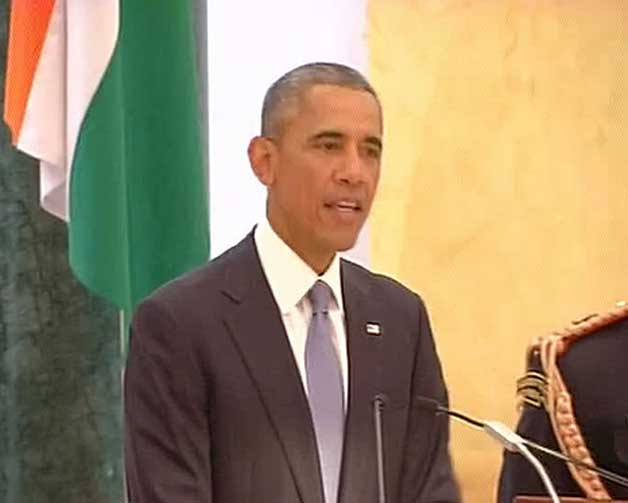 09:35pm: I also want to thank you for not making me dance again: US President Barack Obama
09:34pm: Your presense at R-Day will reflect the growing ties of friendship & trust that binds our 2 democracies closely : Pranab
09:33pm: Our deepening strategic & defence cooperation is for making the region & world a safer place: Pranab
09:32pm: It is the shared vision that forms the bedrock of our relationship today: Pranab Mukherjee
09:31pm: We are creating history, a better future together: President Pranab Mukherjee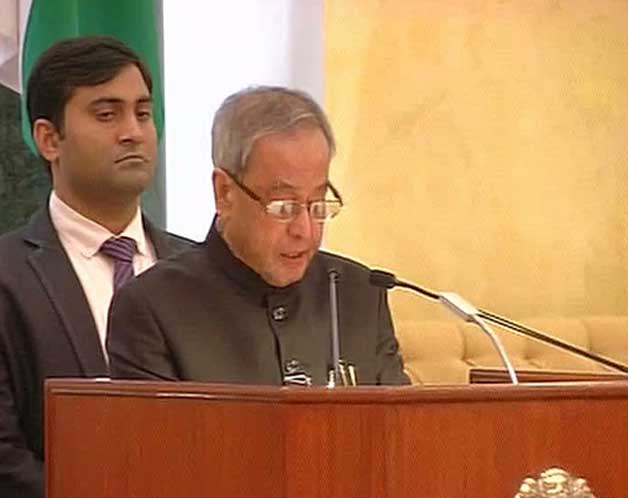 09:31pm: The relationship between India-US is a special one: President Pranab Mukherjee
09:29pm: After meeting you in such a banquet during your last visit,am doubly happy to be your host this time : President Mukherjee
09:15pm: Ratan Tata,Mukesh Ambani,Gautam Adani & Anil Ambani greet US President Obama & First Lady Michelle Obama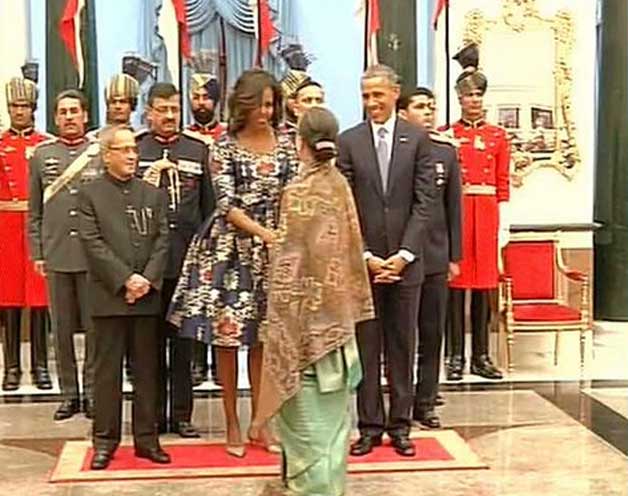 09:05pm: Sonia Gandhi welcomes President Obama & First Lady Michelle Obama at the banquet in Rashtrapati Bhawan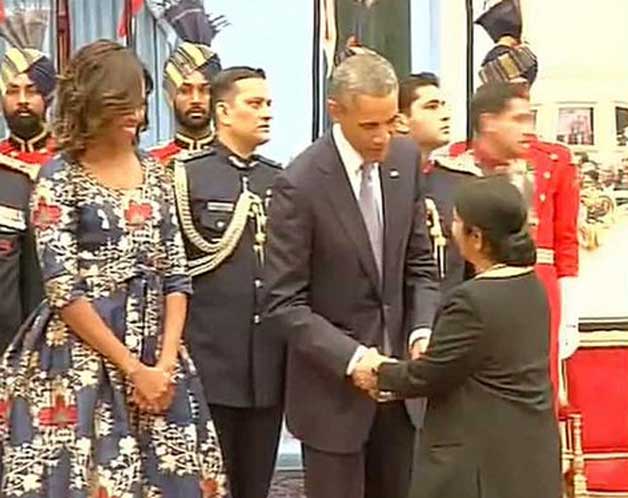 09:03pm: EAM Sushma Swaraj greets President Obama & First Lady Michelle Obama at the banquet in Rashtrapati Bhawan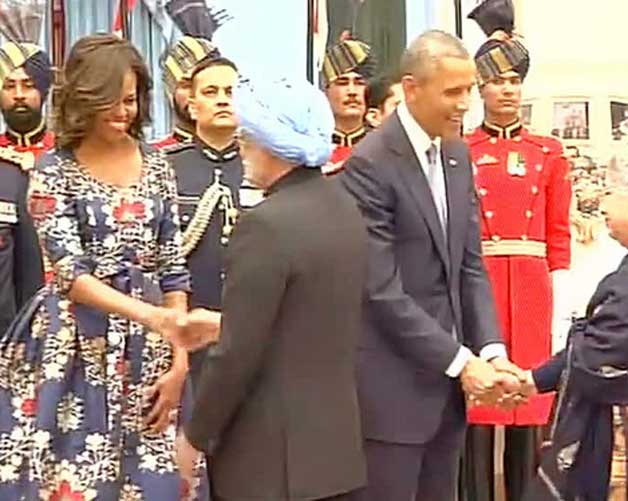 09:02pm: Fmr PM Manmohan Singh greets President Obama&First Lady Michelle Obama at the banquet in Rashtrapati Bhawan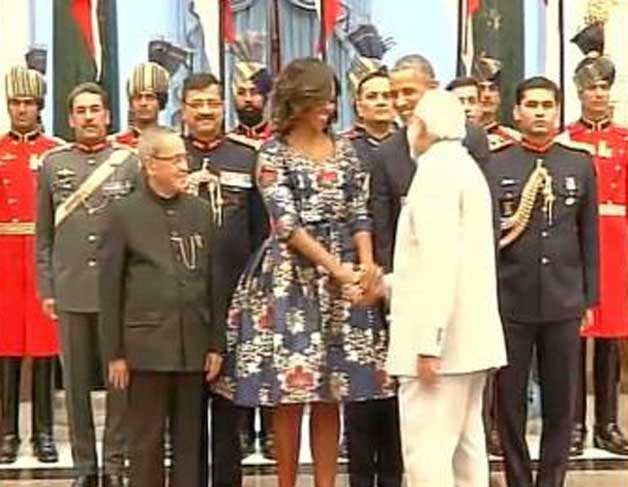 09:00pm: PM Narendra Modi greets US President Obama & First Lady Michelle Obama at the banquet in Rashtrapati Bhawan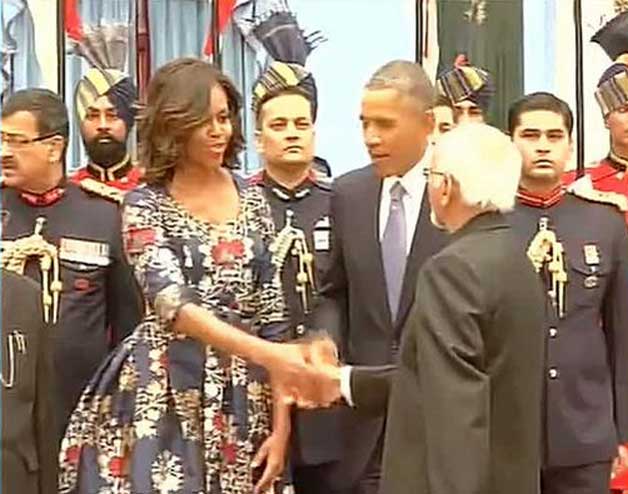 08:59pm: VP Hamid Ansari greets US President Obama & First Lady Michelle Obama at the banquet
08:58pm: President Mukherjee hosts banquet at Rashtrapati Bhawan for US President Barack Obama & First Lady Michelle Obama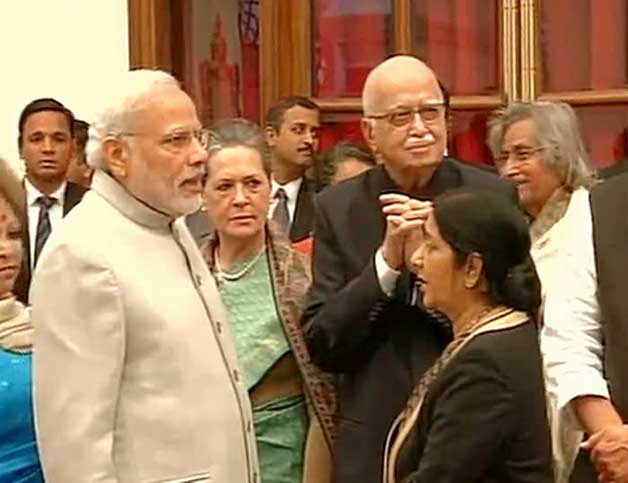 08:57pm: PM Modi, EAM Sushma Swaraj, LK Advani & Sonia Gandhi at the banquet hosted by President Mukherjee for US President Obama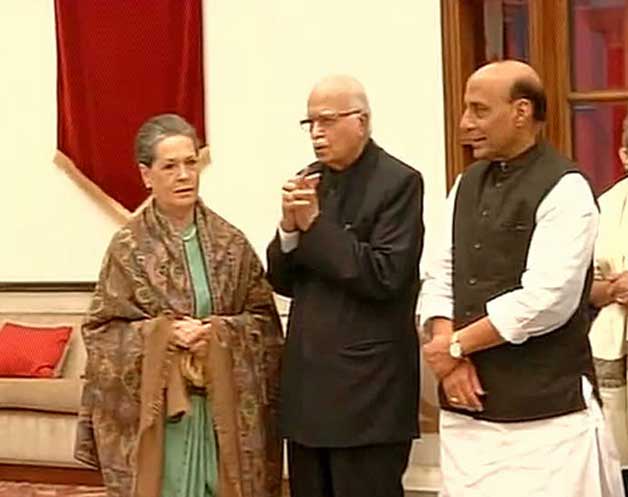 08:56pm: Sonia Gandhi, LK Advani & HM Rajnath Singh at the banquet hosted by President Mukherjee for US President Obama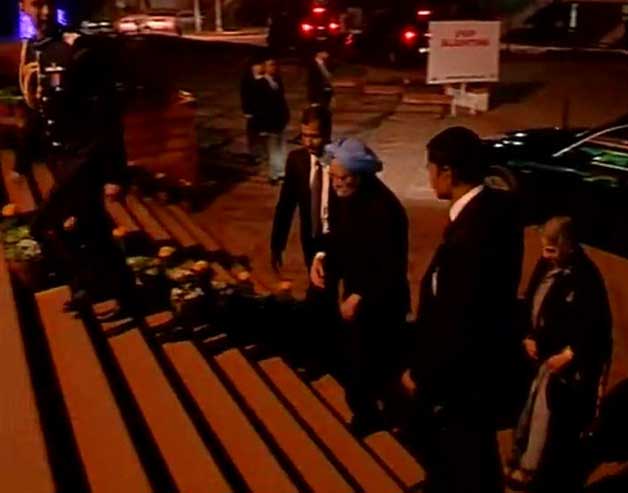 08:45pm: Former PM Manmohan Singh arrives for the Banquet at Rashtrapati Bhawan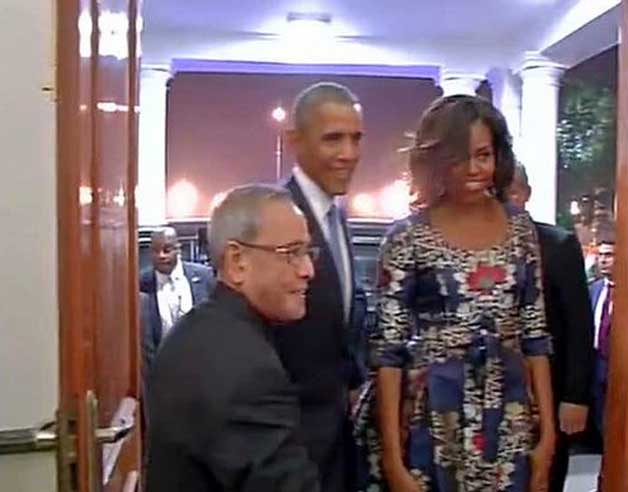 08:31pm: President Pranab Mukherjee receives US Prez Obama & First Lady Michelle Obama at Rashtrapati Bhawan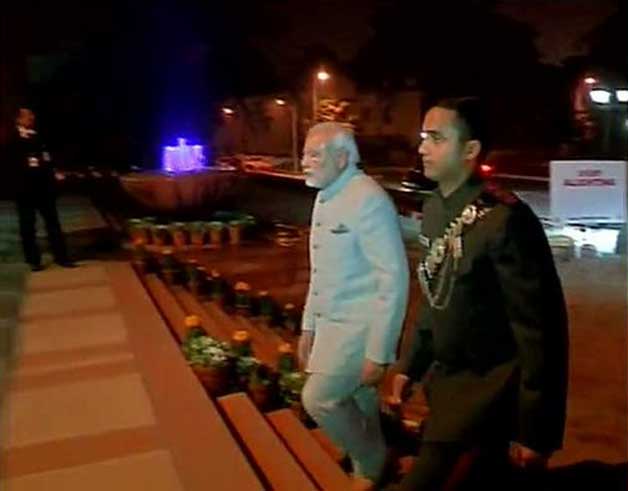 08:28pm: PM Narendra Modi arrives for the Banquet at the President House
05:25pm- Obama: In addition to our strong personal friendship,we are reflecting the warmth & affection between the Indian & American people. During talks we compared the amount of time we get to sleep, seems Modi gets less than I do
05:30pm: The press conference concludes
05:22pm-PM Modi on his 'one-on-one' conversation with Prez Obama: Jahan tak baato ka sawal hai parde mein rehne de. The chemistry between us has not only brought Barack & me close but has also brought Washington & Delhi closer.
05:20pm-PM Modi on climate deal: India is an independent country,there is no pressure on us from any country or any person.No pressure on India from any country or person but yes climate change and global warming are pressures. Those who are concerned about giving a better lifestyle to coming generations face definite pressure
05:11pm- Q&A session begins
05:10pm- Obama:In the end I would like to say, "Chalein saath saath"
05:09pm- Obama:I am looking forward to tomorrow's ceremonies which I am told are spectacular. Am also looking forward to talking to the Indian people over the radio.
05:08pm- Obama:We Support a reformed UN security council with India as a member. As a leading peacekeeping nation, we welcome India's role. Thanked PM for his continued efforts to prevent Iran from acquiring nuclear weapon.I thanked the Prime Minister for India's strong counter-terrorism co-operation.
05:07pm- Obama:No country can be more effective on climate change than India.
05:06pm- Obama:I am honourned to be first President to visit India twice. Mr Modi, thank you for hosting me, including our Chai pe charcha
05:05pm- Obama:We have agreed to deepen our defence & security cooperation
05:04pm- Obama:Happy that we have agreed to promote clean energy and support climate change
05:03pm- Obama:In the last few years trade between the two countries has increased by some 60 percent
05:02pm- Obama:All members of Congress and business members from US believe strong relationship with India is vital for America's success
05:01pm- Obama:Last year at the Maddison Square garden PM Modi was greeted like a Bollywood star.
05:00pm- Obama: Namaste, thank you PM Modi for those kind words. Namaste, mera pyaar bhara namaskar
05:00pm: US President begins his address
04:59pm- Modi: PM Narendra Modi concludes his address
04:58pm- Modi: Our relationship stands at a new level today. A hotline has been established between US President Obama and Indian PM Narendra Modi and NSAs of both countries
04:57pm- Modi: We will help Afghanistan through it's transition
04:56pm- Modi: I have asked President Obama to lead in making renewable energy more accessible and affordable to the world
04:55pm- Modi: We will also resume dialogue on bilateral investment treaty
04:54pm- Modi:Terrorism remains a principal global threat, we agreed that we need a comprehensive global strategy to combat it
04:53pm- Modi:We have decided to take up growing defense cooperation to a new level. We will explore cooperation in advance defense technologies
04:52pm- Modi:The civil nuclear agreement was the centerpiece of our transformed relationship
04:51pm- Modi:In past 4 months, we have got a sense of purpose to move Civil Nuclear Deal forward.
04:50pm- Modi:I see renewed energy in our engagement, thank you for setting the tone last September
04:49pm- Modi:The promise and potential of this relationship has never been in doubt. This is a natural global partnership
04:48pm- Modi:The success of this relationship is important for our progress and for peace & stability around the world
04:47pm- Modi:The 1st US Prez to visit India twice,reflects transformation in our relationship,shows your deep personal commitment to the relationship
04:46pm- Modi: It is a great pleasure and  privilege to welcome back Prez Obama and the First Lady to India
04:45pm- PM Modi addresses media
03:46pm- India and the US achieve a breakthrough on operationalisation of the civil nuclear deal:PTI
03:45pm- Indo-US joint statement expected shortly
03:40pm- India-US nuclear deal done, US to back off on tracking clause: Sources
03:15pm- PM Modi and President Obama walk inside Hyderabad House
03:05pm- PM Modi and President Obama holding talks while having tea in the lawns of HYderabad House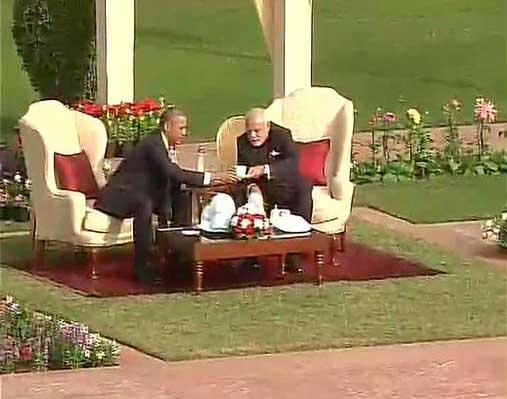 02:40pm- President Obama & PM Modi take a stroll at Hyderabad House gardens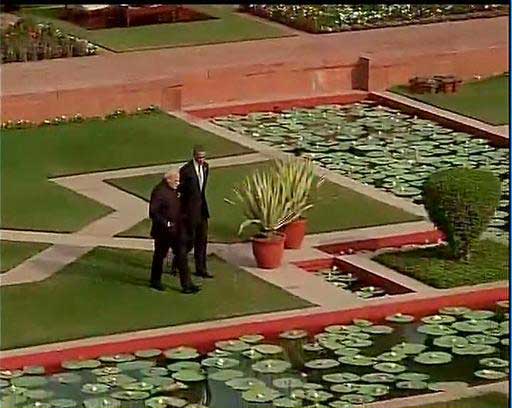 02:35pm- Officials said "progress has been made" on the nuclear issue and India was looking forward to "effectively" work with the US in this "extremely important" field...PTI
02:30pm- Prime Minister Narendra Modi and US President Barack Obama hold talks on a range of crucial issues, including removing hurdles in operationalising the long-stalled civil nuclear agreement and enhancing ties in defence, trade and commerce and climate change....PTI
01:25 pm: Narendra Modi and Barack Obama begin bilateral talks on crucial issues.
01:22 pm:PM Modi presents the 'official report of the Constituent Assembly debates' to President Obama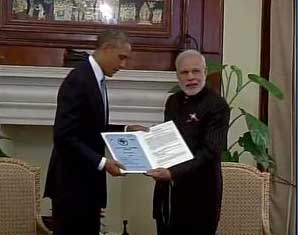 01:19pm- PM Modi receives President Obama at the courts of Hyderabad House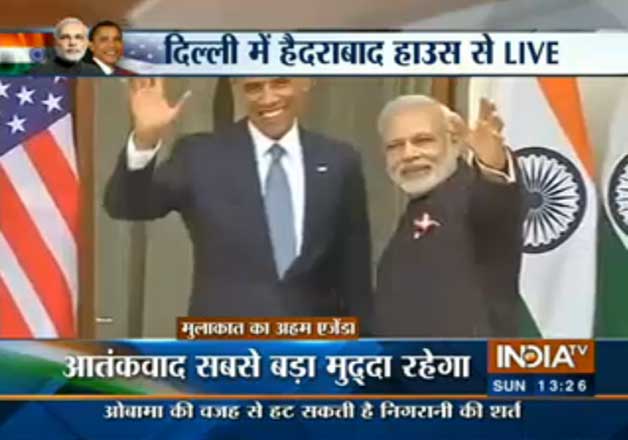 01:17pm- President Obama arrives at Hyderabad House
01:13pm- PM Modi arrives at Hyderabad House
12:56pm- US President Obama leaves Rajghat for Hyderabad House
12:53pm-US President Barack Obama presented with souvenirs at Rajghat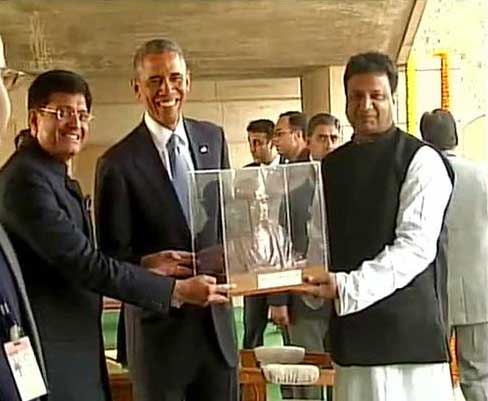 12:50pm- Barack Obama signs visitors book at Rajghat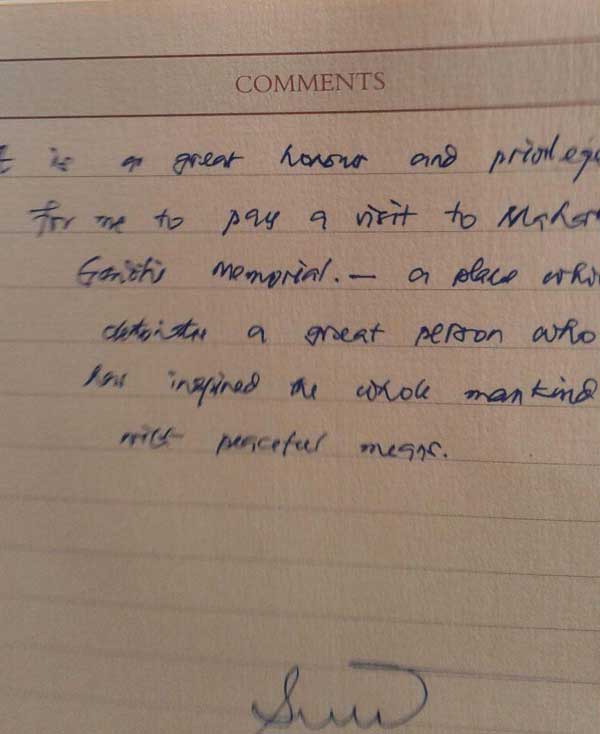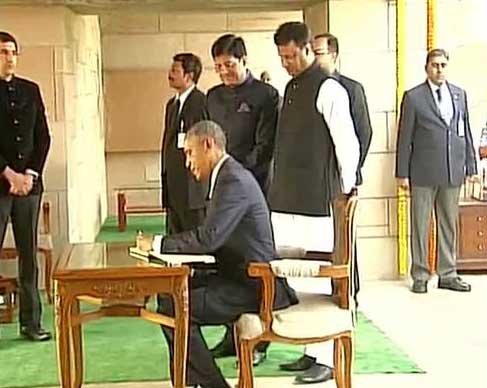 12:48pm-US President Barack Obama plants a sapling at Rajghat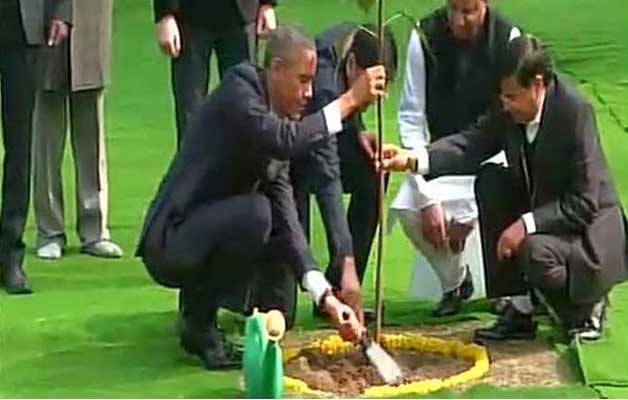 12:46pm- US President Barack Obama pays homage to Mahatma Gandhi
12:44pm- US President Barack Obama arrives at Rajghat
12:27pm- President Obama leaves for Rajghat to pay tribute to Mahatma Gandhi.
12:24pm- "It's a great honour," says President Obama after inspecting Guard of Honour
12:23pm- Barack Obama introduced to Indian cabinet ministers and senior political leaders
12:19pm- Obama inspects Guard of Honor at Rashtrapati Bhawan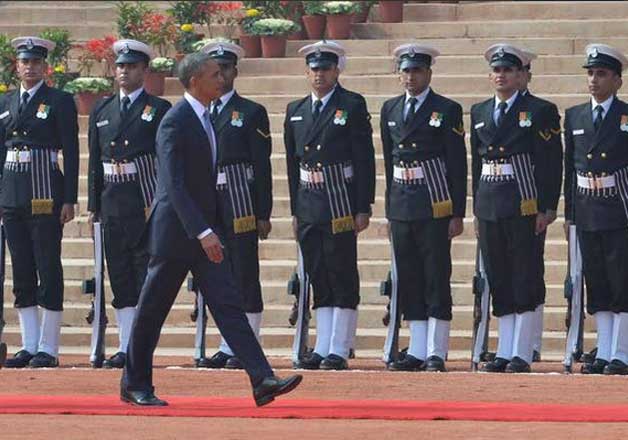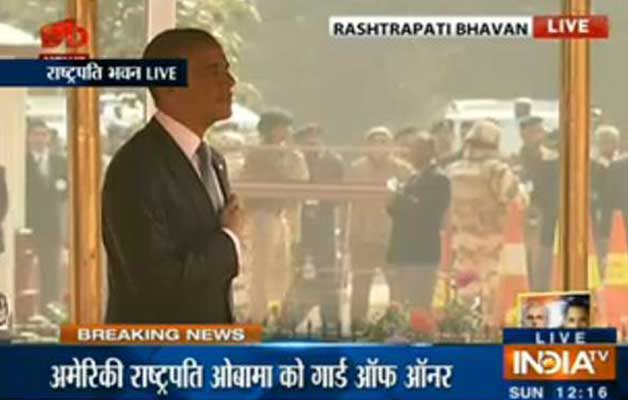 12:13pm- Barack Obama honored with a 21-gun salute at Rashtrapati Bhawan
12:11pm- US President Obama arrives at Rashtrapati Bhawan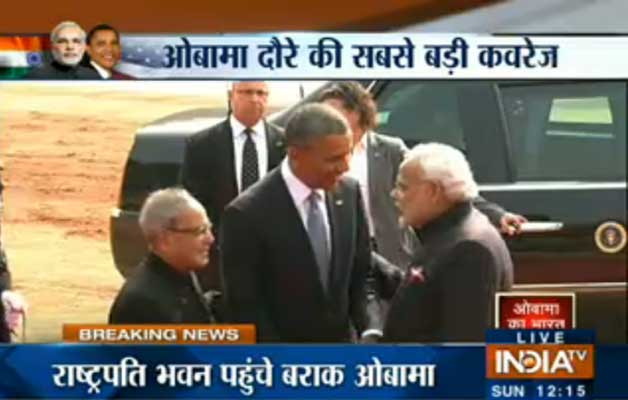 12:01pm- President Pranab Mukherjee arrives for the ceremony
12:00 pm- PM Narendra Modi arrives at Rashtrapati Bhawan

12 noon: President Obama leaves for Rashtrapati Bhavan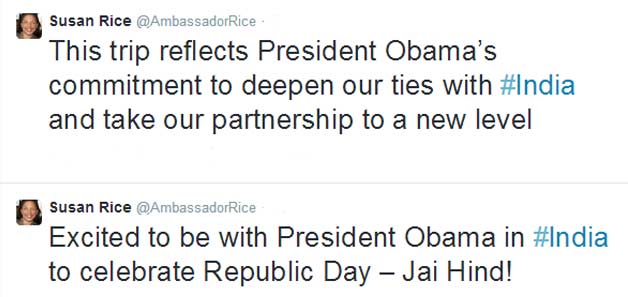 10:27 am: Barack Obama arrives at ITC Maurya
09:55 am: Barack Obama heads to ITC Maurya in his armoured limousine 'The Beast'
09:45 am: PM Modi receives American President Obama
Obama and his wife, Michelle, exited the plane holding hands and shook hands with Modi. Obama also hugged the Prime Minister and patted him on the back.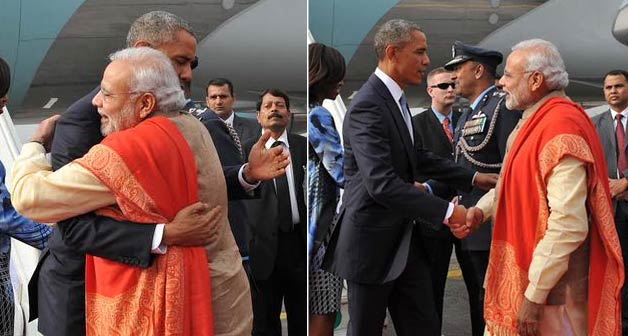 09:40 am: US President Barack Obama lands at Delhi airport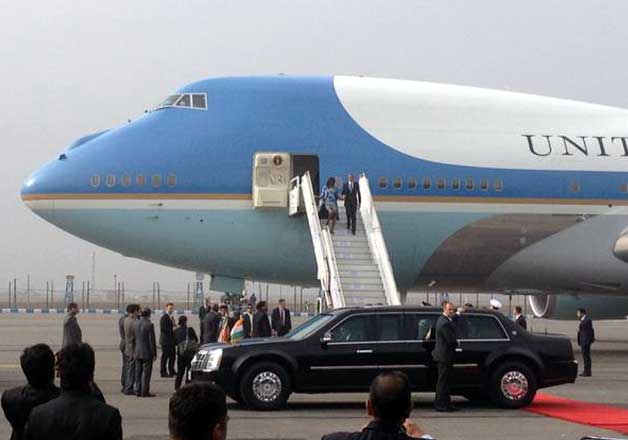 09:35 am: Prime Minister Narendra Modi arrives at Palam airport
READ MORE: Packed schedule for Obama, seven engagements today
Prime Minister Narendra broke the protocol to receive the American President.
The PMO has appointed Union Power Minister Piyush Goyal as minister-in-waiting for the visit.
Obama is leading a high-level delegation that includes, among others, Democratic House minority leader Nancy Pelosi and Ami Bera, co-chair of the Congressional Caucus on India and Indian Americans.
This is the second visit of Obama to India as President and the first time a US President is attending the Republic Day parade as chief guest.
The US President was accorded a ceremonial reception at the forecourt of Rashtrapati Bhavan and later proceeded to Raj Ghat to lay a wreath at the memorial of Mahatma Gandhi. He also planted a sapling at the venue.
The two sides will hold delegation-level talks at Hyderabad House and later address the media.
In the evening, Obama would call on President Pranab Mukherjee at Rashtrapati Bhavan and also attend a banquet hosted by the president.
On Monday, Obama would attend the Republic Day parade as chief guest during which India's military might and cultural diversity would be showcased in a two-hour open air event.
He was to have flown down to Agra to see the Taj Mahal Tuesday, but that leg of the visit has been cancelled and he would be leaving for Riyadh to condole the death of Saudi King Abdullah.