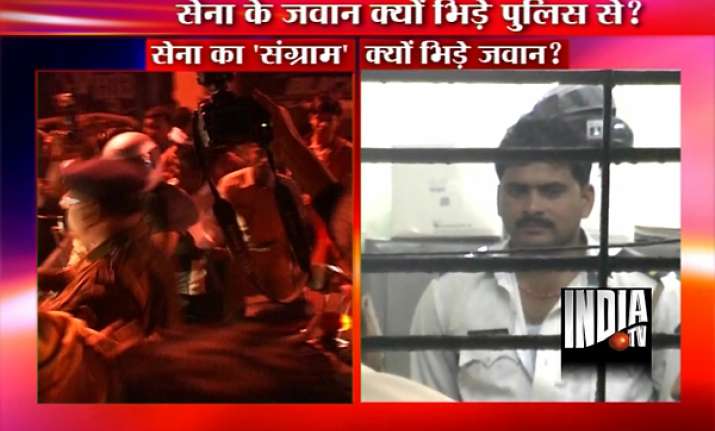 Pune, Feb 1: Army jawans in a truck came to FC Road near Alka Talkies on Tuesday evening and bashed up traffic policemen who were challaning two Army cadets for entering a No Entry zone.

The jawans then proceeded to Sambhaji Nagar police station, which they ransacked before Army and civil authorities intervened.

Initially, the two army cadets while being challaned, beat up the traffic policemen. As local residents gathered on the spot and caught hold of the cadets, one of them ran up the local army unit and a jawans came in a truck.

The jawans then began bashing up the local residents and mediapersons.

Police have registered a case against the two erring Army cadets. Army officials have promised to take action against their erring jawans.
According to the police, the trouble started when a jawan attached to the College of Military Engineering (CME), riding a motorbike, was stopped by a traffic constable at Sambhaji Bridge for running into no-entry.

The jawan then returned with his friends and assaulted the policemen at the nearby outpost, police said. 

The jawans, who were in civil clothes, also broke cameras of mediapersons who had rushed to the spot. 

Deputy Commissioner of Police Sanjay Jadhav said the CME jawans abused and assaulted police constables. 

He said the situation was now under control and action was being taken against the culprits.  Meanwhile, GOC-in-C Southern Command Lt Gen A K Singh said strict action will be taken against those found guilty in the incident.

"We will not tolerate any indiscipline," he said. 

No arrests has been made so far, police said, adding that the traffic police personnel allegedly roughed up by the jawans included two women constables.