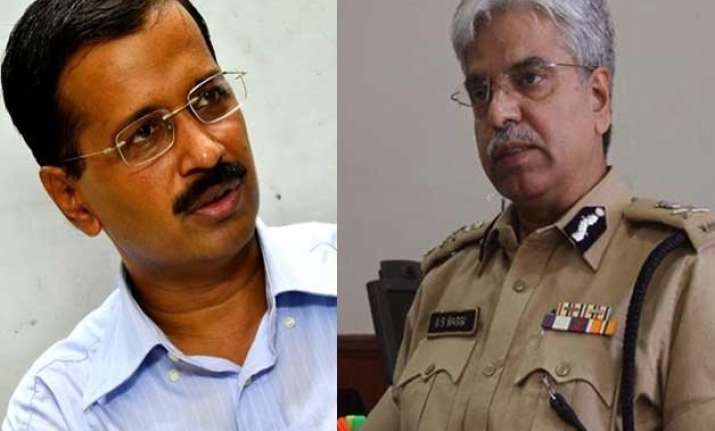 New Delhi: Chief Minister Arvind Kejriwal has asked the Delhi Police Commissioner B S Bassi to meet him tomorrow to discuss law and order situation in the national capital, in the wake of the gruesome murder of 19-year-old girl in central Delhi.
"CM office today wrote to the Police Commissioner stating that the Chief Minister wants to meet him to discuss Delhi's law and order situation and other issues including Meenakshi murder case," said a senior government official.
"The Chief Minister and his deputy Manish Sisodia had yesterday visited Meenakashi's residence where people told them that there is no police patrolling in the area and apparently some policemen were also involved," he added.
Mr. Bassi, in addition to the Delhi Police top-brass, is understood to be fuming over the summons issued to the Commissioner by the Chief Minister as well as a letter from Delhi Home Minister Satyendar Jain, alleging police inaction and seeking a detailed report from him on the murder of 19-year-old Meenakshi "which the government chose to leak on social media instead of despatching as per procedure."
Also Read: Girl's murder: Kejriwal announces Rs 5Lakh compensation, slams Delhi Police
Meanwhile, a senior police official denied Delhi Home Minister Satyendar Jain contention that police assistance was denied to Meenakshi and her family claiming no complaint was forwarded to them either orally or in written after the accused, Jai Parkash, 21, and his mother had been booked and arrested for harassing them in October, 2013.
"That Jai Parkash was later let out on bail, the officer contended, was as per the wisdom of the concerned city court that decided to do so and not the police."the officer added.
Kejriwal had yesterday announced a compensation of Rs 5 lakh to the family of a girl who was stabbed to death in Anand Parbat locality and ordered a magisterial probe into the case while slamming Delhi Police for the "deteriorating" law and order situation.
Meenakshi was allegedly stabbed to death on Thursday by two brothers living in her neighbourhood for protesting their verbal abuse.