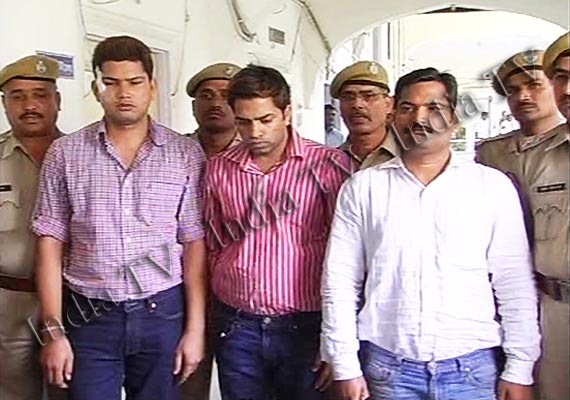 Jaipur, Mar 20: All the five absconder Gold Sukh directors including the mastermind Manavendra Pratap Singh have been brought to Jaipur by Rajasthan Police, after Interpol arrested them on February 8 in Vietnam following red corner notices.
Several lakhs Euros, US dollars, 50 tolas gold, costly watches, cellphones and laptops have been seized from these five directors.  
So far 25 persons named in the Gold Sukh scam have been arrested, police said.  
It may be mentioned here Gold Sukh has no relation or connection with Gold Souk, a reputed hub of  Indian and international jewellers.  
Police said, Gold Sukh company had collected nearly Rs 300 crores from an estimated 2.5 lakh investors who were duped of their money.  
The scamsters closed down their offices in November last year, and fled to Thailand, police said.  
A total of nine fraud cases have been registered against the Gold Sukh company by investors in Vidhayak Puri police station. Moreover, nearly 350 complaints were recieved separately.  
Rajasthan police had got the passports of all these five directors cancelled and had  got the Interpol to issue red corner notices against all of them. Since then these directors have been fleeing from one country to another.  
Those brought to Jaipur include Gold Sukh director Manavendra Pratap Singh, Babloo alias Pramod Sharma, his wife Asha Sharma, Mahendra Singh Nirvan and his wife Nitu Nirvan.  
For the last two months, police said, all the five absconders were staying in five-star hotels and rented apartments in different cities of Vietnam. They had rented bank lockers in different cities where they had hoarded Euros, US dollars and gold. 
All the five were trying to flee to UK using fake passports, Jaipur police commissioner B L Soni said.  
Jaipur police is assessing the movable and immovable properties of these scamsters. So far Rs 10 to 15 crore worth properties have been confiscated.  
Five laptops have been seized, and the police expect to take all the five on remand to locate other properties belonging to these scamsters.