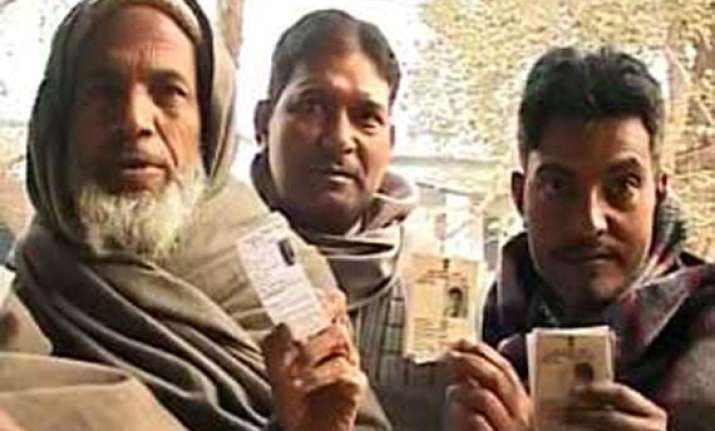 Lucknow, Feb 19: Almost 57.2 per cent voters cast their votes in the fourth  phase of Uttar Pradesh assembly elections  today.
 
The  state election office gave the following voting percentages : Banda 54, Chitrakoot 59, Chhatrapathi Shahuji Maharaj 9Amethi) 59, Farukhabad 52, Fatehpur 56, Hardoi 55, Kannuaj 55, Lucknow 51, Pratapgarh 52, Rai Bareli 59, and Unnao 61 per cent.

This phase of the seven-part polling  tested  the fate of several stalwarts and heavyweights, including three ministers, 32 sitting MLAs, 12 former ministers, national vice-president of BJP Kalraj Mishra and Congress state president Rita Bahuguna Joshi.

There were  967 candidates in the polling that took place in Hardoi, Unnao, Lucknow, Rae Bareli, Farukkhabad, CSM Nagar, Kannauj, Banda, Chitrakoot, Fatehpur and Pratapgarh. 

Stakes were high for ruling BSP, Congress, SP and BJP in the no-holds-barred fight for the 403 assembly seats. The fourth phase had 103 candidates with criminal cases pending against them. There were also 139 'crorepatis' in the contest. 

In this phase, Kalraj Mishra, who is a Rajya Sabha member, is making his debut in electoral politics from Lucknow East seat, whereas Rita Bahuguna Joshi is in fray from Lucknow Cantonment seat.

The fourth phase  also tested  the luck of Louis Khurshid, wife of Union Law Minister Salman Khurshid from Farukkhabad Sadar constituency.

Congress Legislative Party leader Pramod Tiwari is seeking a re-run from his traditional Rampur Khas seat in Pratapgarh district.

While Urban Development Minister Nakul Dubey has shifted to Bakshi ka Talab seat, Science and Technology Minister Abdul Mannan is seeking re-election from Sandila seat.