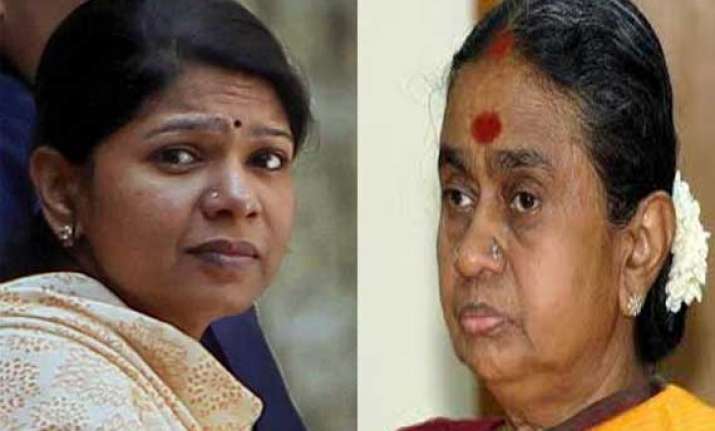 New Delhi: DMK chief M. Karunanidhi's wife Dayalu Ammal yesterday pleaded before a court here that she is suffering from dementia and cannot defend herself and sought discharge in a 2G-related money laundering case.
The 84-year-old Ammal also sought permanent exemption from personal appearance on medical grounds.
Ammal's counsel told Special CBI Judge O.P. Saini that she was in an unsound state of mind and was "unable to recognise anybody except close relatives and that too erratically".
He said that in such a condition, when a person is unable to converse or understand the complexities of the case, she couldn't defend herself.
The court posted for July 2 to examine witnesses.
On the same day, it will also hear bail pleas and framing of charges against the accused, including Ammal, former telecom minister A. Raja and DMK leader Kanimozhi.
The Enforcement Directorate had filed a chargesheet against 19 accused, including Raja and Kanimozhi, claiming that the transaction of Rs.200 crore, which was allegedly paid to Kalaignar TV, was not genuine and it was a bribe for grant of telecom licences to DB Group companies.
The directorate chargesheeted 19 accused - 10 people and nine firms - in the case.
Besides Raja and Kanimozhi, Swan Telecom promoters Shahid Usman Balwa and Vinod Goenka, directors of Kusegaon Fruits and Vegetables Pvt Ltd, Asif Balwa and Rajiv Aggarwal, Kalaignar TV managing director Sharad Kumar, Bollywood producer Karim Morani, Dayalu Ammal and P. Amirtham have been named as accused in the chargesheet.
The directorate also named Swan Telecom Pvt Ltd, Kusegaon Realty Pvt Ltd (formerly known as Kusegaon Fruits and Vegetables Pvt Ltd), Cineyug Media and Entertainment Pvt Ltd (formerly known as Cineyug Films Pvt Ltd), Kalaignar TV Pvt Ltd, Dynamix Realty, Eversmile Construction Company Pvt Ltd, Conwood Constructions and Developers (P) Ltd, DB Realty Ltd and Nihar Constructions Pvt Ltd as accused in the case.