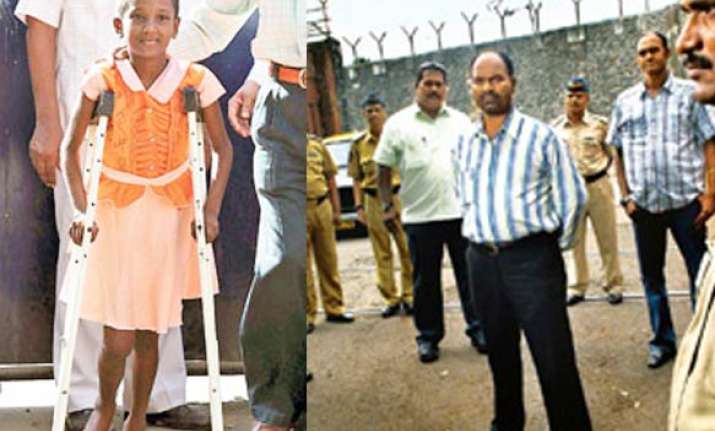 Mumbai, Feb 21: A victim of 26/11 Mumbai terror attacks on Monday demanded early public hanging of Pak terrorist Ajmal Kasab, given death sentence by the Bombay High Court.
11-year-old Devika Natwarlal, who was injured in indiscriminate firing by Kasab at Chhatrapati Shivaji Terminus (CST) on the night of November 26, 2008 said, "I want Kasab to be hanged in full public view."
"No other punishment other than death is acceptable to us as he has shattered our lives and happiness, Devika, who had received a bullet injury, on her right leg as a result of which she became handicapped, told PTI.
It is not only she who is the victim of the carnage but also her brother, Devika said.
"My brother helped other victims injured in the carnage by giving them aid in hospitals and is now bed ridden", she said today.
Her father said, "the doctors asked my 16-year-old son Jai to help the injured people and he volunteered to give aid but he was not given any protection, not even gloves because of which he developed infection. Jai is now suffering from chest tuberculosis", Natwarlal said.
"His spinal cord has gone for a toss due to this", says Natwarlal. "I am happy that Devika's deposition was commended by everyone but nobody even enquired about my son", he said.
Meanwhile, Mumbai  Police constable Arun Jadhav, the only survivor in the police van ambushed by Ajmal Kasab and his slain accomplice Abu Ismail, today said the Bombay High Court's judgement on the death penalty was on expected lines.
Jadhav, who miraculously escaped the murderous attack, in which police officers Hemant Karkare, Ashok Kamte, Vijay Salaskar were killed, said, "the entire world was excepting death for Kasab, so my expectation was also not different."
However, unlike other victims who demand that Kasab must be hanged immediately, Jadhav said he respected the Indian judicial system which gave equal rights to every person living on the Indian soil, including Kasab.
"If Kasab is not happy (with the verdict) then he can file an appeal (in the Supreme Court)", Jadhav told PTI.
However, reacting to the observation made by the trial court earlier that his statement was not entirely credible and he seemed to be sentimental in giving evidence, Jadhav said that he had expressed his sorrow in the court.
"I was just telling the court what had happened and what I had seen and that I saw Kasab killing my superiors."
Jadhav said that had it been any other person in his place he would have testified in the same way he (Jadhav) did.
"I witnessed the ambush very closely," he said.
Railway Assistant Sub Inspector (ASI) Jillu Yadav, who fired at Ajmal Kasab and his associate Abu Ismail at the CST during the 26/11 attacks, today said he was "extremely happy" after the High Court's confirmation of death penalty to the Pakistani terrorist and hopes that he would meet the same fate in the apex court as well.
"I knew that High Court would confirm death penalty to Kasab as he killed hundreds of people and even policemen. I am extremely happy to hear this," said Yadav, who was honoured with the President Police Medal besides Rs 10 lakh monetary reward for his bravery.
The former constable, who was promoted as an ASI in acknowledgment of his exemplary courage, is sure of Kasab's outcome in the Supreme Court.
"I am sure he would face the same fate in the Supreme Court also, if he appeals there. Now every Indian's wish is that the terrorist should be hanged at the earliest," he said.
However, Yadav still continues to regret having not killed the terrorist-duo at the CST railway station itself, which he says could have saved several lives.
"Earlier also I had said, and now also I am reiterating that I wish I could have had an opportunity to kill Kasab and his associate at CST itself. If I could have done that, then I could have saved lives of several people including then ATS chief Hemant Karkare. It was a terrifying scene at the station," 55-year-old Yadav of the Railway Protection Force (RPF) told PTI.
Kasab and his aide Ismail, had barged into the crowded Chhatrapati Shivaji Terminus on the fateful night of November 26, 2008 and opened indiscriminate firing, killing over 50 persons. Hearing the bullet shots, an alert Yadav, rushed to the spot when he saw the duo gunning down commuters.
Soon he saw a GRP man carrying a .303 rifle even as some other security personnel fled the spot.
"I snatched the rifle from the policeman and fired at the duo. After a while, they escaped towards the Cama hospital," said Yadav.
At the Cama Hospital, Karkare, Additional Police Commissioner Ashok Kamte and 'encounter specialist' Vijay Salaskar died fighting the two gunmen. PTI