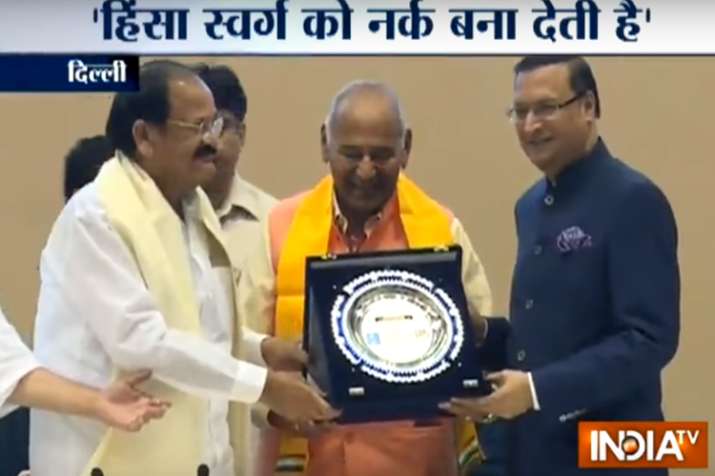 Speaking on the occasion of Ahimsa Diwas Samaroh, India TV Chairman and Editor-in-Chief Rajat Sharma slammed violence of any kind, saying that it can turn heaven into hell. 
"Violence can turn heaven into hell. We saw it in Kashmir. It can turn a human into a devil, we have seen that in naxal areas," said Rajat Sharma. 
Talking about his Bengaluru visit, he said, "Non-violence is the road to peace. I was in Bengaluru two days back. When family members of Kashmir martyrs and terrorists hugged each other, they broke into tears. Non-violence and reconciliation are the only possible solution."
"Among the families, there was a retired Wing Commander who had lost his 23-year-old son. He asked me what was his son's fault. He was firing bullets, but was saving people from cross-border firing. A mother also had a similar question," he added. 
On the prevalent situation of unrest in Kashmir Valley, Rajat Sharma said, "People in Kashmir also wonder if bullet is the only solution. What is the mistake of that Kashmiri soldier who was killed by terrorists at his home? And what was the mistake of that Kashmir police official who was lynched by a mob? We should find answers for this on the occasion of Ahimsa Diwas."
Quoting a poet to explain the pain caused by violence, Rajat Sharma said, "Yeh khoon ke napaak dhabbe khuda se kaise chhupaoge, masoom ki kabr pe chadhkar kaun si Jannat paoge (How will you hide these stains of blood from the almighty, and what heaven you will reach by stepping through the graves of innocents)."
Rajat Sharma said that the whole world is looking towards India, and at this time of terrorism and fear, it will be interesting to see what message can India convey to the other nations.