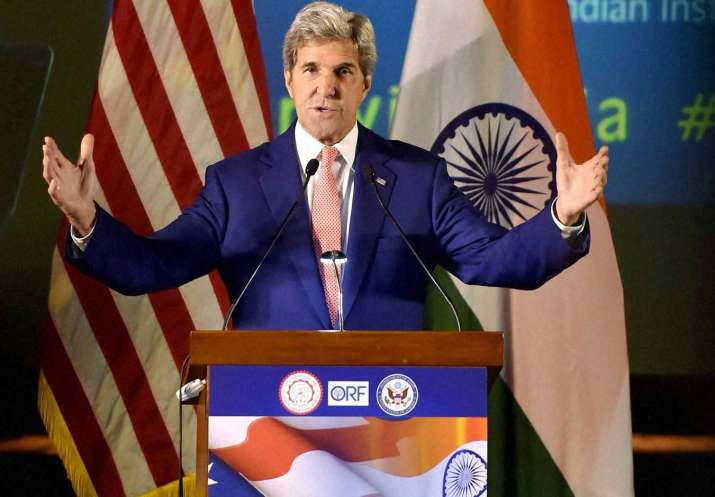 US Secretary of State John Kerry, who is on a three-day visit to India, postponed his departure from India by at least two days, prompting speculation about the reasons for the sudden decision. 
This was the second change in plans of the Kerry as his visit to three religious sites in Delhi was cancelled due to heavy rains earlier today.
Kerry, whose official engagements here ended with a call on Prime Minister Narendra Modi this afternoon, was scheduled to leave at 5.30 pm. However, he may now leave either on Friday or Saturday for China where he will join President Barack Obama for the G-20 Summit. 
Deputy Spokesperson in State Department Mark Toner, who is travelling with Kerry, said, the visit has been extended to enable him to travel to China for G-20 Summit this weekend. 
"Kerry would now remain in the Indian capital until Friday or Saturday, when he will leave for the summit in Hangzhou. Kerry's schedule for his remaining time in India is still to be determined," Toner told the accompanying media. 
It was not clear that whether Kerry's decision to travel to China was taken at the last minute or whether he was planning to visit any other country in the region which may have been called off. 
Kerry arrived here on August 29 to co-chair the 2nd India-US Strategic and Commercial Dialogue during which the two sides discussed key issues including terrorism emanating from Pakistan.
Kerry, who witnessed incessant rain twice on his visit, joked about the water-logged roads of Delhi today. 
"I don't know if you came in boats... but I salute you," said a smiling US Secretary of State John Kerry to a packed audience at IIT, Delhi after his carcade was stuck in Delhi traffic as heavy rains led to waterlogging on roads. 
"You guys deserve an award for being able to get here today. I don't know if you came in boats or amphibiousvehicles of some kind. But I salute you," said Kerry. 
The Secretary of State was 40 minutes late for the event at the IIT as his carcade waded through the waterlogged roads from his hotel, otherwise a 15-minute ride.

 

On Monday, on his way to a hotel from the airport, the US Secretary of State was stuck for almost an hour in traffic due to waterlogged roads. 
Kerry was supposed to visit the Sisganj Gurudwara, Gaurishankar Temple and the Jama Masjid in the national capital after his IIT event, but that programme was cancelled. 
The underpass near Kerry's hotel - Leela Palace – was heavily flooded, leading to a massive traffic jam.