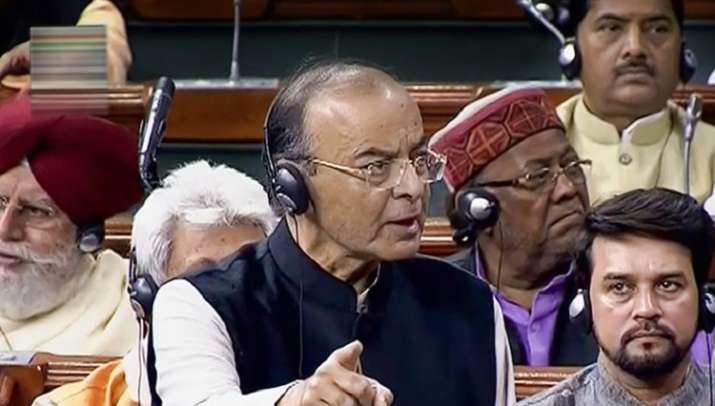 Congress president Rahul Gandhi on Wednesday tried to corner the Modi government yet again in Parliament over Rafale jet deal urging Lok Sabha speaker to allow him to play an audio clip which purported had voice of the Goa minister who is heard saying that CM Manohar Parrikar has files related to the fighter aircraft deal in his bedroom. However, Speaker Sumitra Mahajan didn't allow Rahul to play the alleged tape and asked him to follow procedures. 
"We demand JPC probe, entire country is pointing finger at PM Modi. He (Modi) spoke for 90 minutes in a staged interview but still did not answer questions on the Rafale issue," Rahul Gandhi said.
Responding to Rahul Gandhi's charge, Finance Minister Arun Jaitley accused the Congress chief of lying. 
"He knows it is wrong and hence is scared to authenticate it," Jaitley said, adding "this man lies repeatedly".
Rafale debate in Lok Sabha: Highlights
3:58 pm: Arun Jaitley rejects Opposition's demand for JPC over Rafale jet deal.
3:44 pm: It is sad that Congress president is unaware of what 'offset' means. Rahul Gandhi believes Reliance is manufacturer of Rafale jet, he should know that the company is an 'offset' partner. He should first brush up his knowledge about the issue, says Arun Jaitley
3:37 pm: The price of weaponised aircraft was 20 per cent cheaper than the deal signed during UPA  government: Arun Jaitley
3:30 pm: Lok Sabha proceedings restart after brief adjournment following the ruckus over Rafale deal
3.18 pm: During the discussion on Rafale deal in Lok Sabha, Congress MP from Punjab Gurjeet Singh Aujla threw a paper plane towards Finance Minister Arun Jaitley. Defence Minister Nirmala Sitharaman complained about it to the Lok Sabha speaker.
3:17 pm: Lok Sabha adjourned till 3.30 pm amid uproar during debate over Rafale jet deal.
3:05 pm: If the fingers point at you in AugustaWestland, National Herald and Bofors, then it is a bit too much. Today, they have the audacity to raise an allegation against us, says Arun Jaitley in Lok Sabha
3:03 pm: It's sad that today Congress is being headed by an individual who doesn't have the basic understanding of what a combat aircraft is, Arun Jaitley says in Lok Sabha
2:54 pm: If the fingers point at you in AugustaWestland, National Herald and Bofors, then it is a bit too much. Today, they have the audacity to raise an allegation against us: Arun Jaitley in Lok Sabha 
WATCH: Rahul Gandhi corners Modi Govt in Lok Sabha over Rafale
2:49 pm: Arun Jaitley in Lok Sabha: On the last occasion, he (Rahul Gandhi) manufactured a conversation between him and the former French President. Today, he repeats the same. Today, he tried to produce a tap but he is too scared to authenticate it.
2:45 pm: Rahul Gandhi is afraid of authenticity: Arun Jaitley
2:44 pm: Nation is disappointed with Rahul Gandhi, every word about deal is false: Arun Jaitley
2:24 pm: Tape related to Rafale released by the Congress party is fake: Arun Jaitley
2:19 pm: 'Rafale deal is full of loopholes,' alleges Rahul Gandhi
2:15 pm: Rahul Gandhi in Lok Sabha: First pillar is process, second is pricing and the third and most interesting is patronage. Senior officers of the IAF chose Rafale after long negotiations, IAF wanted 126 aircraft, why was the demand changed to 36?
2:13 pm: Congress President Rahul Gandhi in Lok Sabha: Prime Minister in an interview said that no one is accusing him personally on Rafale. Entire nation is asking a direct question to the PM.​ 
2:10 pm: 'Why PM Modi is not answering questions related with Rafale deal?' asks Rahul Gandhi
2:05 pm: Goa CM Manohar Parrikar tweets, "The audio clip released by the Congress party is a desperate attempt to fabricate facts after their lies were exposed by the recent Supreme Court verdict on Rafale. No such discussion ever came up during Cabinet or any other meeting."  
1:55 pm: Goa Minister Vishwajit P Rane has written to BJP President Amit Shah in regard with audio circulated by Congress on Rafale, states, "This is a doctored audio & I have never had any discussion on this subject with anyone." 
12:58 pm: LS and RS adjourned till 2 pm
12:42 pm: Goa Min Vishwajit P Rane: The audio tape is doctored. Congress has stooped to such a low level to doctor a tape to create miscommunication b/w cabinet&CM. Mr Parrikar has never made any reference to Rafale or any documents. Have asked him for a criminal investigation into this.
12:00 pm: LS and RS adjourned till noon
11:57 am: 
Sunil Jhakhar, Congress in Parliament, says, "This is the list of 414285 farmers whose loans have been waived by the Punjab govt. PM Modi at a public rally in Dharamsala had said that no farmer loans were waived in Punjab." pic.twitter.com/hlDOTvw4rp

— ANI (@ANI) January 2, 2019
11:47 am: Randeep Surjewala, Congress: Former Defence Minister Manohar Parrikar has the all the files relating to Rafale jet deal. The fashion in which every procedure was bypassed...it is all recorded in the files. Those files are with Mr Parrikar. Why are those files being hidden?
11:44 am: We have to first verify the authenticity of the tape released by the Congress: Vishwajit Rane
#WATCH Randeep Surjewala, Congress releases audio clip of Goa Health Minister Vishwajit Pratapsingh Rane claiming Chief Minister Manohar Parrikar has "All the files related to #RafaleDeal in his bedroom" pic.twitter.com/M8VZbfPnxJ

— ANI (@ANI) January 2, 2019
11:35 am: AIADMK MPs protest in Rajya Sabha on Cauvery issue
11:25 am: Union Cabinet meeting scheduled to be held at 1 pm in Parliament today
11:20 am: Petitioners in Rafale fighter jet deal - Yashwant Sinha, Arun Shourie and Prashant Bhushan to move Supreme Court for review of Rafale judgment
11:15 am: Rajya Sabha Chairman M Venkaiah Naidu: The image of the Parliament is taking a beating. People are laughing at us. Please cooperate to see that this House functions in a meaningful manner for the remaining days and pass some resolutions. Issues cannot be dictated.
11:05 am: Congress President Rahul Gandhi to participate in the discussion on Rafale in Lok Sabha today
Parliament Schedule for Wednesday
Lok Sabha:
- Bills to be introduced
* The Aadhaar and other Laws (Amendment) Bill 2018
- Bills for consideration and passing:
* The Companies (Amendment) Bill, 2018
* The New Delhi International Arbitration Bill, 2018
* The National Medical Commission Bill, 2017
- Discussion under Rule 193
* Discussion on issues relating to Rafale deal
* Discussion on natural calamities in various parts
of the country, particularly Kerala, Tamil Nadu
and Odisha with special reference to cyclones
Gaja, Titli etc.
Rajya Sabha:
-Bills for Consideration and Passing
* The National Council for Teacher
Education (Amendment) Bill, 2018
* The Right of Children to Free and
Compulsory Education (Amendment) Bill,
2018
* The Muslim Women (Protection of Rights on
Marriage) Bill, 2018
(With inputs from agencies)