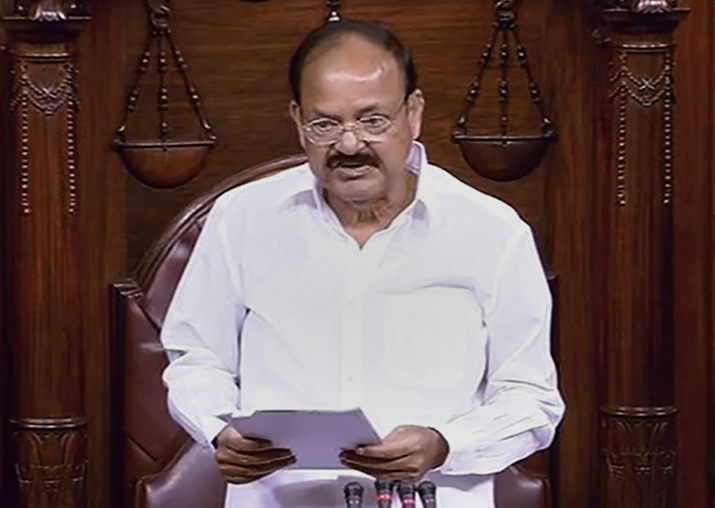 Cutting across party lines, Rajya Sabha members today voiced concern over incidents of crime against women and made a strong case for early passage of the bill to provide 33 per cent reservation to women in Parliament and state assemblies.
The House, which has been witnessing disruptions and stalling of proceedings since Monday, today spoke in one voice on the issue of women's rights to celebrate the International Women's Day.
As soon as the members assembled to take up today's business, Chairman M Venkaiah Naidu made a reference to the International Women's Day, which is observed all over the world to celebrate the achievements of women as well as to renew commitment to empowering them and ending gender biases.
"With women constituting about 50 per cent of our population, social, economic and political empowerment of women, including providing reservation in Parliament and state legislatures, has to be accorded top priority for the country to achieve rapid progress," Naidu said at the outset.
He stressed the need to renew focus on gender equality and safety of women, besides efforts to educate and empower them.
The Women's Reservation Bill, seeking to reserve one-third of all seats for women in the Lok Sabha and the state legislative assemblies, was passed by the Rajya Sabha in March 2010 and is pending passage in the Lok Sabha.
After Naidu's remarks, women MPs from different parties spoke on the issue and pressed for early passage of the legislation.
On women's bill, External Affair Minister Sushma Swaraj said she had been its votary and even today she fully supports the pending legislation.
Highlighting the achivements of Indian women in diverse field, she said it is also a fact that women are being subjected to injustice, which is a matter of shame.
"We need to take a pledge today on the occasion of the international women's day, we will not tolerate any injustice and pain to women," Swaraj said and called for a mass-movement to change the mindset of people towards women.
Leader of Opposition Ghulam Nabi Azad expressed concern over rising incidents of sexual assault against girl child. "The government, together with the opposition, should create an atmosphere to ensure the safety of women," he said, and agreed with others on early passage of the women's quota bill.
Earlier, the Chairman said visible policing and patrolling has to be increased, particularly in desolate areas and during nights to curb crimes against women.
Stating that no religion denigrates the status of women, Naidu said "aberrations have crept into our ways of living in modern times and they have to be eliminated."
Initiating the discussion, veteran Congress MP Ambika Soni ruled that the women's  bill passed in the Upper House is still languishing and demanded that the Upper House pass a resolution that it is committed to this legislation.
Viplove Thakur (Cong) wondered why there is no woman in panel of vice-chairman and also demanded passage of the reservation bill, while Satish Chandra Mishra (BSP) demanded that one woman should be included in the panel of Chair.
Naidu agreed with the suggestion by these members to have a woman member in the panel.
Anu Aga (nominated) said "I am not for this one-day tokenism of allowing women to speak, giving them opportunity."
"If we look at the female foeticide rate in India, which is on the rise, the safety of women is not there. So, I request all the men, stop throwing crumbs at us, and instead of this tokenism, throughout the year, treat us with respect and offer us opportunities," she said.
Kanimozhi (DMK) expressed concern over women's safety and also requested the government to get the Bill passed. Tiruchi Shiva (DMK) demanded that sanitary napkins should be exempted from the GST.
Subramanian Swamy said there has not been a single woman cabinet secretary in 70 years and suggested that there should be one.
Derek O'Brien (TMC) said his party already has 34 per cent of women MPs without the bill. "We can wait for the Bill. Yes, we all want the Bill, but this is a very practical suggestion".
D Raja (CPI) said: "We must stand by our commitment to provide reservation to women, and the Parliament should see that the Women's Reservation Bill is passed as early
as possible."
Renuka Chowdhary (Cong) also pressed for early passage of the Bill and added that crimes against women has increased.
Kumari Selja (Cong) favoured that the Upper House pass a resolution that the reservation bill be passed by the Lower House at the earliest, while Rajani Patil (Cong) recited a poem by Amrita Pritam reflecting the plight of women in the society and said the BJP-led government should pass the reservation bill.
Chaya Verma (Cong) also demanded early passage of the bill, while alleging that the  Nirbhaya fund for providing safety and security to women was not being utilised.