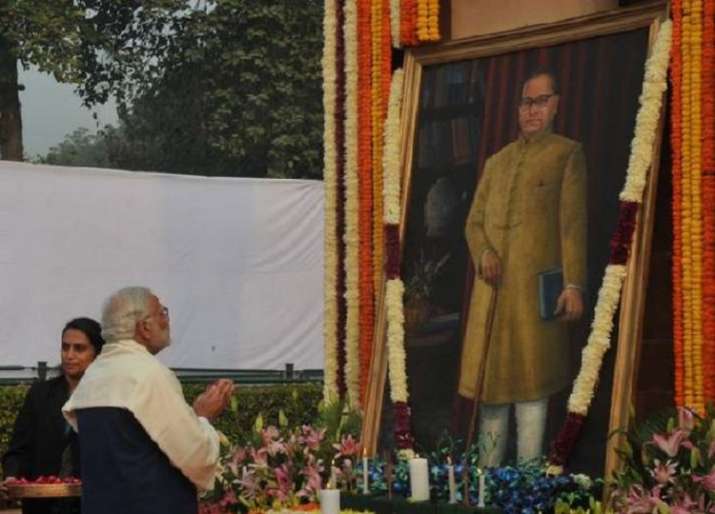 Prime Minister Narendra Modi, President Ram Nath Kovind and Vice President M Venkaiah Naidu paid tributes to Babasaheb Bhimrao Ramji Ambedkar on his 62nd death anniversary on Thursday. Modi, Kovind and Naidu also paid floral tributes to Ambedkar at a function in Parliament House Lawns in Delhi. Tributes were also paid by Lok Sabha Speaker Sumitra Mahajan and several other MPs to the architect of the Indian Constitution.
The prime minister took to Twitter and said, "India bows to Babasaheb Ambedkar on Mahaparinirvan Diwas (death anniversary)."
पूज्य बाबासाहेब को उनके महापरिनिर्वाण दिवस पर कोटि-कोटि नमन।

India bows to Dr. Babasaheb Ambedkar on Mahaparinirvan Diwas. pic.twitter.com/XNqzXFbm9Y

— Narendra Modi (@narendramodi) December 6, 2018
The vice president also took to social media and said, "The nation is ever grateful to the architect of the Constitution. His wisdom will continue to guide us at all times."
"He championed the cause of marginalised and strove for creating a casteless society. We will be paying a real tribute to Baba Sahebji by establishing a truly egalitarian society and by upholding values and ethics in public life," Naidu said.
He also shared a link of the audio highlighting the works and contribution of Ambedkar, who died on December 6, 1956 in Delhi.
West Bengal Chief Minister Mamata Banerjee also paid tributes to Dr Babasaheb BR Ambedkar on Thursday and hailed his contribution in framing the country's Constitution.
"Respectful tribute to Dr Babasaheb Ambedkar on his death anniversary. His contribution in framing India's Constitution will forever be remembered by the generations to come," the chief minister tweeted.
Meanwhile, elaborate arrangements were made by the Railways in Mumbai to tackle the rush for Ambedkar's death anniversary, also observed as 'Mahaparinirvan Diwas'
Lakhs of followers from various parts of the country every year visit the Chaityabhoomi, the place of Ambedkar's cremation, in central Mumbai to pay their respects.
Apart from opearting extra trains, the Central Railway (CR) and Western Railway (WR) have also made elaborate crowd management arrangements to cater to the rush.
According to a press release issued by Central Railway spokesperson Sunil Udasi, "Three special trains will run from Nagpur to CSMT and six trains from CSMT/Dadar to Sewagram/Ajni/Nagpur. Another special train will ply between Ajni station and CSMT and two trains between Solapur and CSMT. Moreover, two special trains will be operated between Adilabad and Dadar stations."
Staffers have been sensitised to deal with the followers coming for the "Mahaparinirvan Diwas" on Thursday, the CRPO said.
Disaster management system has also been put in place.
Ambedkar was not only a jurist, an economist but also a politician and a social reformer. He passed away on this day in 1956.