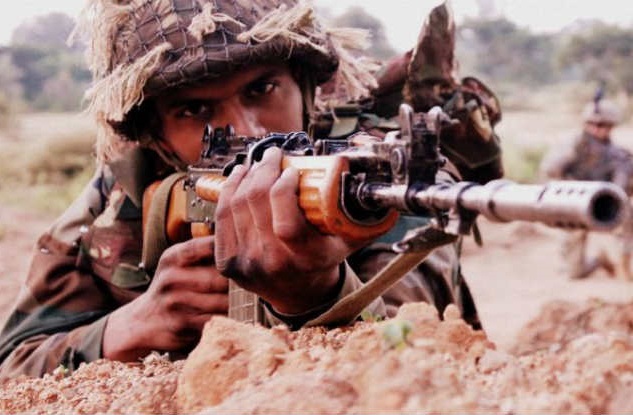 A militant and a total of seven Pakistani rangers have been killed in retaliatory firing by the Border Security Force after Pakistan violated the ceasefire along the Line of Control yet again at Bobiya post in Hiranagar area of Jammu and Kashmir today. A total of five Pakistani rangers have also been injured.
One BSF jawan was also injured in the cross-border firing.
"This morning around 9.35 am, Pakistani rangers opened unprovoked fire in Bobiyan area and injured a BSF personnel compelling us to give them a stinging retaliation... In retaliatory fire we have killed seven Pak Rangers and one militant," a BSF official said today evening.
This is the 32nd violation by Pakistan post Indian Army's surgical strikes along the LoC.
Earlier on Thursday, security forces foiled a major infiltration bid by a group of six militants along the LoC in Kathua district of J&K.
The terrorists, who were trying to infiltrate the border under the cover of cross-border firing by Pakistan, were spotted by BSF troops.  
Terrorists attacked a vehicle carrying BSF troops on patrolling with RPGs followed by heavy and indiscriminate firing at forward area Bobiya in Kathua around 23:45 hours, an officer said. 
The vehicle was patrolling the borderline at the time of the infiltration bid, he said. BSF troops guarding the border retaliated using rocket propelled grenades, resulting in exchanges for over 20 minutes. 
When the BSF fired para bombs for illumination of the area, the militants escaped and were seen carrying an injured, the officer said.
Ceasefire violations so far in this month
October 20:  Pakistani troops resorted to ceasefire violation in Bhimer Gali(BG) sector of Rajouri and in Hiranagar sector of Kathua district.
October 16: Pakistan violated the ceasefire twice along the LoC in Naushera and Rajouri sectors during which one jawan was martyred.
October 8: Pakistan fired at forward Indian posts along Mendhar-Krishnagati sector in Poonch district, resulting in injuries to a jawan.
October 5: Pakistan volated the ceasefire thrice and resorted to heavy firing and mortar shelling, targeting several Indian posts and civilian areas in three sectors of Poonch and Rajouri districts.
October 4: Ten forward areas were targeted with mortar shells in four areas of Jammu, Poonch and Rajouri districts.
They shelled with mortar bombs and opened fire from small and automatic weapons in Jhangar, Kalsian, Makri in Noushera sector of Rajouri district and Gigriyal, Platan, Damanu, Channi and Palanwala areas of Pallanwala sector of Jammu district and Balnoi, Krishnagati in Poonch district.
October 3: Pakistan violated the ceasefire four times and restored to heavy firing and mortar shelling in Saujian, Shahpur-Kerni, Mandi and KG sectors in Poonch district.
October 2: Pakistan troops resorted to firing and shelling along the LoC in forward areas in Pallanwala belt of Jammu district.
October 1: Indian posts and civilian areas were shelled with mortar bombs.
(With PTI inputs)