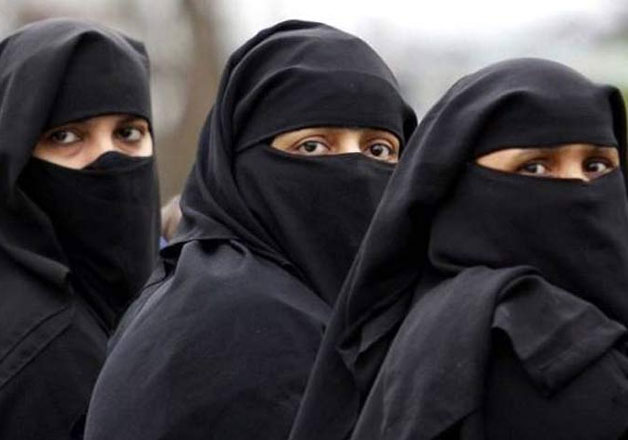 In the backdrop of ongoing debate over change in Muslim personal law, women members of All Indian Muslim Personal Law Board (AIMPLB) on Wednesday said that Muslim women are safe and secure in Sharia law and that they will not tolerate any interference in it.
Addressing a massive all-party public meeting here last night, AIMPLB members said that any attempt to impose Uniform Civil Code (UCC) will create conflict in the society and that 'no force on earth can change Muslim Personal Law'.
Asma Zehra, one of the members of the apex body of Indian Muslims, said that Sharia is oxygen for Muslim men and women and under no circumstances they will agree to any changes in it.
She said the boycott of Law Commission's questionnaire by AIMPLB and the huge response to signature campaign against UCC were be a clear message to the government that there can't be any compromise on Muslim Personal Law.
She said the almighty 'Allah' made a law for the betterment and welfare of men and women.
"This law is by the creator and thus it is in tune with the human nature. It's well balanced and has given status of respect and dignity to women. They are protected, safe, secure and satisfied," she said while condemning attempts by what she called handful of people and a section of media to malign Sharia by using few self-styled Muslim women.
'Govt creating conflict in society'
She said divorce is not a problem but a solution to the problem. 
"If a man and wife can't adjust, they can't be forced to live together for whole life. Talaq (divorce) provides a way out," Asma said.
She alleged that in the name of showing sympathy to women, attempts are being made to snatch the right to divorce.
Another woman member of AIMPLB, Sabiha Siddiqi said the government was wasting its time and machinery in creating conflict in the society.
She said Muslim women would be in the forefront in the efforts to protect Sharia.
The speakers said the best response to the attempts to interfere in Muslim Personal Law is that Muslims strictly follow Sharia.
'Sharia a matter of life and death for Muslims'
AIMPLB Secretary Moulana Khalid Saifullah Rehmani said that Muslim Personal Law is a matter of life and death for Muslims and that people will shed their last drop of blood, offer their heads and make any sacrifice but will never bow to any law which stops them from obeying the orders of 'Allah' and the Prophet Mohammed.
The eminent Islamic scholar was addressing a public meeting organised by AIMPLB here on Wednesday night to oppose the attempts to impose Uniform Civil Code (UCC).
The public meeting held at Darussalam, the headquarters of All India Majlis-e-Ittehadul Muslimeen (AIMIM) and was addressed by leaders from all Islamic sects and schools of thought.
A large number of women also attended the meeting, which was also addressed by five women members of the board.
Moulana Rehmani made it clear that the board will neither get provoked nor be coward in dealing with the issue.
He clarified that the board boycotted the questionnaire of the Law Commission as it was framed in a manner to give an impression that UCC is a constitutional process. He, however, said they were not boycotting Law Commission and that is why the board has taken up a signature campaign.
AIMPLB Secretary advised Muslims to be cautious about a misleading pro forma being circulated on the social media. He said this mischievous pro forma had an additional fourth point that there is need for reforms in Muslim Personal Law.
On the permissions being sought by certain Muslim organisations for taking out rallies on the issue, he advised them to follow directions of the board.
Stating that UCC is an attempt to snatch the identity of Muslims, he urged the community to rise above sects and organisations for a united struggle to protect Sharia.
Moulana Rehmani said Muslim Personal Law was protected by Article 25 of the Constitution, which has given citizens the right to believe, practice and preach their religion.
Condemning attempts to defame Muslims, he said all surveys show that Muslims have least rate of divorce and polygamy compared to other communities in the country.
Hamid Mohammed Khan, chief of Jamat-e-Islami's Telangana and Odisha unit said the National Democratic Alliance government was trying to impose UCC to cover its failures on all fronts. He said the BJP-led government was working for communal polarisation with an eye on ensuing elections in Uttar Pradesh.
Condemning the attempt to bring changes to Muslim Personal Law, he pointed out that the country already has a uniform criminal law and 99 per cent of even civil laws are uniform.