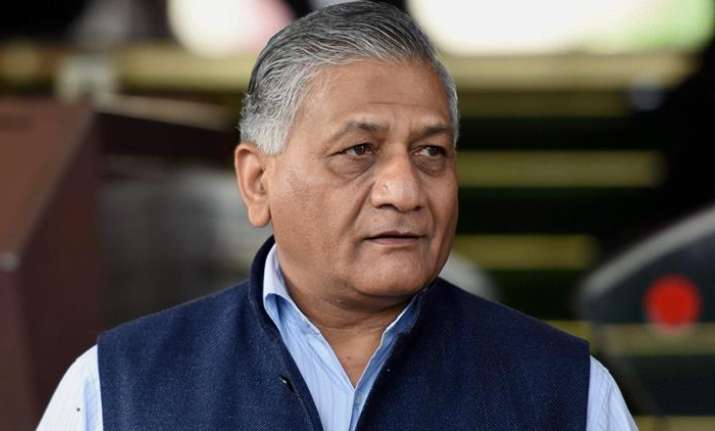 The mortal remains of 38 Indians killed by Islamic State terrorists in Iraq, will be brought to India on Monday as Union Minister VK Singh leads the initiative. 
The bodies were handed over to the Indian authorities in Baghdad on Sunday. 
Indian Ambassador Pradeep Singh Rajpurohit said the bodies had been taken to Baghdad International Airport and would be flown back on a military flight, arriving in India on April 2. 
Union Minister of State for External Affairs V.K. Singh saluted the remains at the airport as workers loaded the caskets on the aircraft. 
Singh condemned terrorism and expressed his government's stance in fighting it. 
"We are against terrorism in all its forms and manifestations," he told reporters, describing IS as "very cruel terrorist organization and our people have fallen to their bullets." 
Though 39 Indians were killed as the Islamic State took over the city of Mosul in 2014, the mortal remains of 38 will be brought back as identification of one body is still pending, Singh said before leaving.
"The minister left around 1 PM from the Hindon airbase on Sunday and is expected to return with the bodies on April 2," an official said. 
After coming back, he will first go to Amritsar followed by Patna and Kolkata to hand over bodies to their relatives, official sources said. 
A total of 27 persons from Punjab and four from Bihar were among the 39 killed.
External Affairs Minister Sushma Swaraj had informed Parliament on March 20 that all 39 Indian construction workers kidnapped in 2014 from Mosul have been killed.
The Minister had earlier said that she will not consider them dead unless there was proof in this regard, rejecting lone survivor Harjit Masih's claim that the 39 Indians taken captive by the Islamic State were shot dead.
The Minister had said that the DNA samples collected from the missing Indians' relatives matched with 38 bodies, while the identity of the 39th body was yet to be fully confirmed since the DNA sample sent was from someone else in his family as both his parents are dead.
WATCH VIDEO: